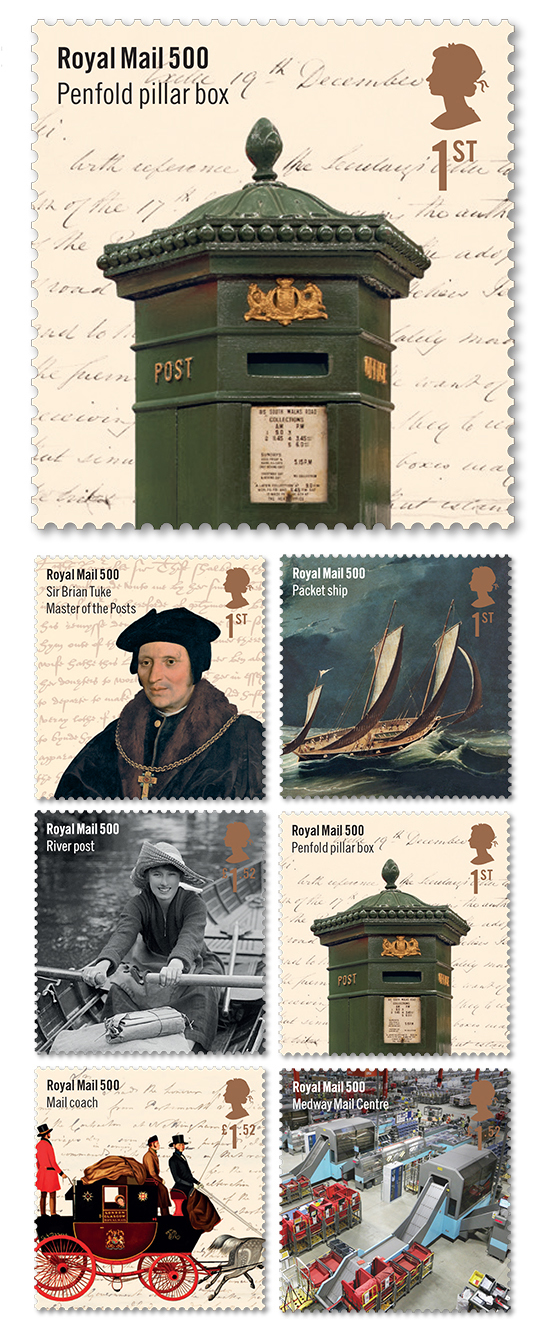 British commemorative stamps celebrate significant events and anniversaries, and there couldn't be any other milestone more important than the Royal Mail's own quincentenary. No pressure then...
Compressing 500 years of postal history into six tiny stamps was never going to be straightforward, but there was an even greater design challenge with this particular set; these were Royal Mail stamps for the Royal Mail.
As usual, the Stamp Advisory Committee was consulted but — conscious that this set would define such a momentous occasion — the Royal Mail archivists and senior management were also involved far more closely than usual.
The six stamps finally chosen represent Royal Mail staff, its methods of transport and the innovate ways in which the organisation collects and delivers post. The people featured include both the distinguished and the unsung.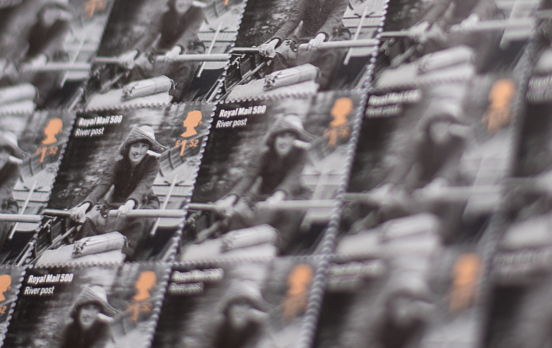 In 1516, King Henry VIII appointed Sir Brian Tuke as the first Master of the Posts. Holbein's contemporary portrait of Tuke is featured on the first stamp. In contrast, the fourth stamp features an unknown river postwoman toiling on the Thames in the 1930s.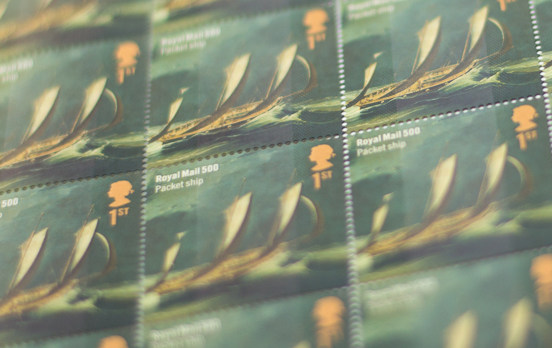 Transporting mail by rowing boat was just one of many ways to deliver it to its destination. 'Packet' ships literally carried packages of post overseas on a regular basis, no matter the weather, as can be seen on the second stamp.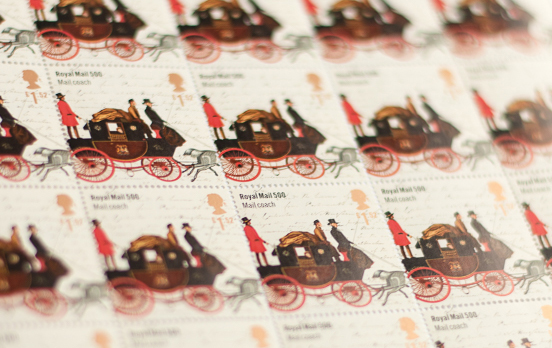 On dry land, meanwhile, the development of the country's road system meant that a Royal Mail coach network could deliver post to all parts of Britain. The fifth stamp shows a London to Glasgow Royal Mail carriage in its livery of black and maroon, and what became known as 'Post Office red' wheels.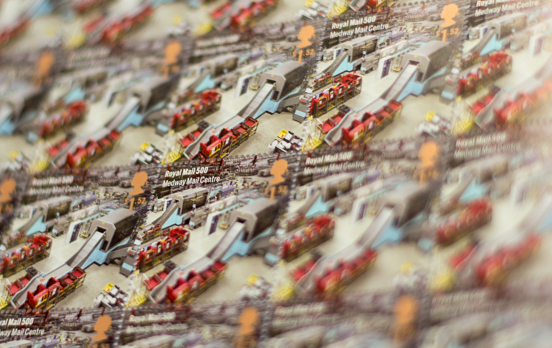 The two other stamps represent innovation; the pillar boxes which first appeared on the island of Jersey in 1853, and the state-of-the-art, 21st-century sorting depot in Kent, which can process more than three million items a day.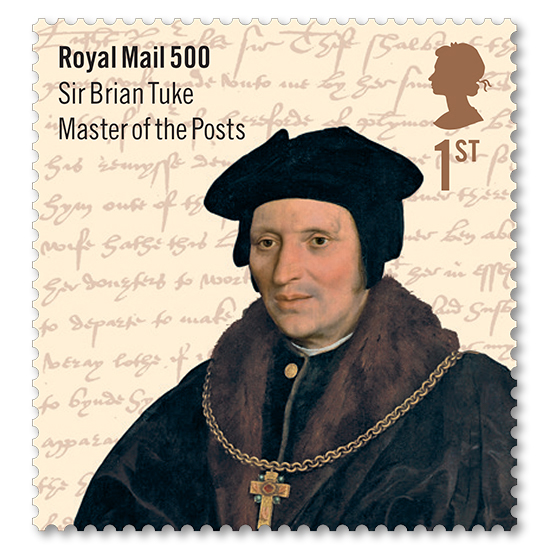 Following some weeks of research, we were particularly pleased to find extracts from original letters to use as backdrops for some of our stamp images. These letters provide a wider historical context and underline the contribution the Royal Mail has made in shaping the nation. After all, where would we be without letters?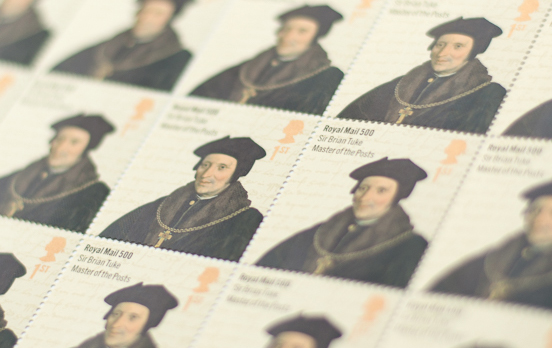 Sir Brian Tuke wrote to Thomas Cromwell in 1533, telling the Chancellor of the Exchequer that '...the King's pleasure is, that posts be better appointed, and laid in all places most expedient...' The 'posts' referred to were those to which fresh horses were hitched, awaiting the riders carrying the mail; it is from this that the term 'to post a letter' comes. Centuries later there are no hitching posts for the horses, but we still 'post' letters, emails and blog entries.
Another letter used on our quincentennial stamps was sent to John Palmer by John Pratt, Lord of the Admiralty. Palmer was an ambitious young theatre owner who set up a coach service to move his actors and props across the country. It was he who recommended that the post could be transported more efficiently by stage coach. Although Pratt writes that he has 'the disagreeable task of informing you of the disappointment of your wishes' — Palmer's hopes of a government appointment — this pioneer did not give up. He financed the trial run of a mail coach in 1784, which cut the time it took to transport letters from Bristol to London from up to 38 hours to just 16 hours. The system was widely adopted, and Palmer succeeded in his quest for elevation into the government, becoming Comptroller General of the Mails in 1786. It is perhaps Palmer who we have to thank our current addiction for up-to-the-minute information.
Rather surprisingly, it was the young novelist Anthony Trollope who, as a Post Office surveyor, first recommended the introduction of the pillar box. In a letter to his superiors he suggested that, 'Iron posts suited for the purpose may be erected at the corners of streets in such situations as may be desirable, or probably it may be found more serviceable to fix iron letter boxes about 5 feet from the ground... the public may safely be invited to use such boxes for depositing their letters.'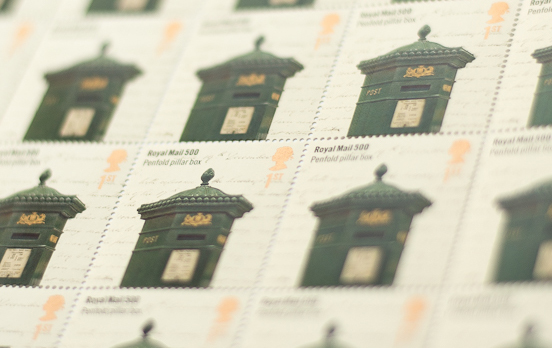 The first pillar box was erected in mainland Britain in September 1853. It was an octagonal box and was painted dark green and stood in Botchergate, Carlisle. Trollope's idea helped to encourage greater use of the mail system, resulting in 115,300 red post boxes all over the United Kingdom today; like the red telephone box and red bus, they have become much-loved icons of Britain.
Stamp format/size: portrait 35mm x 37mm. Print process: lithograph. Perforation: 14.5 × 14. Phosphor: bars. Gum: PVA. Number of stamps: 6
Related project: Royal Mail Age of Monarchs
British commemorative stamp issues are quite unique in the world in that they represent so much of historical significance on a small piece of gummed and perforated paper. This set continues the tradition, celebrating the Royal Mail as an esteemed institution that has shaped our nation over the last 500 years.