FOR THOSE THAT KNOW
Royal Mail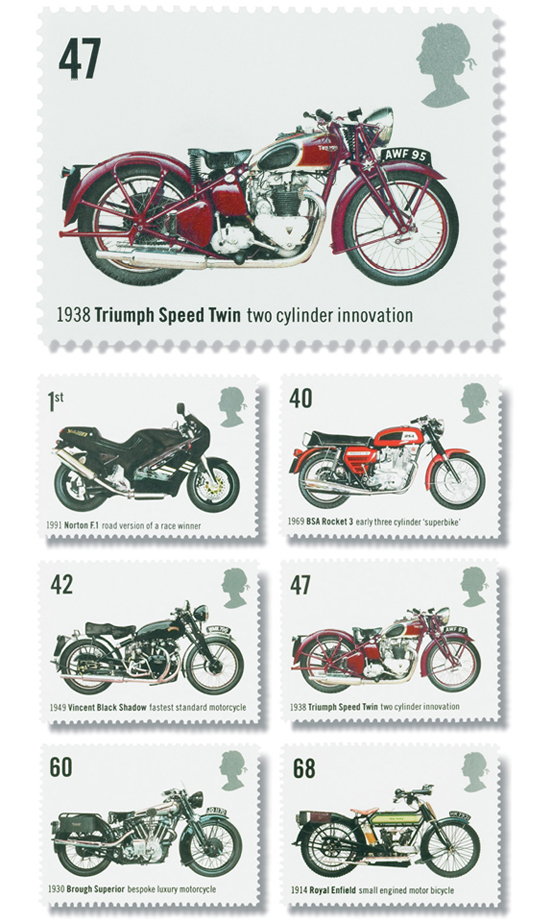 Sometimes, it's OK not to wear a suit to a client meeting. For a number of years we used to be able to get to our London clients quicker by motorbike, and our sometimes menacing attire was overlooked in favour of our promptness. One unexpected consequence was that the Royal Mail immediately thought of Atelier for this set of transport stamps.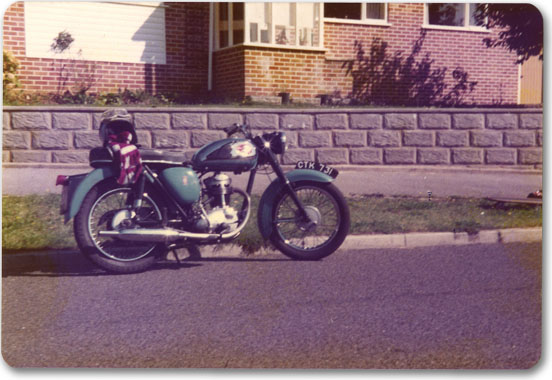 To reassure the Royal Mail that we were not just bike riders and that we already knew a lot about British bikes, we felt compelled to show our favourite motorcycle snaps. Here is one of our first bikes, a 1962 BSA C15 owned by a 17-year-old Atelier partner (a very long time ago).


Our task was somehow to condense nearly 100 years of motorcycle manufacturing into just six postage stamps. What were the most significant milestones? We started by visiting the National Motorcycle Museum in Birmingham and spending time in the archives of the Vintage Motorcycle Club (VMCC) in Burton upon Trent. Of course, we also had a great excuse to go to all the bike festivals and stand around with mates admiring lots of chrome and dripping engine sumps.

After many heated debates among 'those that know', a shortlist of favoured motorcycles emerged. Royal Enfield was a bicycle manufacturer and one of the early adopters to market a bicycle with a motor (a 'motor cycle'). The 1914 Model 140 sported an ingenious two-speed mechanism operated by a 'coffee grinder' handle alongside the petrol tank.
An undisputed stamp candidate was the 1930 Brough Superior SS100 — claimed by its inventor George Brough to be the 'Rolls-Royce of Motorcycles'. This motorcycle was sold with a 100mph guarantee and was made famous by T. E. Lawrence ('Lawrence of Arabia'), who owned six SS100s.
Next in line was Triumph's 1938 Speed Twin, which changed the face of motorcycling. It had a powerful, smooth, parallel twin-cylinder engine and was keenly priced. This made Triumph a major manufacturer during the 1950s and 1960s.
At the other end of the price scale was the Vincent Black Shadow. With an unrivalled top speed of over 125mph, a frameless chassis, cantilevered rear suspension, and an integrated gearbox, the hand-built machine was innovative and very well made.
Next came the original 'superbike', the 1969 BSA Rocket 3. This had a growling three-cylinder engine and could cruise comfortably at high speeds.
Finally, the 1990 Norton F1 brought the set up to date with a pistonless rotary engine that produced a 145mph racing speed.
All of this is wonderful stuff for the motorcycle enthusiast and philatelist alike. But even more important are the images. To ensure complete accuracy, we tracked down original examples of these motorcycles. Some were in museums, others were in private hands. We sent the artist Michael English to each motorcycle. He photographed and sketched key details and spoke with the owners. Atelier checked model details with the VMCC records to ensure that the examples we had found were correct in every detail. In many instances, we had to source period references for replacement parts such as tyres and spark plugs, then supply Michael with contemporary specifications to work into his two-metre-long paintings.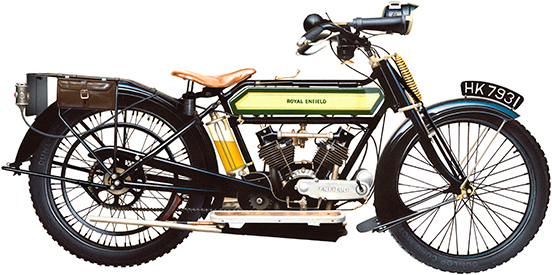 By the time Michael's finished artwork had been reduced down to postage stamp size, the images look like perfect photographs. Produced by specialist printers at 600dpi, the motorcycle enthusiast and philatelist can now pore over all the details with a magnifying glass. And that's just what they like to do.


Stamp format/size: portrait 30mm x 41mm. Print process: lithography. Perforations: 14 × 14.5. Phosphor: two bands. Gum: PVA. Number of stamps: six.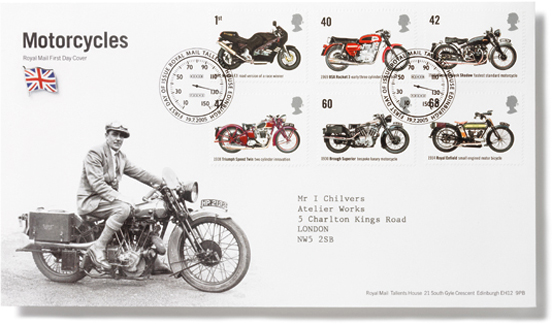 The first day cover presents a proud-looking George Brough on his 'Rolls-Royce of Motorcycles', along with his 'guaranteed 100mph' speedometer clock handstamp.




For the presentation pack, we persuaded the owners of these priceless motorcycles to turn up on parade at an undisclosed location for a photoshoot. It provided us with an opportunity to dress up in period motorcycling garb, stand around again admiring the chrome, and wonder how all the owners had stopped their engine sump leaks.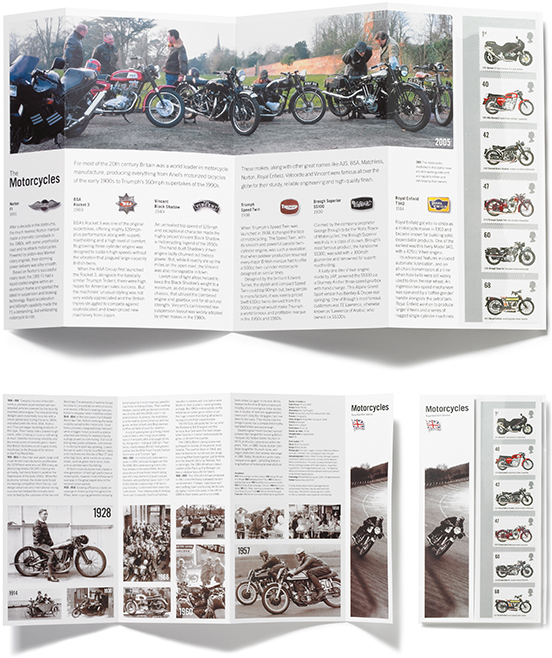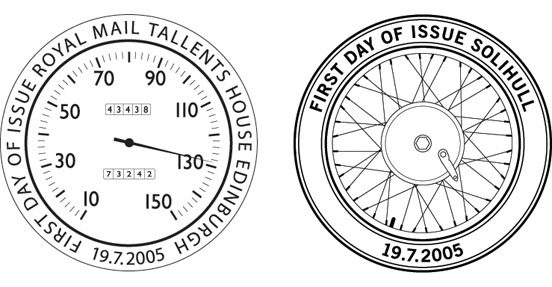 The handstamp designs came from our detailed research into motorcycle components. The official handstamp (left) features a Brough Superior SS100 clock, while the first day of issue handstamp (right) is the Triumph Speed Twin front wheel.