A STORY WITH A FUTURE
Bex, intern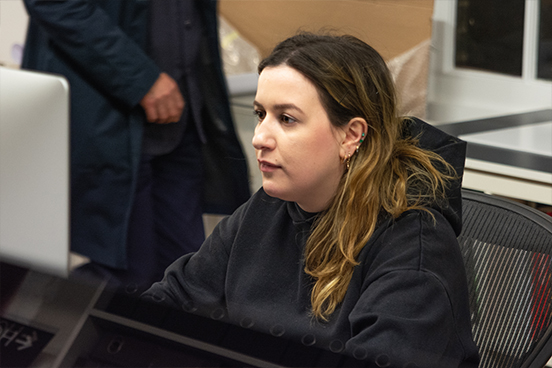 Bex has been with us for about a year now and has firmly established herself as Atelier's resident intern. Since graduating from London College of Communications she has been set increasingly difficult design tasks and is beginning to thrive as she gains confidence.
Close team-working means that Bex is involved in a number of ongoing projects and she has pushed herself to learn a number of new skills. Currently, she's been working on an animated screen loop for an upcoming exhibition. It's meant that she has had to acquire a lot of patience (for all those client changes to content), understand image resolution, learn how to get the best from some very poor imagery, study a new software programme, become highly organised with her digital filing, and to think ahead. This is whole new set of practical challenges — very different from a typical university curriculum that focusses solely on generating creative solutions, without acquiring the valuable technical skills necessary to follow through to completion.
In return, Bex has brought some of her own individual talents to Atelier. She's a gifted lettering artist and has contributed to a number of Atelier projects with some extraordinary calligraphy.
Related project: Urban Flavour