A TALL STORY
Quentin Newark, partner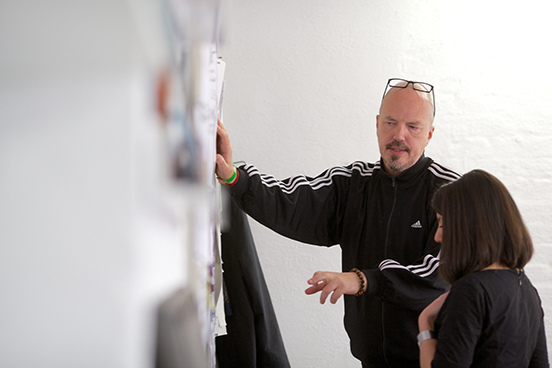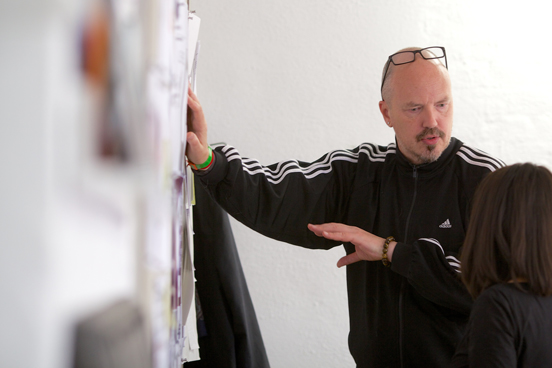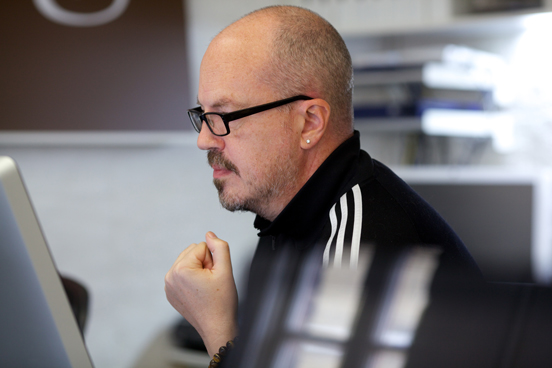 Quentin Newark's mother was an infant teacher. His father was lots of things; merchant seaman, haberdasher, guardsman, parachutist, builder, teacher, but considered himself an actor. His acting career included performances as a Neanderthal tribal leader in the first ever Dr Who, the Oberfeldwebel who shot at Clint Eastwood dangling from a rope in Where Eagles Dare, and starring roles in theatrical productions directed by Harold Pinter and David Mamet. It was an artistic and didactic household.
Quentin always drew and made things. With fastidious care. His mother saved his early drawings. At age three he was putting eyelashes and buttons on his drawings of people, whereas other children were drawing big potato shapes with dots as eyes.
He graduated from Brighton Art School in 1982 with a Honours degree First Class. His first job was with publisher Faber & Faber, where he designed the covers and inside pages of novels and poetry.
Quentin then went on to work with Alan Fletcher at Pentagram - Fletcher is now widely acknowledged as one of the best British designers of the twentieth century. With Fletcher, Newark drew the logo for the V&A, the logo for multinational ABB and the signs for Norman Foster's Stansted Airport. After Foster confessed to being good at grey, but not other colours, Quentin designed the colour palette used by the architects for everything in the airport.
Chaffing at the bit, and longing to choose his own projects, he co-founded Atelier Works with partner John Powner in 1991.
The early years brought work with clients like British Rail, Arthur Andersen, The Landmark Trust, Phaidon Books (a client now for nearly twenty years), and eventually a very long relationship with the Design Council. Quentin was the art director for Design magazine, the Council's main publication, for three years, as well as designing their logo (still in use), and many other campaigns and exhibitions.
As Atelier matured, the scale of projects grew. A turning point for Quentin was branding the Royal Institute of British Architects. A task previously entrusted to Eric Gill. Quentin husbanded the RIBA from near obscurity in 2001 to become a Superbrand in 2011. (Superbrand is collection of the most recognised and admired brands chosen by a panel of CEOs.) He designed everything for the RIBA from their website of 250,000 pages to branding in Arabic. His logo for the RIBA has been cast in bronze, etched in glass, chiselled into stone, gilded, iced on a cake, printed, debossed and embossed in nearly every technique imaginable.
Current projects include Quentin Blake's double illustrated autobiography, newspapers for the London School of Economics, and graphics for Camden Council's new headquarters in King's Cross. His most unusual projects have been two giant stone and bronze sundials six metres across - the first constructed outside the Houses of Parliament in London, dedicated to the Queen, the other outside the refurbished Mergellina Train Station in Naples.
Over twenty five years, some of the luminaries Newark has had the pleasure of working with include Annie Lennox (who made him tea), Pete Townsend, academic Stuart Hall, Sir David Chipperfield, Lord Foster, Prince Philip, Peter Mandelson, Tony and Cherie Blair, David Miliband, artists Paul Hogarth, Feliks Topolski and Quentin Blake, photographers Alaistair Thain, Tom Stoddart, and George Rodger, film maker John Boorman, poets Ted Hughes and Michael Horovitz, writer Adam Mars Jones, designers James Dyson, Jean Muir and Paul Smith. And he had the good fortune to be able to kiss Ruby Wax.
He writes about design and lectures regularly. He has lectured in Oslo, Stockholm, Newcastle, Budapest, Bangkok, Tokyo, Moscow. And Norilsk, a closed city in Siberia. He is often a judge of design awards. He has been a contributor to the Design Museum's Designs of the Year every year since its inception. He has been a representative of the design industry at soirees at 10 Downing Street and Windsor Castle. His first book about design called "What is Graphic Design?" has sold tens of thousands of copies, and is translated into many languages including Korean, Portuguese, Chinese, German and Japanese. He is writing a second book called "Brand World".
Quentin Newark was chosen as one of the 'ten leading designers in Britain' by the Independent on Sunday (24 February 2002).