FRUITS OF OUR LABOURS
The Labour Party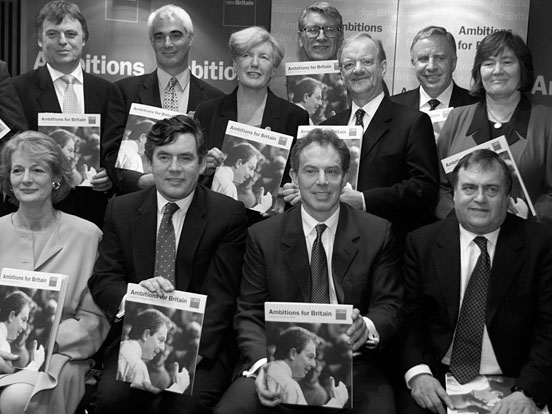 Tony Blair, Prime Minister 1997-2007
At 10pm. on Thursday 7 June 2001, the polls closed and history was made, as Labour were elected to a consecutive second term for the first time in their history. Tony Blair's off-the-cuff comment at our presentation was about to be tested as key cabinet members proudly displayed the new manifesto at the official launch of the campaign.
In the 8 months leading up to the election, Atelier Works had been secretly preparing a range of materials for a very, very big audience; spending many hours at Labour's Millbank HQ and regularly popping in and out of 10 Downing Street. But despite the frantic pace and extraordinary turn of events, we managed to design and produce a coherent range of materials which met the needs of the whole population, communicating to CEO's and foreign investors and the man on the street. Perhaps this breadth of achievement was something to do with our own business philosophy — blending the creativity of an artist's 'Atelier' with the industriousness of a 'Works' in as informal an environment as possible. As we stood outside Blair's office, waiting to present in our puffer jackets and jeans (no time to change), Alastair Campbell quipped "You guys must be the designers!"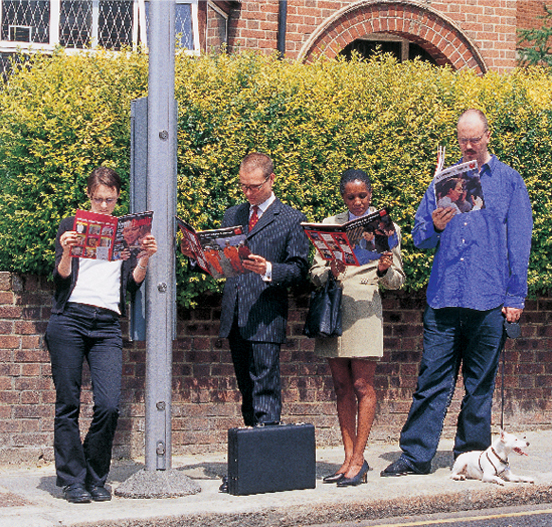 A manifesto for the whole of Britain
When we were briefed for the manifesto, we realised that, exactly like an annual report, this was a document reporting on successes and failures and the planned ideas for improvement. Infact, we were told that should Labour win, it was to become the official briefing for the Civil Service in the next government.
A key election document, dissected by TV pundits and newspaper commentators and sold nationwide in all major high street stores. three regional versions Scotland, Northern Ireland and Wales were produced simultaneously, each with their own imagery and even language! The informal cover shot of Blair, the square format and uncoated cartridge paper feel was designed to be accessible and outline some very complicated messages in a friendly, digestible format.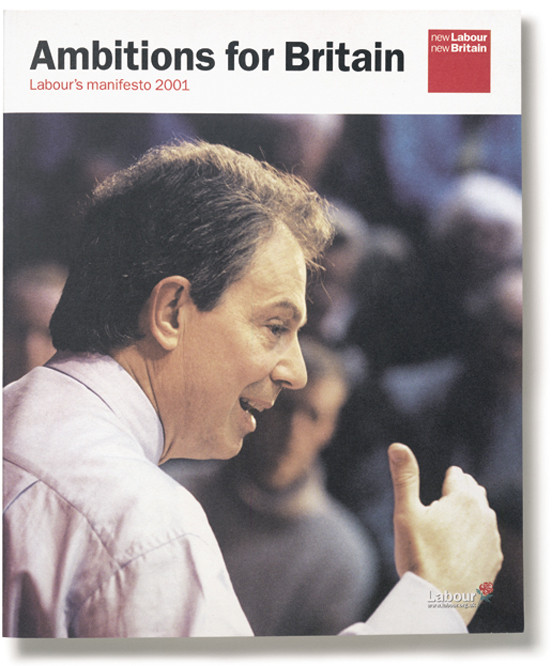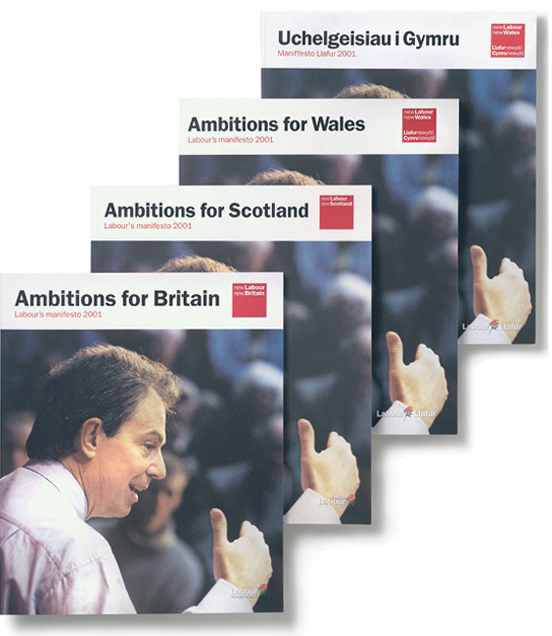 Working closely with David Milliband and the policy unit at number 10, our approach was to distill the enormous amounts of information for 3 distinct audiences:
1. Paddlers
Highly visual material with simple bullet point summaries on key topics, for a large number of the browsing public.
2. Swimmers
More detailed précis for those wanting to know more, illustrated with smaller relevant imagery.
3. Divers
For the opinion-formers, journalists and professional commentators, detailed 10,000 word explanations of each of the main policy areas.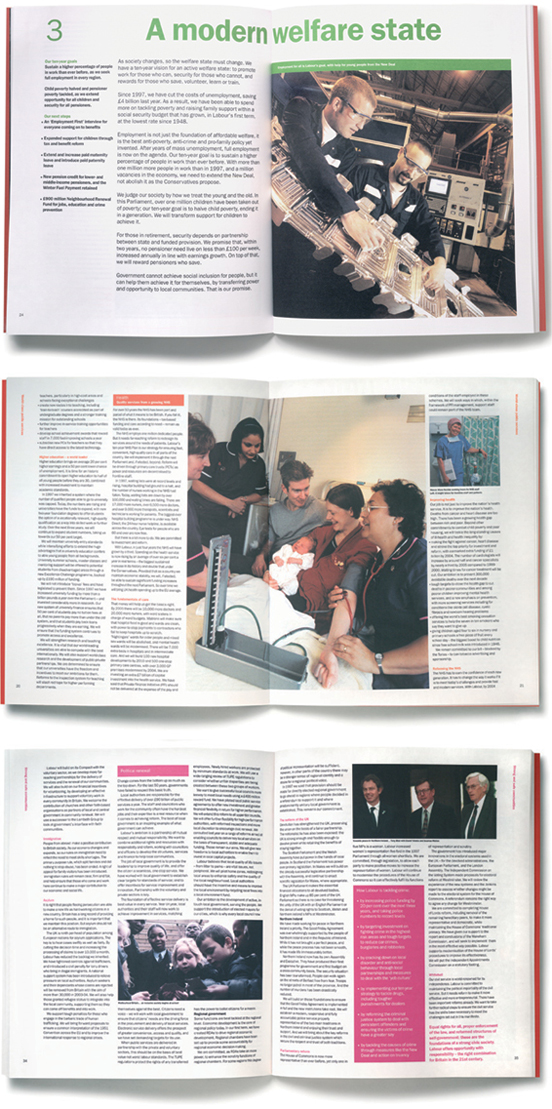 Labour were voted in by a huge majority, winning an historic second term on 7 June 2001.