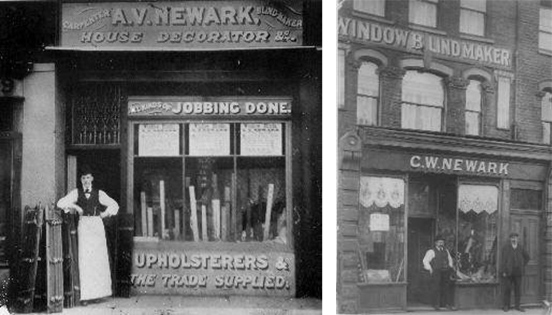 My family, the Newarks, has a historian. Michael from Ontario. He gathers information from the world over, about the various branches, where they have settled, and prominent individuals.
Recently he unearthed the story of two of my antecedents. Both, as it happens, ran shops near where my design studio is now. I had a photo taken to match their's.
Charles William Newark
Taken in the early 1900's, the photo on the right shows Charles William Newark, a window blind manufacturer, standing in the entrance to his shop and home at 46 Milkwood Road, Herne Hill. It appears from the picture that the family probably lived on the second and third floors above the shop.
The photo also shows a tall Charles Edward Percival Newark standing beside his father Charles. Percival, who saw active army service in France during the first World War, died on the 8 November 1918 of influenza while on leave at home.

Besides blindmaking, Charles also fabricated stage scenery and made props for Fred Karno's vaudeville show. Fred Karno's headquarters were on Coldharbour Lane in Camberwell, just up the street from Charles' business at 46 Milkwood Road, Herne Hill.
Wikipedia has this to say about Fred Karno: "During the 1890s, in order to circumvent stage censorship, Karno developed a form of sketch comedy without dialogue... American film producer Hal Roach stated: "Fred Karno is not only a genius, he is the man who originated slapstick comedy. We in Hollywood owe much to him." ... Among the music hall comedians who worked for him were Charlie Chaplin and his understudy, Arthur Jefferson, who later adopted the name of Stan Laurel. These were part of what was known as "Fred Karno's Army", a phrase still occasionally used in the UK to refer to a chaotic group or organisation."
Around the late 1890s, Charles seems to have employed Charlie Chaplin, who was young and struggling to make the stage a career. (Not sure what evidence Michael has for this...)
It is believed that Charles also made the first safety curtain for the London Palladium, and was also involved with the fabrication of the apparatus used in the 1904 production of Peter Pan, to make Peter "fly", a sensation at the time.

Charles was one of the most successful in a family tradition of window blind makers. His father John Newark founded the business at 28 Newington Butts before 1865 and the trade carried on through three generations until dying out in the 1930s. (Newington Butts is about 4 minutes walk from where I am sitting now.)
All of John's five sons, including Charles, entered the trade.
As a young man of 17, Charles left home to work as a window blind maker and painter with his older brother Frederick who ran a blind making business in Tottenham. It isn't known when Charles started his own business at Herne Hill. He died during World War I from injuries suffered in an air raid and was interred in the family plot at Lambeth Cemetery, Tooting. (I will soon be visiting this plot!!!) Also in the plot are his wife Amy Isabella (née Cock), sons Percival, William and Robert.
Albert Victor Newark

Brother of Charles, born in 1873 above the shop, Albert eventually went into the same business opening his own shop - A. V. Newark Carpenter & Blind Maker - in the Walworth Road.

He was married in 1891 at the Emmanuel Church in Camberwell Road (demolished in 1968). Albert was a member of the 4TH Volunteer Battalion East Surrey Regiment from 1890. In 1900 he Volunteered for the Imperial Yeomanry and served in South Africa during the Boer War 1899-1902. He was hospitalized with dysentery twice.

On his return to England he resumed his business and was photographed outside his Walworth Road shop in 1911. Business must have been good, since at least 1901 Albert his wife and family had been living at 98 Brixton Road, in a substantial three story building that is now a listed. (And tragically not still owned by a Newark.)

Upon retirement in the 1940's Victor moved to Clapham Common and eventually Tooting where he died in 1965 aged 92. (Four years after I was born.)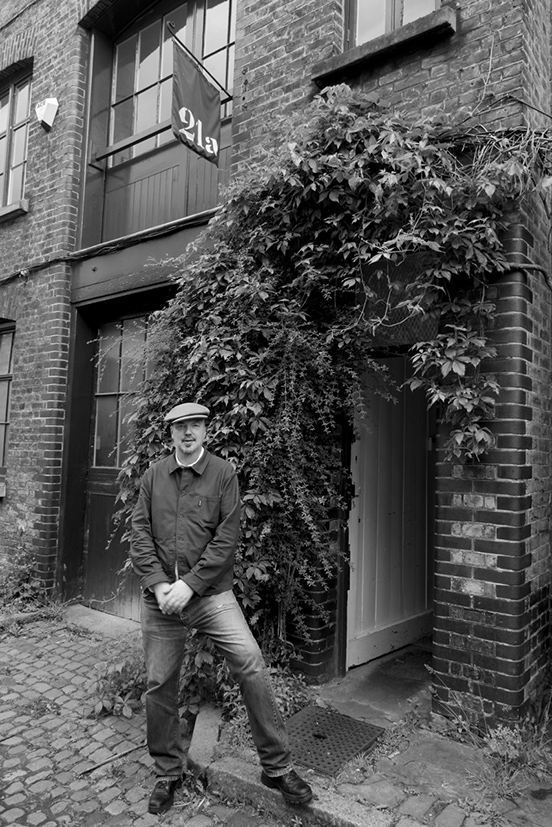 Quentin Newark
dressed in fustian