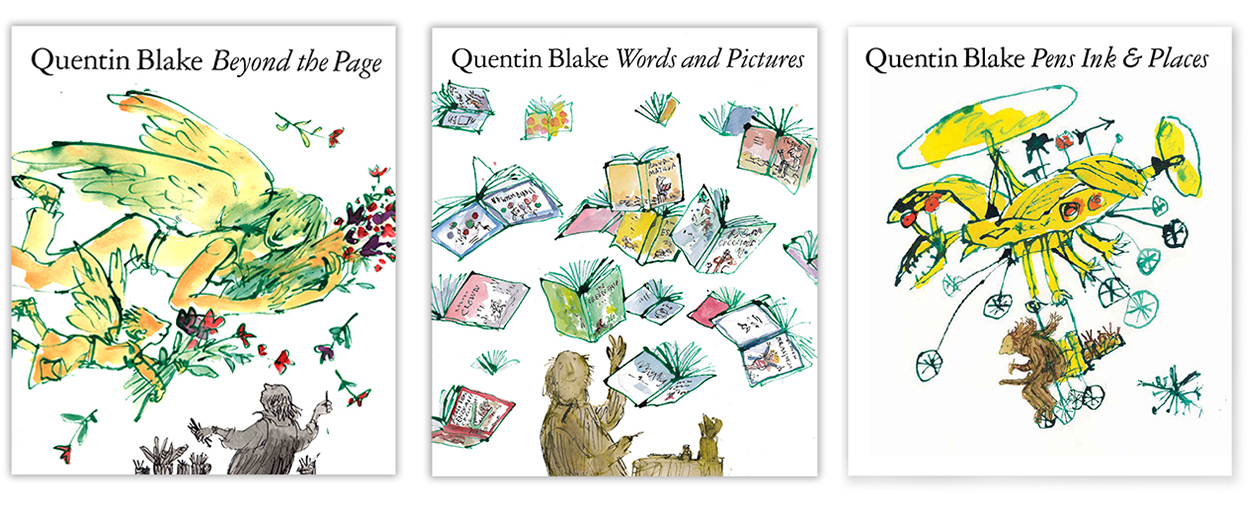 We have just finished the third volume of Quentin Blake's illustrated autobiography. A limitless pleasure; to meet him, and work with him on organising and laying out the books, to get to experience his work in such detail, and work with the ever lovely Nicola Bion at Tate Publishing.
If you don't know him, or even if you do, here is the sparkling biography of Quentin from Tate: "Quentin Saxby Blake CBE, FCSD, FRSL, RDI was born in 1932. For twenty years he taught at the Royal College of Art, where he was head of the Illustration Department from 1978 until 1986. As a children's book illustrator he is internationally celebrated, most notably for his long association with Roald Dahl, but has also created picture books of his own and illustrated adult classics by Dumas, Cyrano de Bergerac, Cervantes and Voltaire. He is informally called the 'Godfather of Illustration'. From 1999 to 2001 he was the inaugural British Children's Laureate. He is a Commander of the British Empire and an Officier de l'Ordre des Arts et des Lettres, and lives and works in London, Hastings and the South West of France."
There are sixty-four pages of books illustrated by QB on Amazon.
Our aim with the design was to get out of the way. To make the experience of looking at the books as impactful, charming, and awe-inspiring as it is to look at the drawing and painting in real life. We did this with a combination of very simple and restrained graphic design, careful editing to give a rhythm that climaxes in huge images, working with QB and Tate to scan and reproduce each image to make it as close as possible to ink on cartridge paper
THE FIRST VOLUME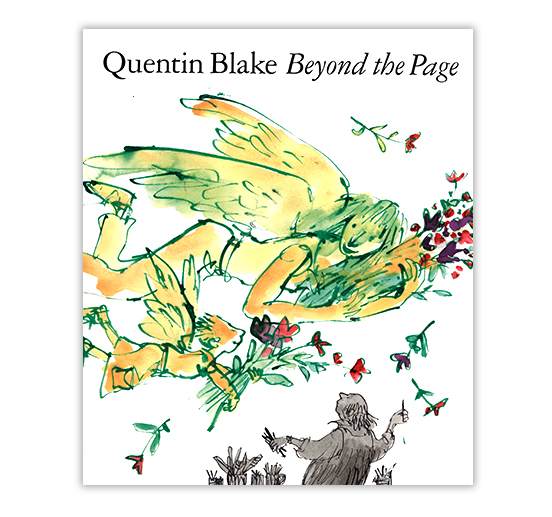 Tate's sales copy: "In Beyond the Page Blake writes about his projects since 2000, vividly describing his working processes, his collaborators, his travels and his various projects and commissions, including his 'illustrated walls' projects for hospitals in the UK and France. Generously illustrated with 320 full-colour reproductions of his work, this is an unsurpassed collection of Quentin Blake's achievements, which, together with his fascinating story, make it a must for aficionados and professionals alike."
This lovely direct sense of him from an interview in The Telegraph: "He's still faintly gnomish with a bald pate and sprigs of grey hair sticking out at funny angles over his ears. He still talks in exactly the same way too, haring off on any tangent that presents itself, but somehow managing to hang on to his original theme. And he even dresses the same - at least he's wearing a pair of his trademark spotless white shoes.
"Nor has there been any let-up in his work-rate: he still goes at it like a maniac, scarcely ever having a break. "I've never quite worked out how to do holidays," he says. "I've got a house in France which I suppose is a kind of holiday house. But it's really only so I can go on drawing when I get there. I'm never far away from the feeling that I want to be getting on with something."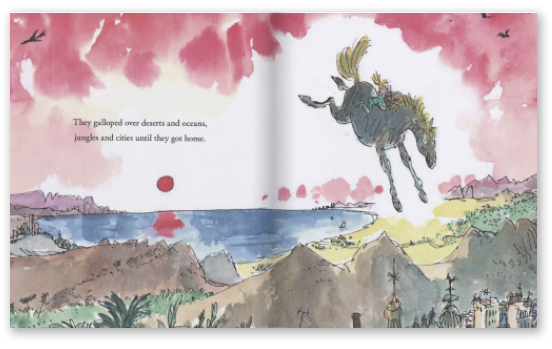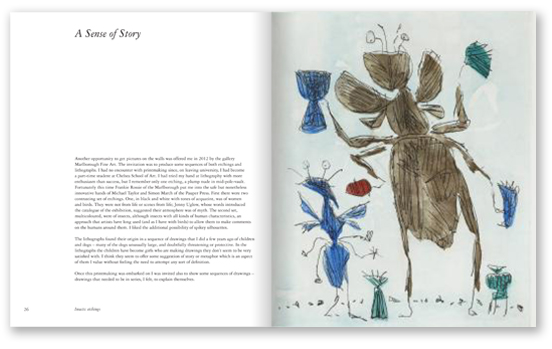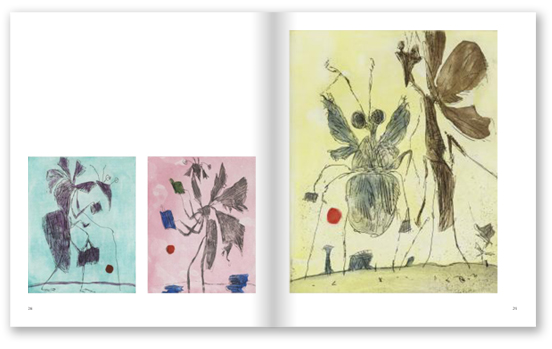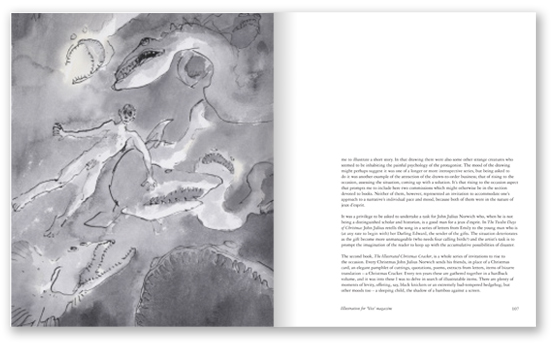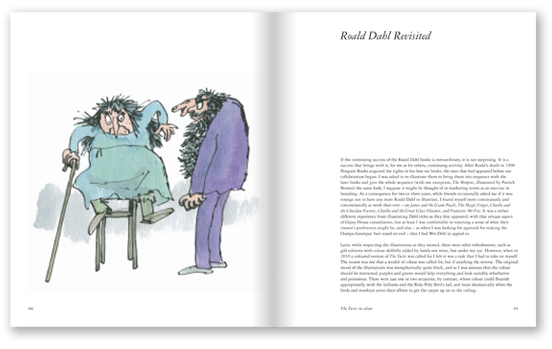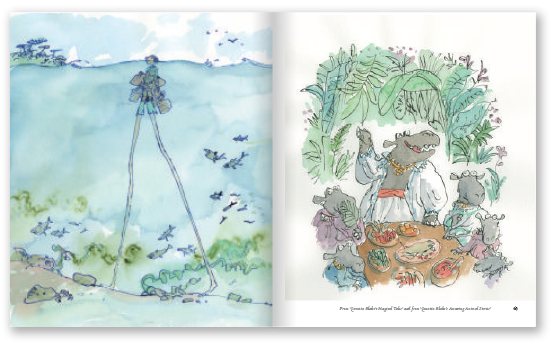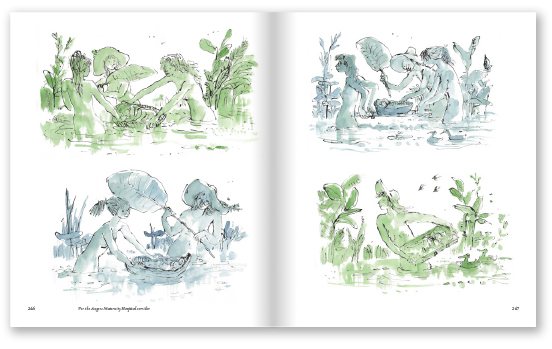 We fell in love with QB's ramshackle apartment. Set up around his drawing table. We thought, since this is where he does almost all his work, this should act as the endpapers, the wrapper, to the work inside.
For the first book of the trilogy, we had it photographed. For the second book, QB drew it. For the third book, his friend Linda Kitson photographed his studio in his Hastings' house. If there is a fourth edition, and given his rate of work I think that is highly likely - at eighty seven he has the energy of seventeen - I will nominate his studio in his French house! Or perhaps whatever sketchbook he uses travelling...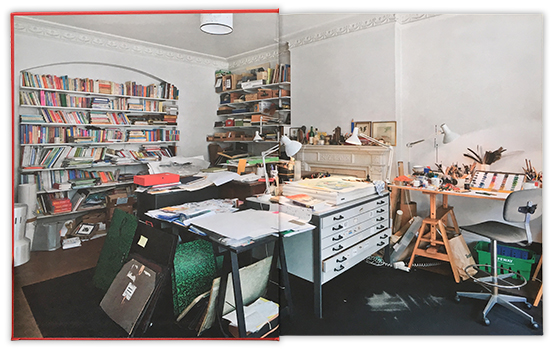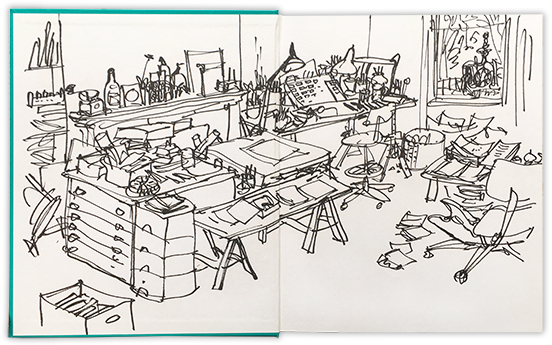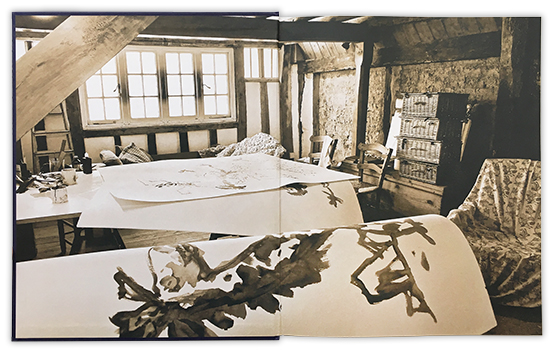 THE SECOND VOLUME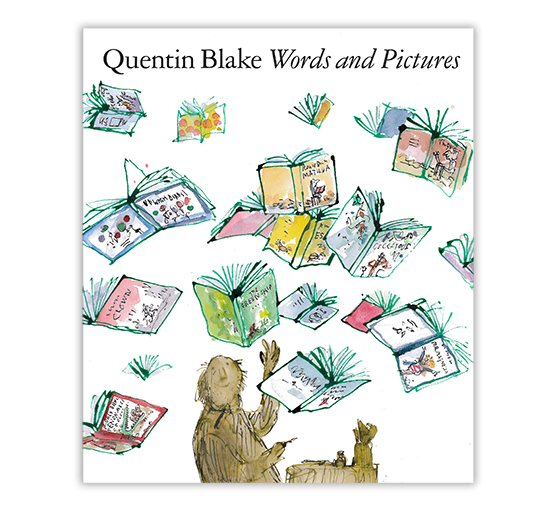 The covers have a common theme, arrived at in a conversation with QB: the man himself, the subject of the books in his own magical universe. The illustrations, each done especially for the book, is designed to sit below the title, and wrap around the spine and onto the back. We chose cloth colour and head and tail bands derived from the image.
Tate Publishing: "Following on from our hugely successful publication of Beyond the Page, we are thrilled to be publishing Words and Pictures in paperback for the first time. This is the fascinating insight into Quentin's work before Beyond the Page, from the start of his career until 2000. The words describe his approach to the challenges and opportunities of illustration; the pictures, chosen from fifty years of publication, show the progress from his first experience of Punch magazine to the publishing of his own-authored picture books such as Fantastic Daisy Artichoke. Some are familiar, such as those of roald Dahl's Matilda, or the BFG, while others are from early in his career, and some - roughs, layouts and personal drawings - will be completely new to most readers."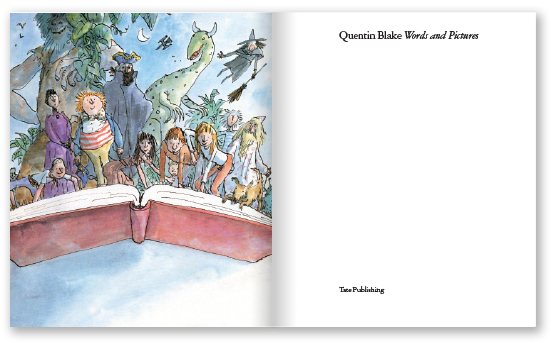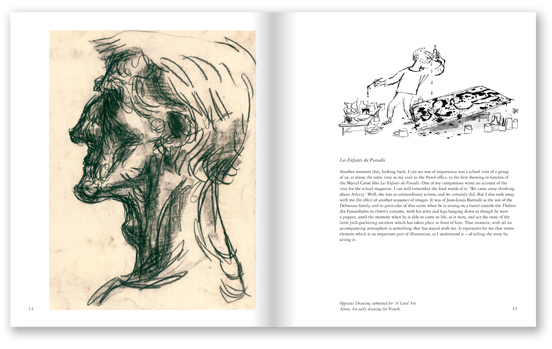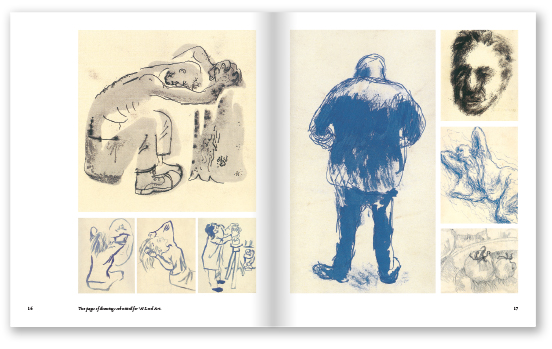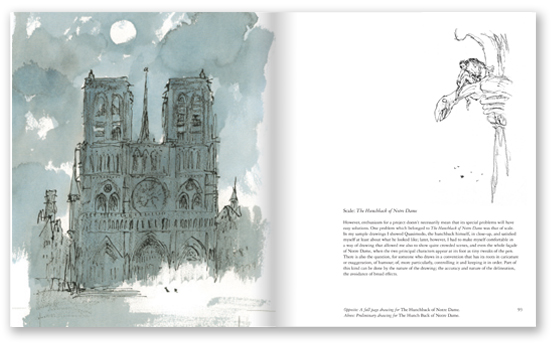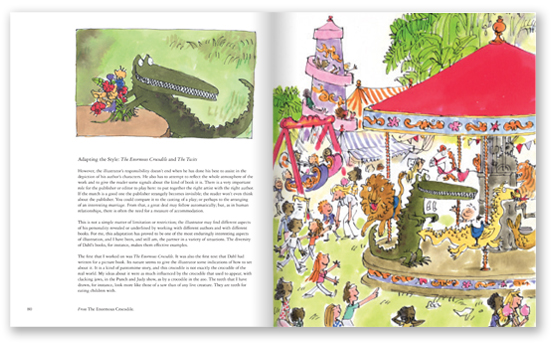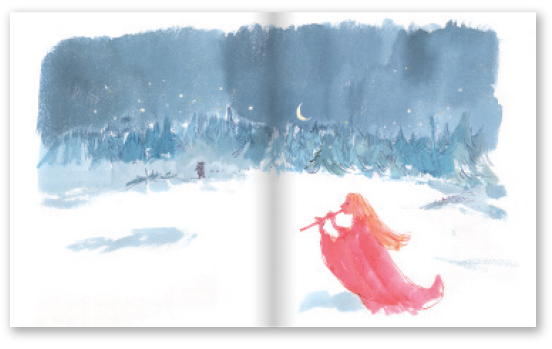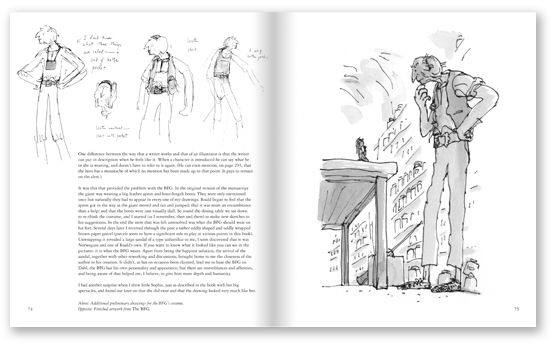 THE THIRD VOLUME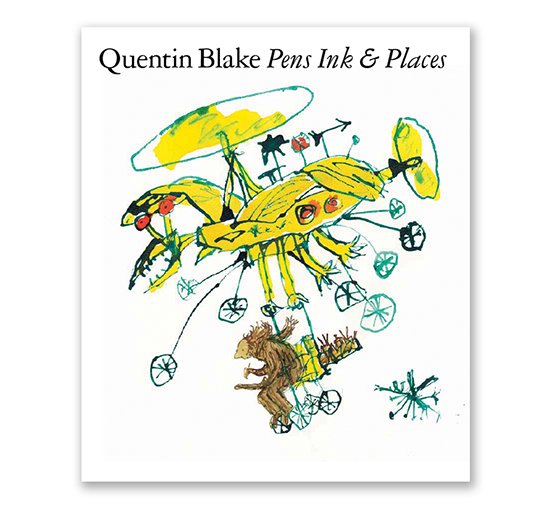 Tate Publishing: "Following the enormous success of Words and Pictures and Beyond the Page, this third volume, Pen, Ink & Places continues a narrative of visual adventures of unusual diversity. It ranges from a touching series of vignettes for Great Ormond Street Hospital to gigantic drawings for the Jerwood Gallery in Hastings; from the sombre apocalyptic landscapes of Riddley Walker to the energetic fantasy of Billy and the Minpins, and includes interpretations of work by John Ruskin, La Fontaine, Lucius Apuleius and Beatrix Potter. The accompanying commentary - straight, as it were, from the drawing board - explores the challenges and opportunities in the creation of drawings known around the world, as well as others seen here for the first time. It is clear from every page of this informative and richly illustrated volume that there has been no slackening of brio in the scratchy pen nib of the 'Godfather of Illustration'."
And I think this is a fabulous insight: from The Telegraph interview: "... there's something else that makes Blake unique among illustrators - and it might just be the secret to his success. He never seeks to impose his vision of how a character should look. Rather, he always allows space for the reader to contribute something of their own. To fill in the gaps with their imagination."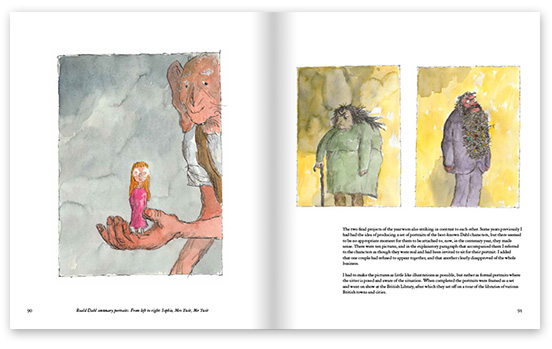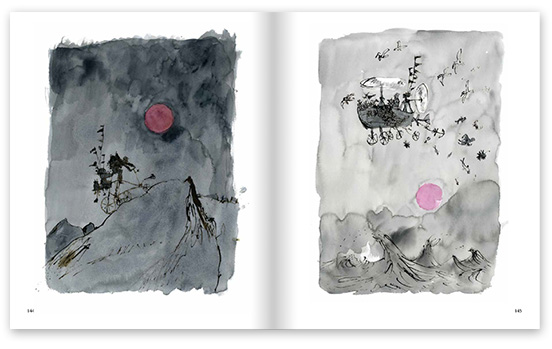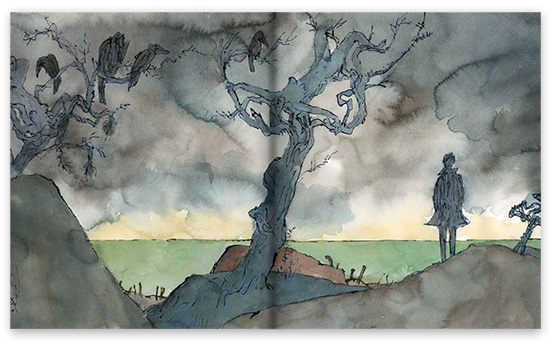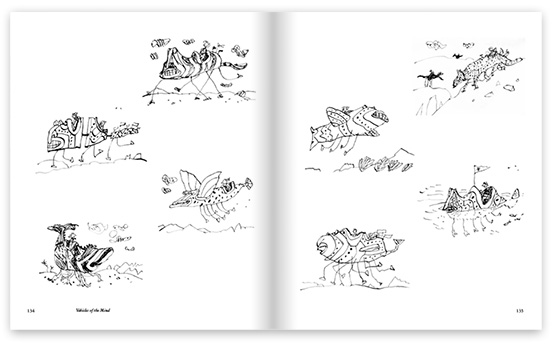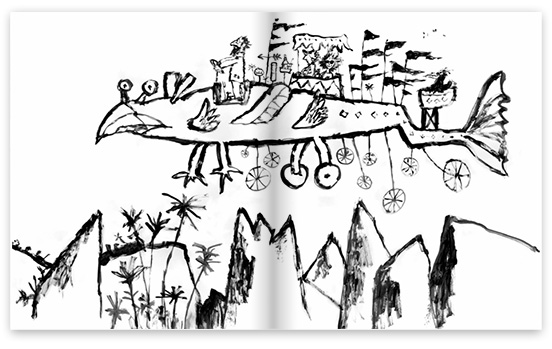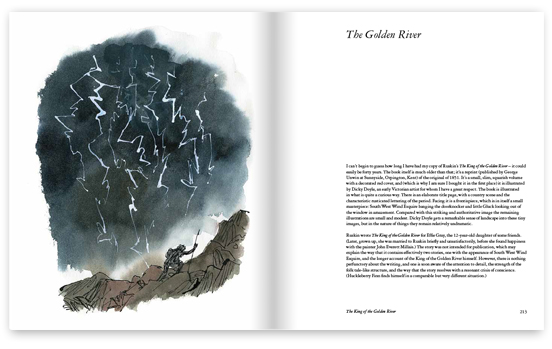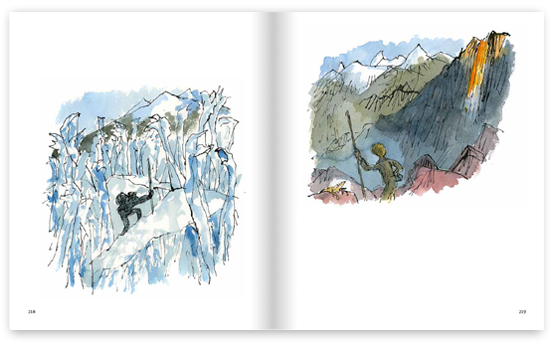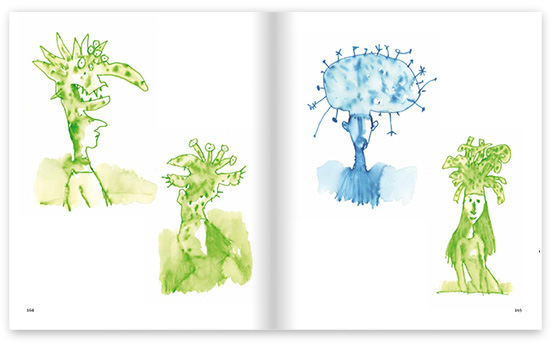 We also designed special editions of all the books, with colour cloth, striped head and tail bands, ribbon, and foil stamped illustration.