PULLING TOGETHER
Pullens Yards Open Studios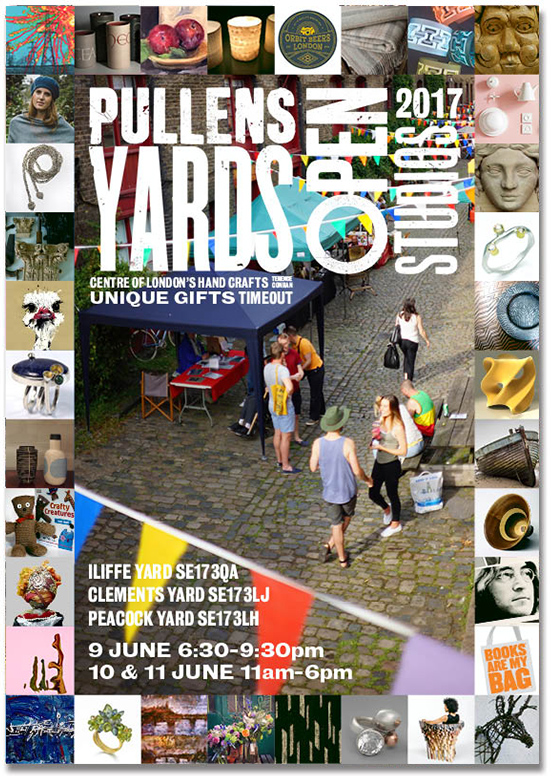 We are hugely fortunate to have our studio here, in Iliffe Yard. There are three Yards near one another - Iliffe, Peacock and Clements - built by Edwardian developer James Pullen in the late 1880s.
The three Pullens Yards were purpose-built for designer-makers. The studios have housed craftspeople, working with their hands, for a hundred and twenty years. Unsurprisingly, over this length of time, what most of the craftspeople produce has evolved; once the Yards boasted lace makers, fan makers and cabinet makers; replaced by today's filmmakers, jewellers and artist potters. A few crafts have stayed the same, there are furniture designers and letterpress printers here now, just as there were in the days of Queen Victoria.
You can see as you walk the cobbles of the Yards the sheer range of what is made here; photographs, rugs, wedding dresses, lutes, ceramics of every kind, films, printed silk scarves. And magnificent graphic design! And you can see the pinnacles reached; jewellery worn by Kate Moss, paintings which are acquired by MoMA and the Tate. Everything here is unique. A one off. It has been made by hand, shaped slowly by someone lost in concentration, with their fingers, or a simple tool carefully held, trying to give living form to something that has only existed until then as a thought. The Yards show us that a life of making is both possible and fruitful.
Twice a year the Yards hold Open Studios, a Friday night and weekend in which most of the studios open and sell their wares to the public. Various people have chipped in to publicising the Open weekend, with inevitably varied results. What the designer-makers of the Yards deserve is branding and communication with more focus, ideas, and success.
It seems obvious to us that the Yards are so full of creativity and stories and beauty, that the task is simply to channel the Yards' treasures, to find a way to foreground them. For example, for the logo, we asked letterpress printer Kelvyn Smith to print some of his original Victorian type, and used this to make a wordmark that glories in the same roughness and wear as the Yards' cobbles and brick facades.
We design and produce a flyer, which although humble, is popped through the letterboxes of hundreds of local doors, and disseminated in the thousands through local schools, shops and libraries. We take most of the photographs, and write profiles of some of the most colourful artists.
We have just designed a new website, gathering all the strands into one place, where each of the various audiences - casual buyers, wholesalers, the press, art lovers, et al - can be addressed in a satisfying way.
It is early days, but the new larger marketing team, with new vigour, has already raised the visitor numbers, everyone remarked on the uplift in sales. We are proud to help such a precious place, with such a unique culture of creative entrepreneurship, survive another century.