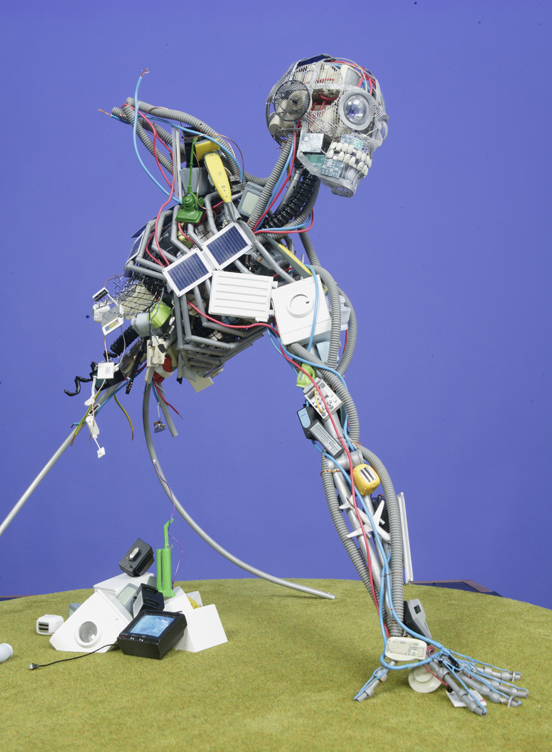 The Royal Society for the Encouragement of Arts, Manufactures and Commerce (RSA) encourages the development of a principled and prosperous society, often by confronting the complex issues facing today's world. The growing problem of Waste Electrical and Electronic Equipment (WEEE) is being addressed through EU directives but government preparedness and public awareness is not strong. The RSA's 'WEEE Man' project was created to highlight the importance of the new EU directives.
It is estimated that 6.5 million tonnes of electrical waste is disposed of every year, the equivalent of 14kg for every citizen in Europe. When the cadmium leaching from just one discarded mobile phone in a landfill site is capable of polluting 600,000 litres of water, it is easy to see just how important it is for everyone to think twice about how much electrical waste we create.
The RSA's WEEE Man was unveiled on the south bank of the River Thames, outside London's City Hall. It is an imposing seven-metre human figure built from three tonnes of WEEE. This represents the average amount of electronic waste that UK citizens are likely to create in their lifetimes. WEEE Man has a spine made from an old washing machine, a neck made from vacuum cleaner tubes, and teeth made from computer mice.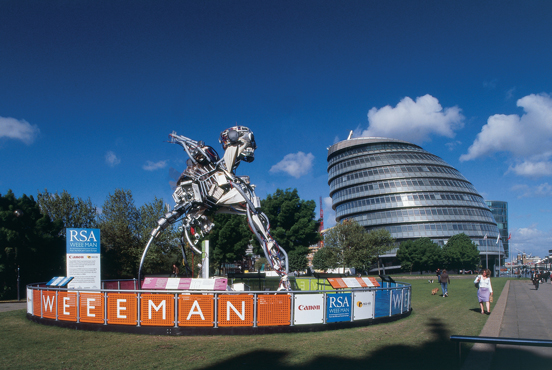 This startling sculpture was surrounded by a ring of informative panels designed by Atelier. Our task was to present facts and figures to the passer-by — challenging our 'out of sight, out of mind' attitude to disposal.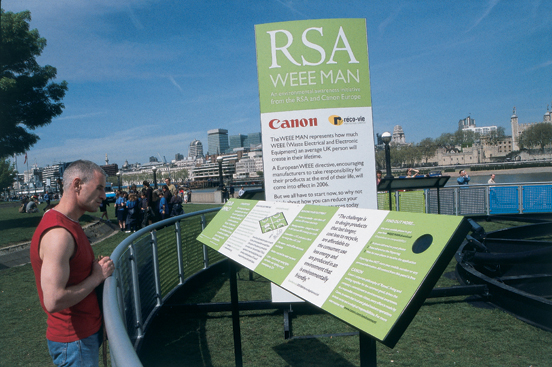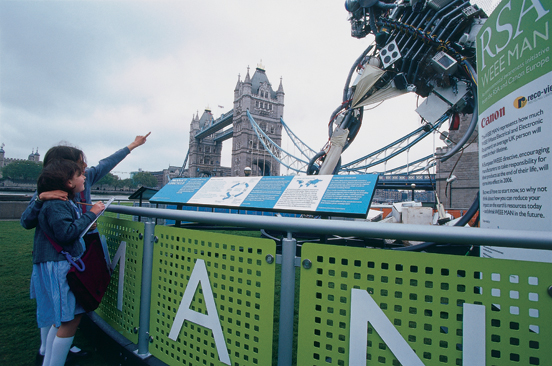 While WEEE Man is an arresting sight, its PR impact rests on the public immediately understanding what WEEE means. The graphics are therefore colourful, compact, and the information panels easy to digest. Our aim was to provide thought-provoking facts that spurred readers to reassess a relentless consumerist lifestyle and to encourage more reuse, recycling, and the recovery of valuable electrical components.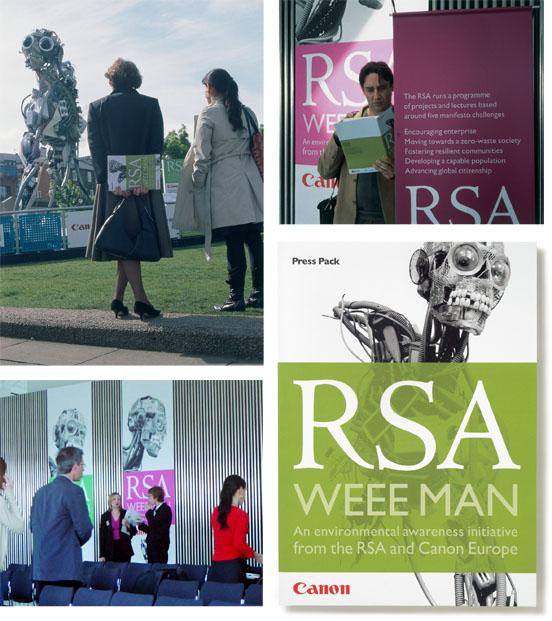 In addition to the installation graphics, Atelier designed all of the communication materials for the launch, including dressing the press venue at London's City Hall.


Related project: RSA Redraw