BUSH HOUSE
King's College London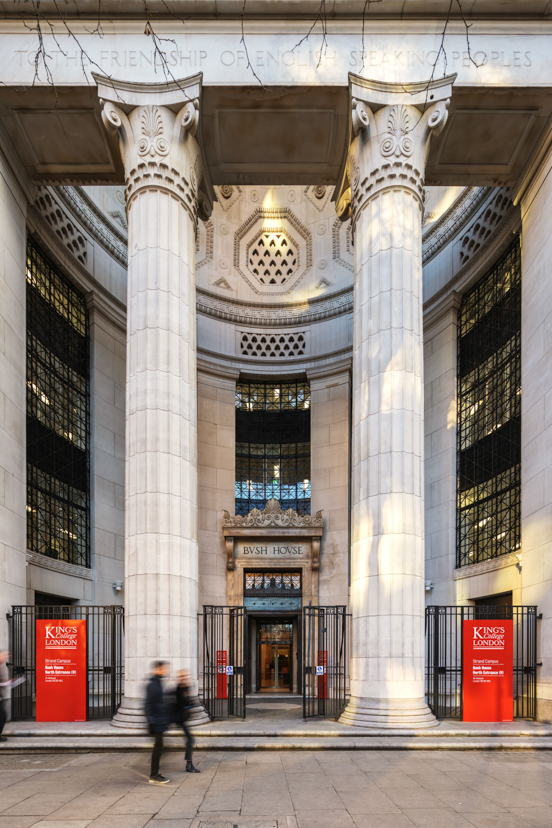 When King's College London moved into Bush House, a comprehensive wayfinding strategy was required which would complement the 1930s architecture and provide the university with a strong visual presence there.


King's College London recently added Bush House to its central London Strand Campus. Built between 1925 and 1935, it was then the most expensive building in the world. It remains a significant London landmark, with its imposing Portland stone exterior and a palatial interior of inlaid marble floors and travertine walls.
The converted Grade II listed building now provides modern lecture rooms, student facilities and staff accommodation. At peak changeover time, 5,500 people move through four separate wings and across 42 interconnected floors. King's needed a wayfinding system that respected the integrity of the period architecture, branded the site as 'belonging' to King's and — most importantly — helped students and staff get to lectures on time.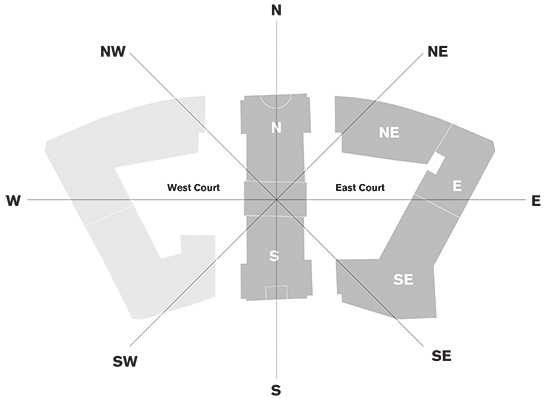 To establish a 'mental map' in the minds of students and staff, each wing was named after compass points (N), (NE), (SE) & (S).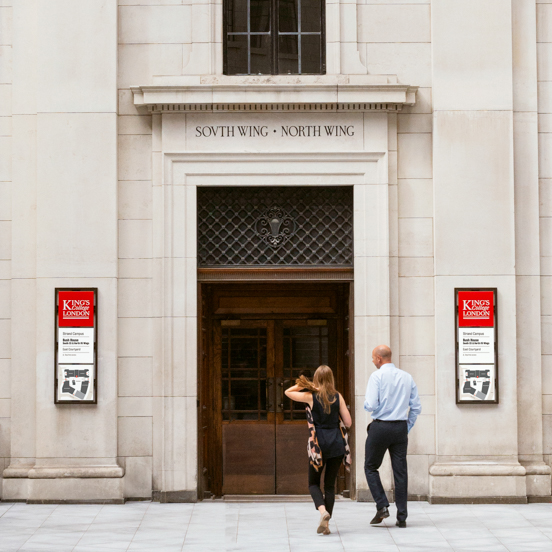 Entrances have stone-cut lettering overhead and low-level orientation panels. The lettering matches original stone inscriptions and the panels are bronze-framed to match the huge iron doors.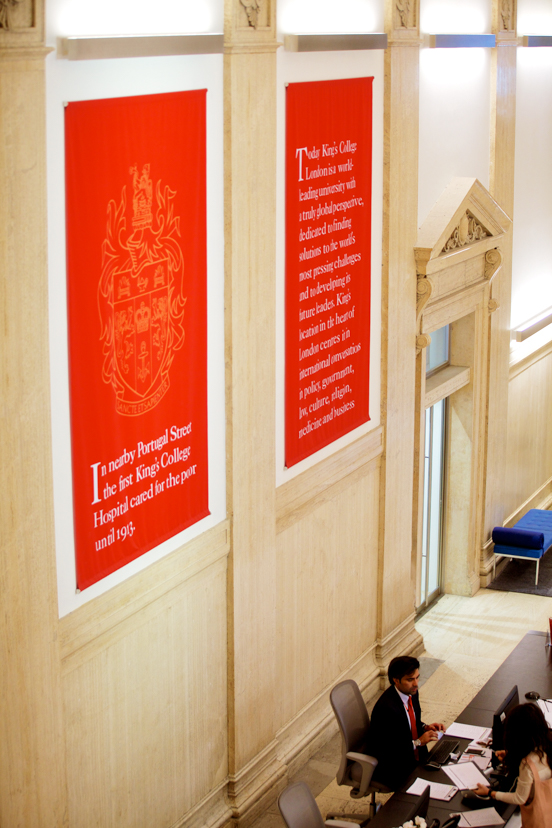 Inside, signs could not be fixed to the travertine-clad walls, so giant fabric banners greet visitors in the entrance lobbies.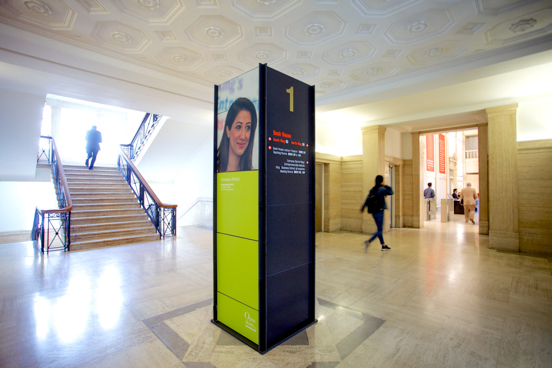 Freestanding directory totems match the proportions of the floor inlays and the travertine-clad walls.
The directory totems are constructed from interlocking acrylic stone panels. They come flat-packed (see Bush House Phase 1), so they can be assembled in minutes. Each totem includes a supergraphic featuring students and staff from the university's Diversity & Inclusion Campaign Opening Doors....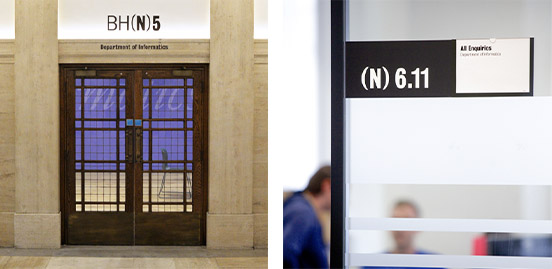 The naming system is based on a logical sequence of codes; Bush House (BH), North Wing (N), level (6), and room number (11). Room numbering is applied directly to glass partition walls.
These codes help students and staff find specific rooms, greatly assist in planning King's timetables, and enable easy room booking by academics.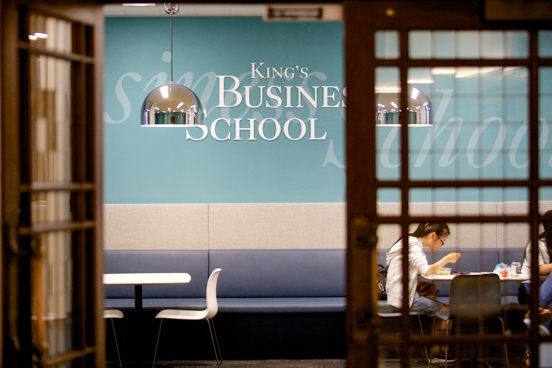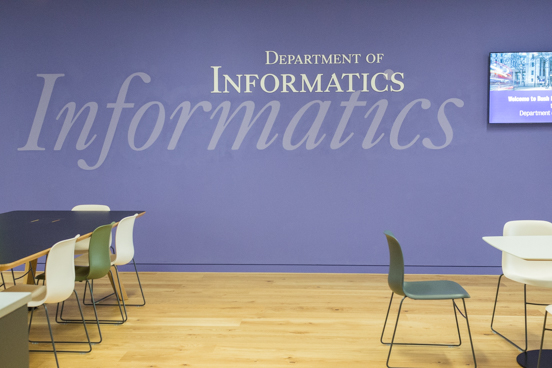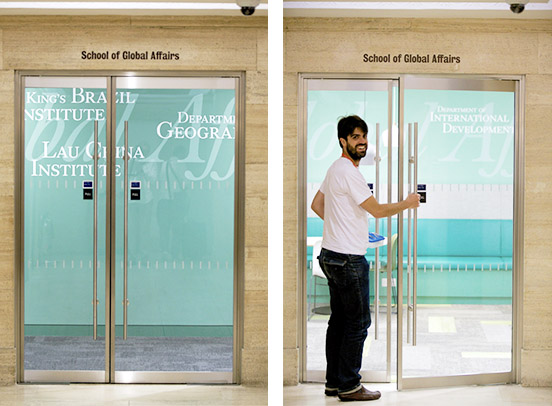 Our wayfinding team worked closely with the architects to create new 'welcome walls' in the lobbies of each faculty department.
Faculty and department names are visible from outside their entrance doors, thereby reducing the number of directional signs required within the building.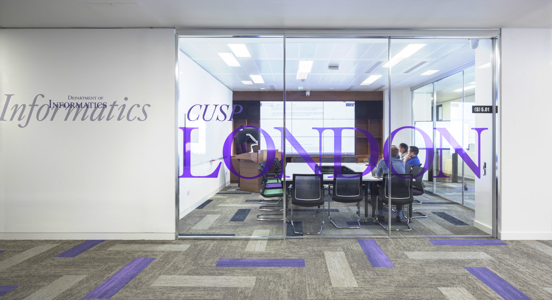 Departments also have feature graphics that acknowledge sponsored research projects.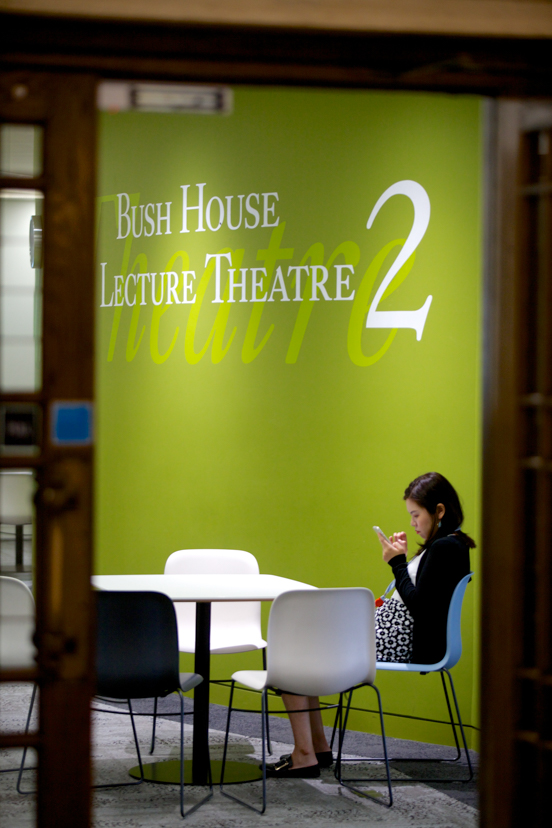 Major new facilities have been created and large-scale lettering has been applied to these lobby walls.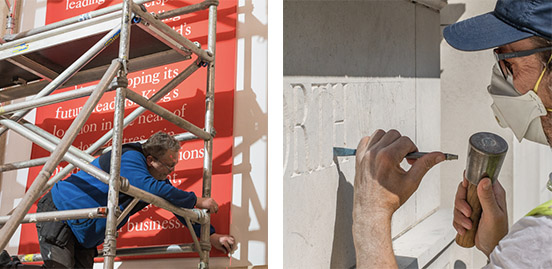 The Bush House wayfinding solution is a material mix of stone-carving, hanging banners, freestanding totems, feature walls and simple room numbering. Link to installation blog. It is a system that responds appropriately to the listed building. Information is positioned above head height for maximum visibility and in King's corporate style, and all internal wayfinding is updatable.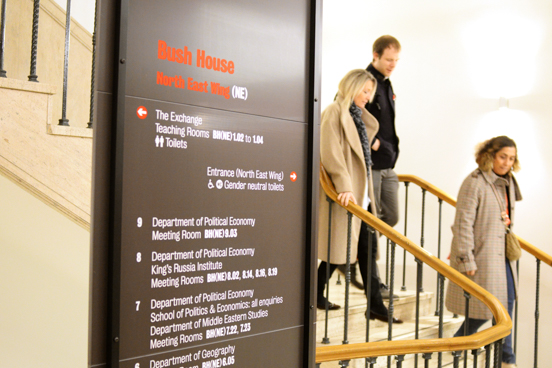 The key objective — to absorb a series of listed buildings into an established King's campus — is a proven success, as students and staff now move seamlessly from one part of the campus to another. The phased implementation of this wayfinding was delivered to a tight schedule so the buildings were fully operational to meet academic timetables.
The project has set a benchmark for future developments at other King's campuses, and wayfinding has since been recognised by senior management as an essential requirement for integrated estate planning.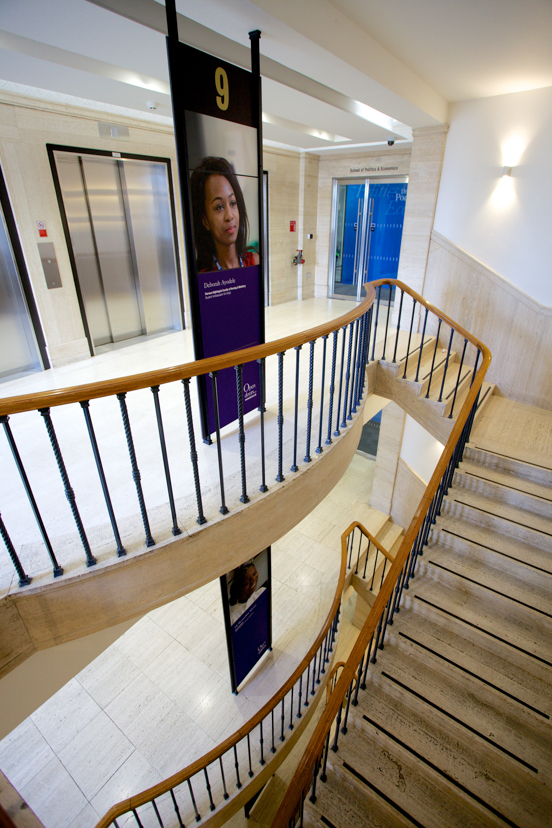 The thinking behind this project runs deeper than the usual application of 'signs with arrows'. It set out to meet a difficult challenge: to respect the building, while at the same time imposing a strong King's identity. The integration of the Diversity & Inclusion Campaign within the wayfinding scheme instantly affirmed ownership of the new building by the very people who were moving in.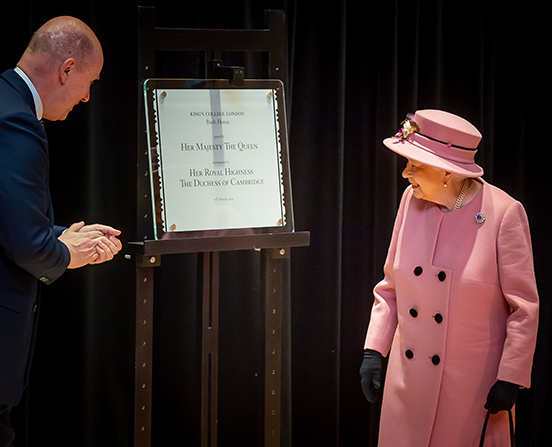 Bush House was officially opened by Her Majesty The Queen when she unveiled the very last sign to complete the project — a special dedication plaque now installed in the main entrance lobby.

Sir Ed Byrne, Principal


Bush House blog posts: Bush House Phase 1, Bush House Phase 2
Other King's projects: University Alumni, University DNA, Making a Difference, Selling a University, Connected to King's, Opening Doors...