STREET COLLABORATION
Lambeth Council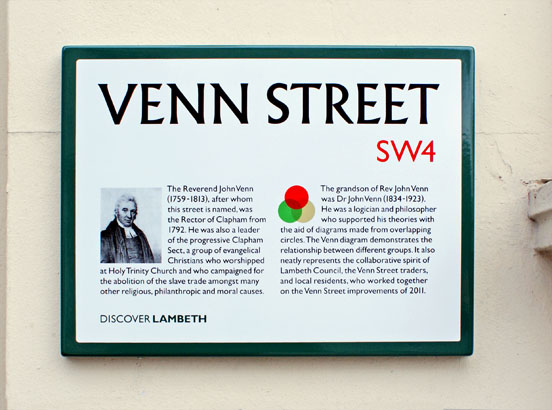 Like so many side roads in London, Venn Street was choked with parked cars and pedestrians were forced to walk along narrow pavements. As part of Lambeth Council's local regeneration plan, Venn Street was repaved, returning the street to pedestrians to linger and enjoy. The new piazza-like street includes olive trees and a regular farmers' market. The cinema, cafés and bars contributed outdoor seating and the Mediterranean café lifestyle is now firmly established in a once-unloved South London street.
Atelier was asked by Lambeth Council to work with local businesses to create a personality for the street. Our research uncovered a forgotten local association with the abolitionist campaigner Reverend John Venn, after whom the road was named. We developed 'Discover Lambeth' plaques, incorporating the familiar street nameplate (also designed by Atelier for Lambeth). The new 'extended' design briefly explains the origins of that name and acknowledges the collaborative effort of the Council and local businesses.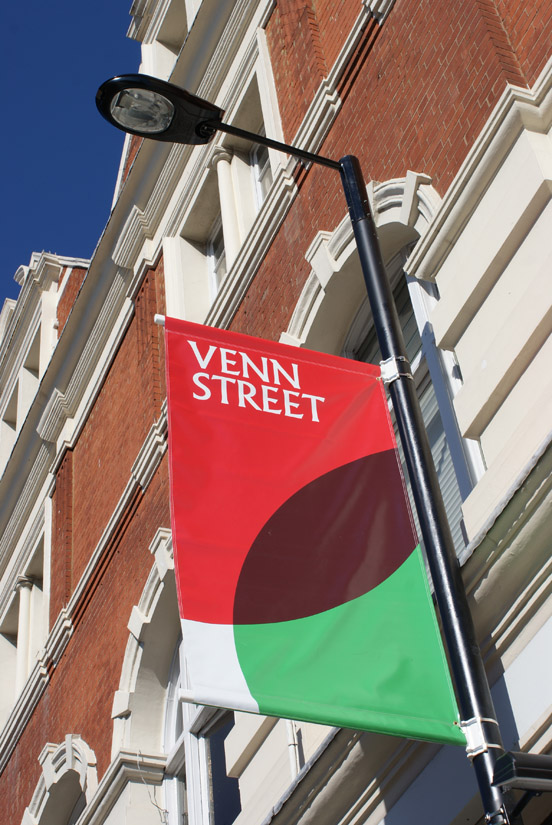 The Reverend Venn's grandson was the logician and philosopher Dr John Venn. It was he who conceived the Venn diagram that we are all familiar with from our school mathematics classes. Atelier thought this graphic method of representing the collaborative relationship of the Council and local businesses was wholly appropriate. Each end of Venn Street was adorned with beautifully coloured Venn diagram banners, providing a distinctive look and further strengthening local pride in the reclaimed street.
Other Lambeth projects: Triangulating a Circle, Local Knowledge, In van Gogh's Footsteps, Hand Lettering Revival, Lost and found