TYPE TREES
Royal Automobile Club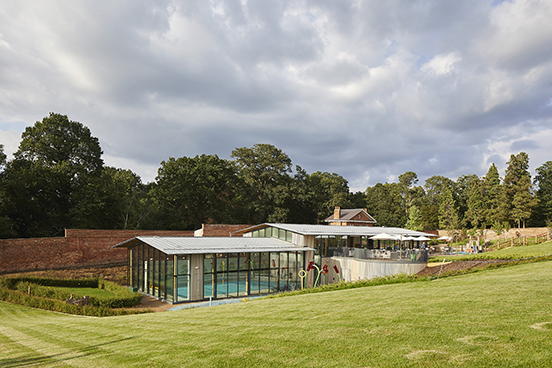 Founded in 1897 by and for motoring enthusiasts, the Royal Automobile Club (RAC) today also provides its members with accommodation, dining, leisure and sports facilities. It is perhaps one of the leading social clubs in the world, with an exceptional clubhouse in busy central London and first-class recreation facilities in the beautiful Surrey countryside.
In order to appeal to the broadest range of club members of all ages, the RAC has transformed a 12,000 square metre walled garden at Woodcote Park, turning the once-neglected space into a safe environment for families to enjoy. Within the 18th-century walls is the original gardener's cottage (now converted into a crèche), all-weather football and tennis courts, and outdoor climbing and play equipment. Positioned sympathetically in a sunken aspect of the grounds is a new swimming pool designed for pre-teens and families. Set low so that the pool's roof doesn't extend above the original garden walls, two sides of the centre are fully glazed so that swimmers can look out onto a flourishing landscape.
Atelier were commissioned to prepare some appropriate graphics for a 16 metre plenum wall that runs the length of the swimming pool. The new frieze had to engage both parents and children, and connect this modern wood, glass, and zinc-clad building to its verdant setting.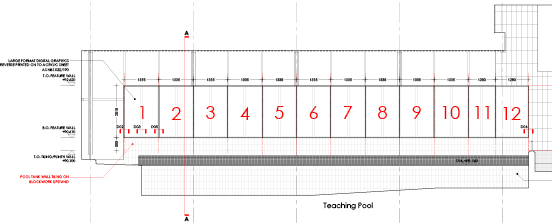 At first sight, the architectural plans seemed cold and lifeless. It wasn't until we visited the park and stood poolside that a design solution presented itself.
Surrounding the walled garden are 350 acres of parkland with extensive planting and an expanding arboretum. Some of the trees in the arboretum can be seen over the garden walls. The treeline forms a striking silhouette on summer evenings and this prompted us to consider a tree frieze as an opportunity to bring something of the outside, inside.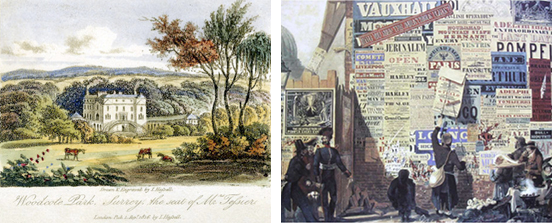 The main house at Woodcote Park (above, left) was built in 1679 and the walled garden was established many years later to supply produce for the kitchen. This late-18th-century addition was built during a flourishing period of broadsheet printing, when news and events were pasted onto walls for public view. John Orlando Parry's watercolour 'A London Street Scene' (above, right) painted in 1835 shows the impact of the information explosion, when large and expressive fonts were created for impact and distinction.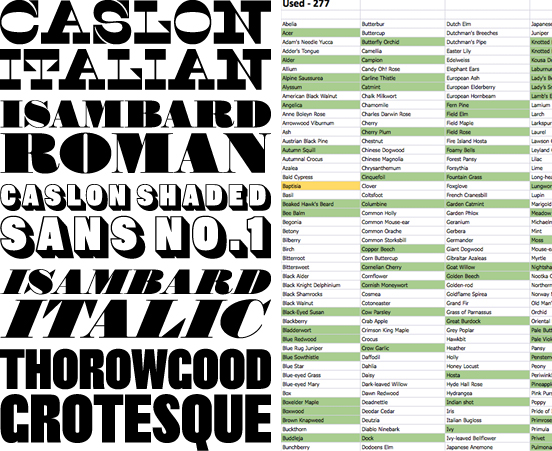 Our research led us to recently digitised revival fonts, dating from the early 1800's. Irresistibly named 'Isambard Roman' and 'Thorowgood Grotesque' typefaces drew us in. At the same time, we were liaising with the head gardener who was busy compiling a plant list for the new site. He brought more enchanting names to our attention, such as 'Toadflax' and 'Fig-Leaved Goosefoot'. Stumbling across these idiosyncratic names was a joy.


And so the two elements came together; the plant lists literally grew into 'type trees'. They are fun and arresting, with a quirky energy springing from a playful juxtaposition of charming plant names and exuberant letterforms.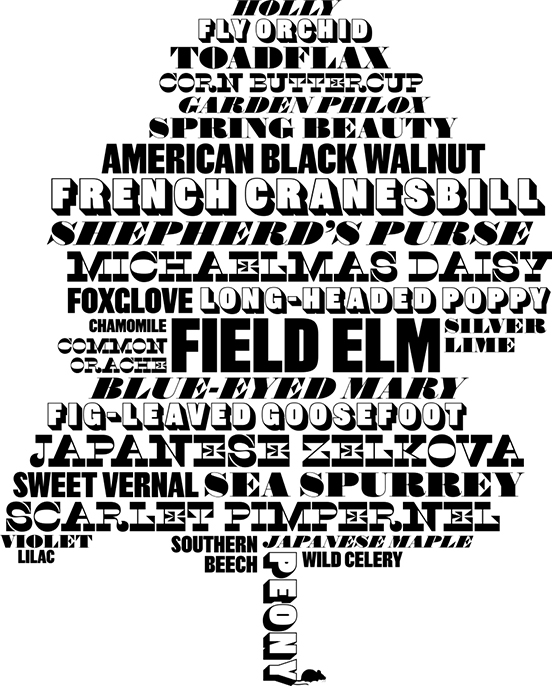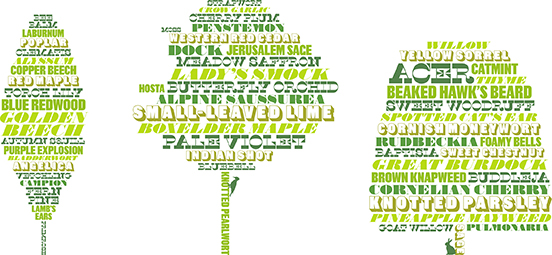 As the type trees took shape, we became 'tree-spotters', learning to identify each tree by its own distinctive profile. This, we thought, would be fun for the older children and their parents — but what about the younger children? The mishmash of words seemed a perfect hiding place for the wildlife of Woodcote Park and so (from yet another list) we created local animal and bird figures and placed them in and around the type trees.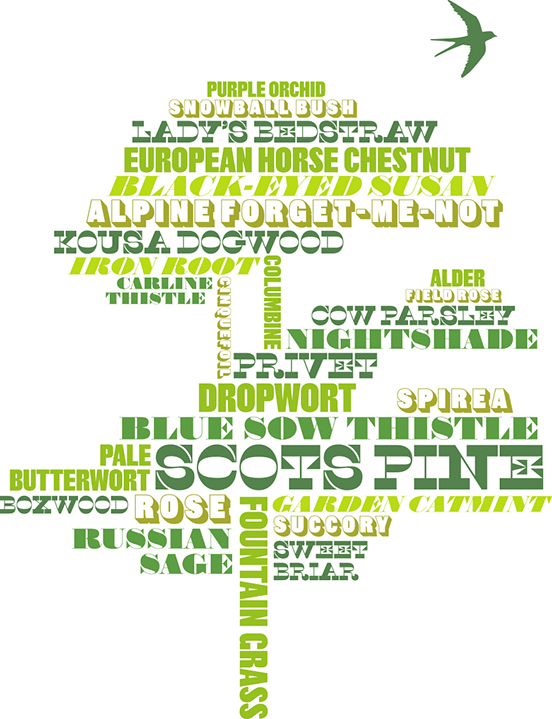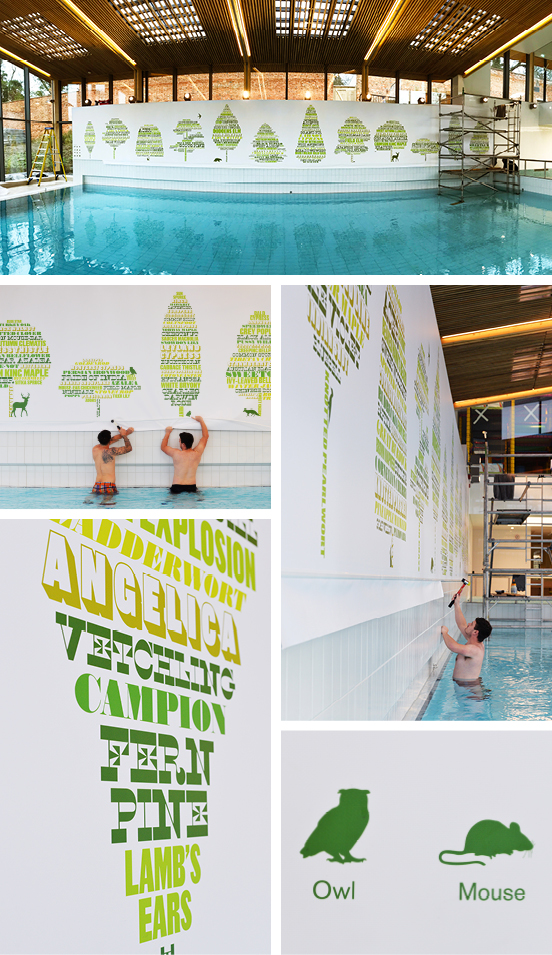 We are always on hand when our work is being installed. This day was rather unusual as we had to oversee from a distance and the installers had to bring their swimwear. By this point the pool was in a commissioning phase and so full of water. It did make fitting the frieze a little tricky, particularly at the deep end!