UTILITARIAN SIGNS
Royal College of Art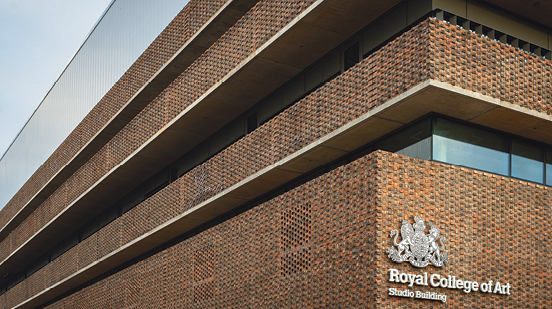 The Royal College of Art (RCA) is one of the world's most renowned postgraduate art and design institutions. Their new STEAM-focused courses (Science, Technology, Engineering, Art and Mathematics) set out to integrate art within the UK Government's high-skills science and research economy. The RCA's Battersea Campus was selected as the site for new workshops, studios and research facilities for the STEAM courses. Architects Herzog & de Meuron were appointed to design the RCA's first purpose-built campus in its illustrious 185-year history. Backed by the Treasury, donors, philanthropists and industry bodies, the £135m, 15,500sqm buildings bring together pioneering design research for disciplines including medicine, robotics, the environment, mobility and computer science.
On the strength of our wayfinding work for King's College London, Atelier were appointed as wayfinding consultants to the RCA project team. During our Stage 1 research phase we encountered some conflicting design issues. In reverent, hushed tones we were repeatedly reminded by RCA staff that "this is the Royal College of Art you know — we need an innovative wayfinding solution". On the other hand, the architects were wary of any 'statement' signs disrupting the stripped-back work spaces. Jacques Herzog pointed out that "the building is not flashy, because the flash is produced inside". Meanwhile, the RCA Development Office emphasised the significant contributions made by external donors and how essential it was that their names were clearly visible. It also became obvious during our site visits that the RCA had no established method of maintaining or updating wayfinding across their estate.
A new wayfinding strategy needed to balance the RCA's creative expectations with an essentially functional purpose. Following the Bauhaus dictum 'form follows function', we approached all of these challenges by finding solutions in our research; working with the buildings, being thoughtful with materials, and innovative in thinking about future long-term upkeep.
Before designing a sign we studied the plans, taking imaginary student and staff journeys around the four-level workshop and studio building, and then taking an imaginary climb up the eight-level academic research tower. Despite the open-plan working arrangements, we discovered 124 rooms that needed identifying and that a further 185 signs would be required to guide students and staff to their work stations. We undertook an iterative development of the wayfinding strategy, which evolved over months of surveys, prototype testing and meetings with the project team. What emerged from our research was a room-numbering system to help students and staff find their own way around the buildings.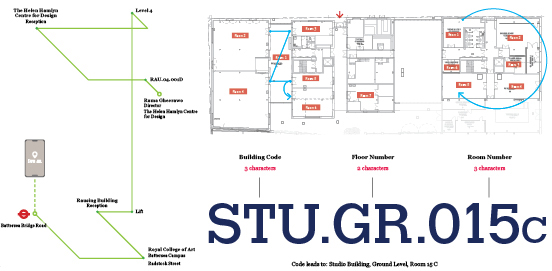 Existing departmental names were variants of academic terms and many were too lengthy for signs. Acronyms were not liked by the project access group, nor were they helpful to international students. Fixing a name to a room in a work space designed for flexibility would mean constant updates to the wayfinding scheme. A room-coding system was proposed, comprising; the building name ( STU for Studios ), a floor level ( GR for Ground ), followed by a room number ( 15 ), and finally a letter ( c ) for rooms within rooms. Coding clockwise around each vertical core, the rooms become sequential and so can be anticipated, in the same way we search for a house number when walking down a street.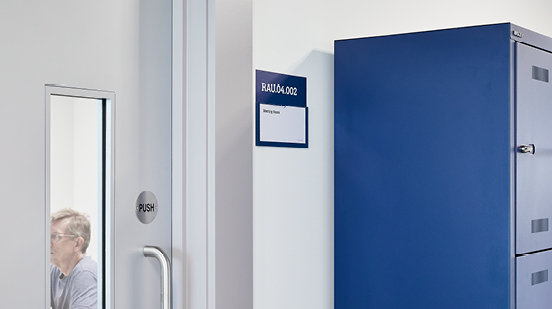 Room numbers were tested and integrated within the RCA's timetabling system. Room naming remains completely flexible, with self-generated templated inserts slipped in under the room number.

A datum line for readability was set and a family of sign types was developed, according to the amount of information each needed to display and the constraints of various surface locations.
The architects Herzog & de Meuron configured the RCA's new buildings as an 'academic and research factory', describing the scheme as 'an adaptable envelope that can reform around different programmes and modes of working'. Internal concrete floors and ceilings, simple white plastered walls, exposed ceiling-mounted services, lots of natural light and ventilation, and robust fixtures and fittings provide an adaptable, practical, light industrial working environment.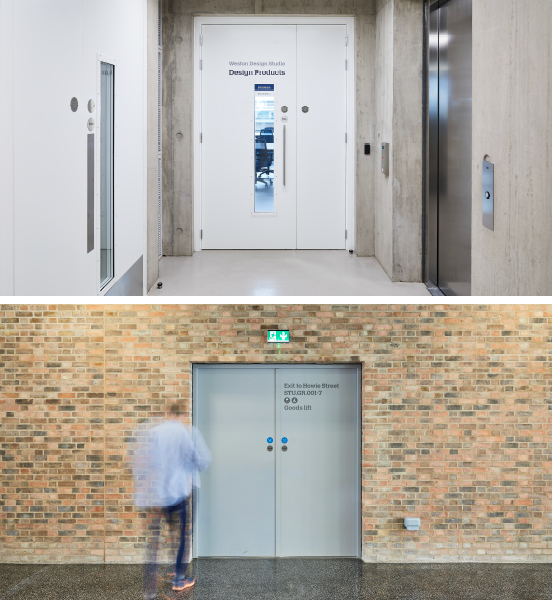 Herzog & de Meuron's large factory-like doors became giant signs themselves, circumventing the need to apply directional signs to walls. Well-positioned contrasting type can be read from a distance when walking in a crowded corridor or seated at a desk in a large open-plan work space.
With all building services ceiling- and wall-mounted, the industrial aesthetic is embedded. When developing the sign types with changeable components, it became obvious that we should match the materials and functionality of the building services — galvanised metal, fashioned only to serve a purpose. This lead to the creation of a low-cost but bespoke sign system for the new buildings.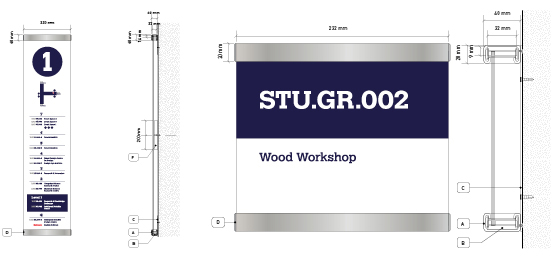 Further research established which components could be manufactured on site, in the RCA's new workshops. The sign design was adapted to become self-managed. Whenever there is a change of use, digitally printed composite panels can now be produced in the ground-floor workshops and simply inserted into the galvanised metal fixings.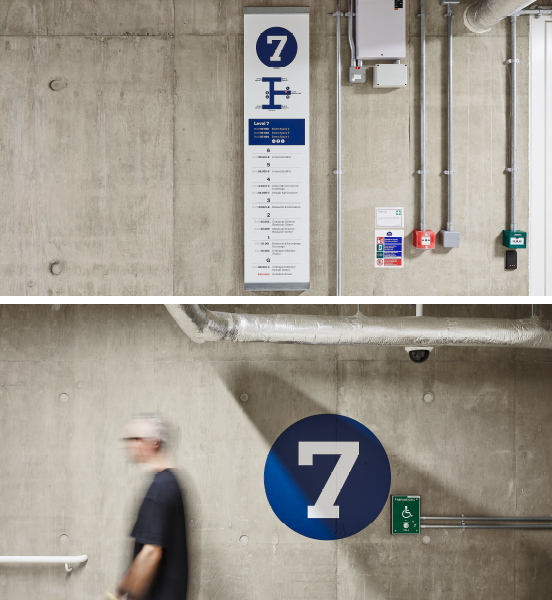 Herzog & de Meuron's internal architecture is fundamentally utilitarian. Atelier's signs follow this practical workaday aesthetic, sitting comfortably amongst the galvanised conduits and air-conditioning ducts, and seeming just another part of the overall services fit-out.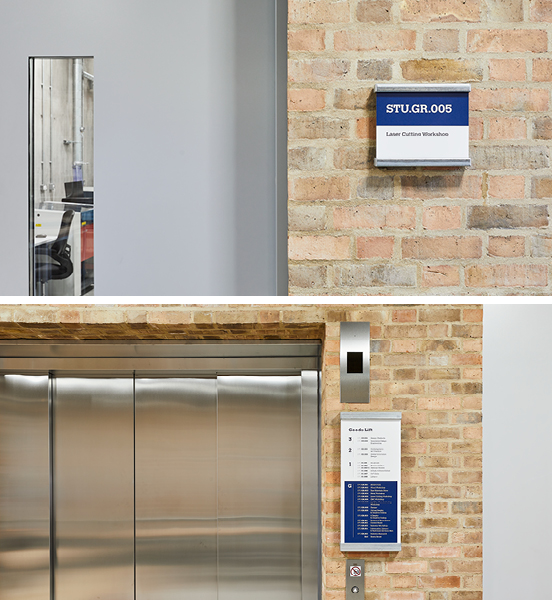 The RCA's hankering for wayfinding innovation is not immediately evident — this is a wayfinding scheme and a design solution, that can be self-managed with updates manufactured in the RCA's own workshops, using low-cost, off-the-shelf materials ordered in from the local builders merchant.
A close analysis of the donor acknowledgement listing revealed that a complex and delicate distinction was needed based on donor expectation, the size of the donation, whether the donor was a long-term supporter and if they were an alumnus. The RCA's Development Office matrix continued to change as fundraising came in throughout the construction period. Nevertheless, Atelier developed a hierarchy of donor acknowledgment signs that were ultimately integrated into the wayfinding scheme.

Individual donor approval was sought and managed by the RCA's Development Office. Atelier produced individual 'donor walk' schematics, replicating donor recognition as seen by people traveling through the new campus buildings.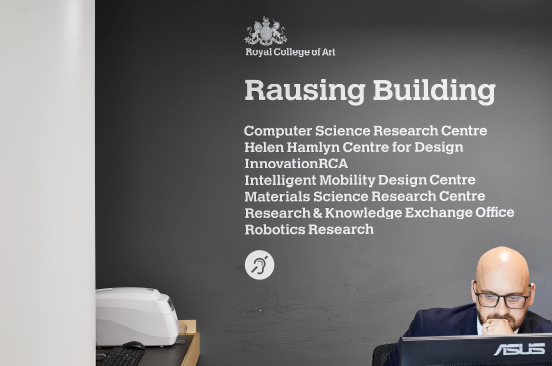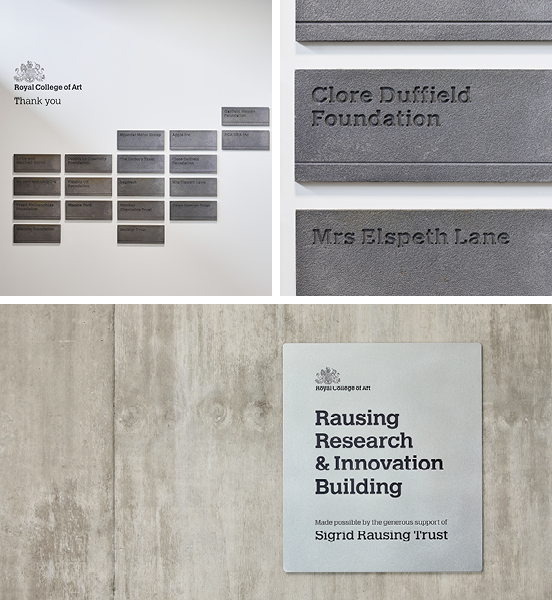 Donor acknowledgement also had to be appropriate to location; a large donor recognition sign in a small space would seem ostentatious, while a small sign would be lost in a large space. In contrast to the consistency of the wayfinding scheme, donor acknowledgement used different colours, finishes and materials.
Herzog & de Meuron's campus is now a local landmark, with textured brickwork, sweeping balconies, a sawtooth roof and a metal-finned tower. At ground level, a new through-campus public walkway connects the RCA with its neighbourhood. External walls are punctuated with reveal windows, providing passers-by with glimpses into the buildings and of the creative work in hand.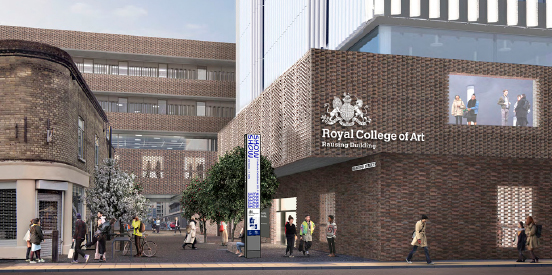 Distinctive architecture, open landscaping and the reveal windows help to define the new campus. External signs are therefore limited to high-level naming underpinning a royal crest. These are strategically positioned and at a size easily seen from the two main approach routes. At ground level, planning permission was granted for a 5m totem which will mark the entrance to the public walkway and announce RCA events. The wayfinding, the event graphics and the reveal windows all combine to enhance Battersea's new Cultural Quarter.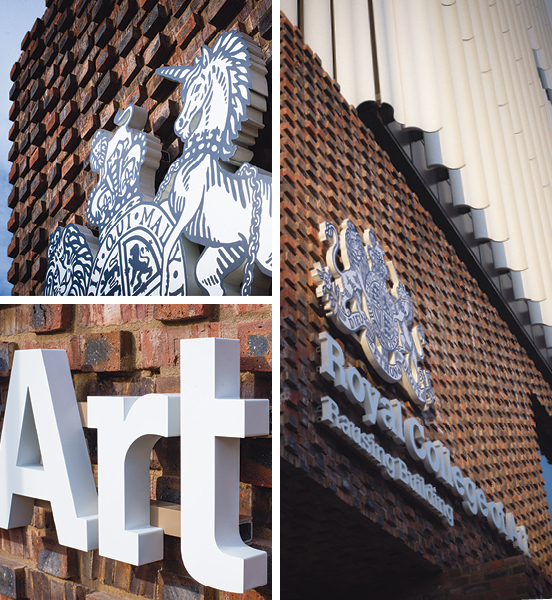 This was possibly the most difficult sign task Atelier has ever attempted. Herzog & de Meuron's irregular brickwork façade, without a level face, made fixing individual three-dimensional letters and a contoured crest quite a challenge. The signs now appear to 'float' just in front of the brick façade, and in strong sunlight the shadows cast by the signs now merge with the brickwork's own shadows.

Find out how the RCA donor plaques were cast in our blog post: Foundry fact-finding