BIGGEST BIG TENT
Roundhouse, London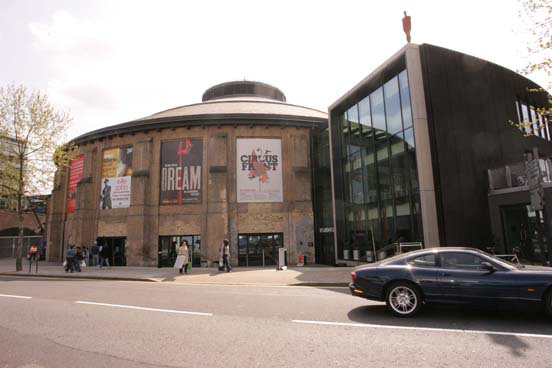 "The Roundhouse is one of the most incredible live performance spaces in the world where the biggest names in music, theatre, circus and spoken word take to the stage every day. A former railway engine repair shed, the Grade II listed building was transformed into a groundbreaking performing arts venue 50 years ago, and we have welcomed legendary artists from all over the world to perform in our unique spaces."
It was built as a locomotive servicing shed in 1847, although within a decade the locomotives had grown too long to fit inside, and it was then used to store gin for half a century.
There was an inspired attempt in the 1960s to create a cultural centre to equal the mixed-arts centres in the Soviet Union. An equal cultural centre project came to fruit on London's Southbank, whereas the Roundhouse project failed to cohere.
But its wonderfully atmospheric unusual cylindrical form had been discovered, and through the late sixties it was used by all kinds of performers drawn to its uniqueness; including The Rolling Stones, Jimi Hendrix, The Doors, The Yardbirds, The Ramones (that concert pretty much inspired the British punk movement), Elvis Costello (I queued for his concert, only to be turned away when all the tickets were sold). Alongside music the open-plan building was perfect for experimental theatre, many of these pieces went on to be hugely influential; avant grade productions by Andy Warhol, Peter Brook, Steven Berkoff, Kenneth Tynan's Oh Calcutta!, and Ariane Mnouchkine's 1789 which incorporated the audience into the play itself.
Despite this period of glory, by the 1980s and early 1990s, the building fell back into disuse, until it was saved from probable demolition when it was purchased for £6m in 1996 by the Norman Trust led by the philanthropist Torquil Norman. Which is where we come in.
"The redeveloped Roundhouse - a design by John McAslan & Partners - will house up to 3,300 people standing or up to 1,700 seated. It will provide a highly flexible and adaptable performance space that will give artists and audiences opportunities and experiences they cannot find elsewhere. It will accommodate a programme of work that reflects the excitement and diversity of twenty-first-century culture. It will include a wide range of the performing arts including, music, theatre, dance, circus and digital media."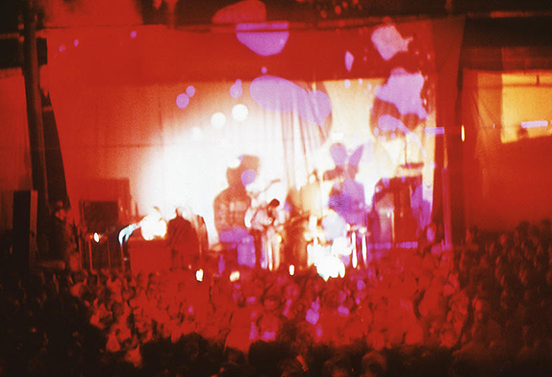 Pink Floyd playing on the launch night of The International Times, an underground newspaper founded to fuel the "rapidly spreading socio-cultural revolution". The night was attended by Paul McCartney, Michelangelo Antonioni, Yoko Ono, and Monica Vitti. Photo by Adam Ritchie (licensed under a CC BY-NC-SA 4.0).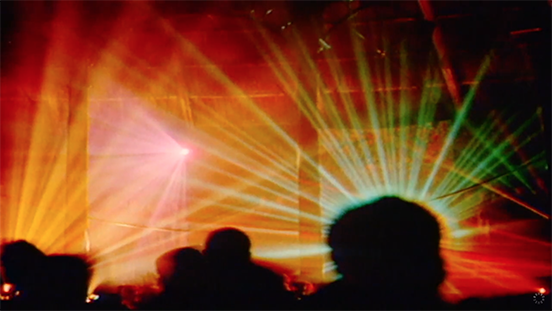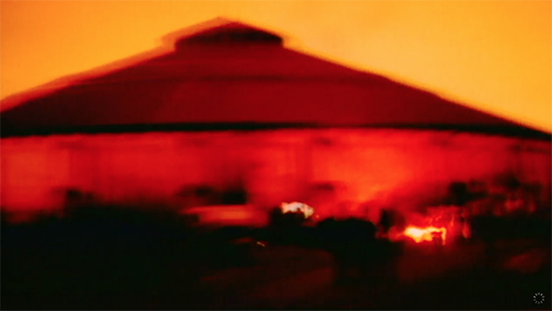 Evocative images from a rave in 1991.
We were asked to devise a wayfinding scheme, that fitted both the new wing, and the glorious Victorian heart.
The Roundhouse now has a project and new performance spaces to engage thousands of young people in creative activity, supporting an entire new generation of poets, rappers, guitarists and actors; see here
What a stirring story of invention and reinvention over generations. Snatching newness and hope, rebirth from seeming dilapidation.
All the performance images are from the Roundhouse website, I highly recommend a visit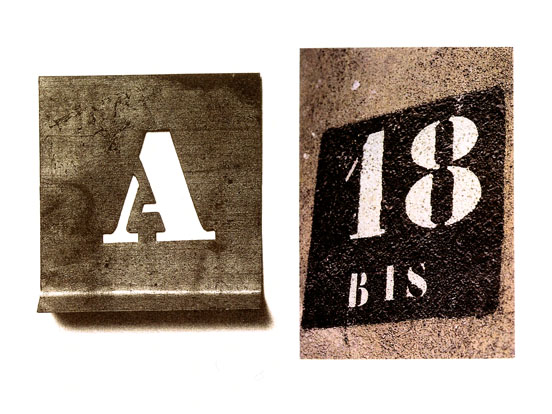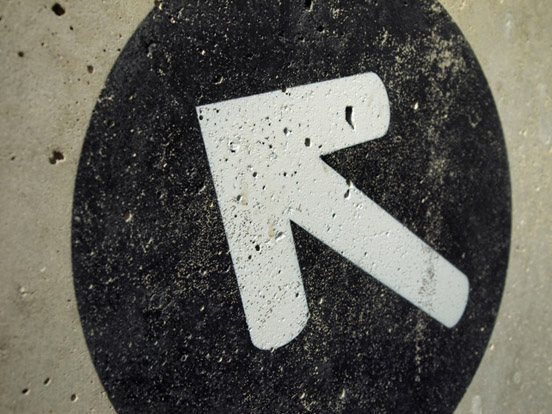 We settled on a very warehouse-like aesthetic: signs sprayed directly onto the walls and doors through aluminium stencils. We converted the Roundhouse's corporate typeface into a special version in order to do this, and drew up corresponding stencil icons.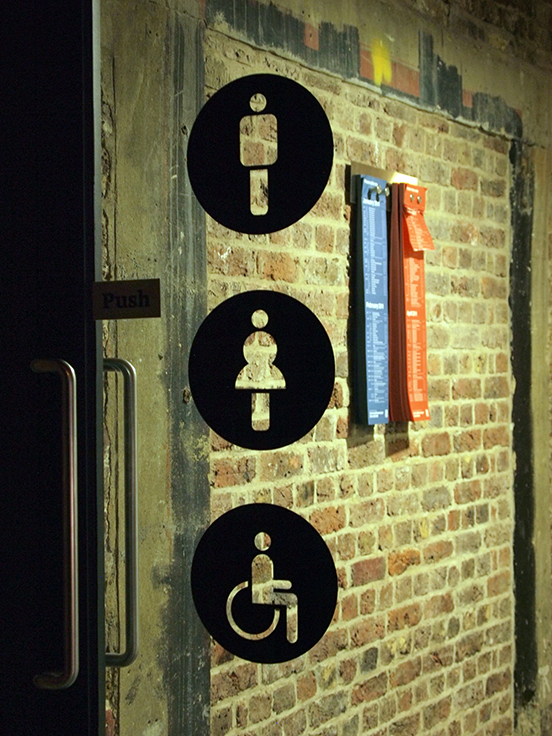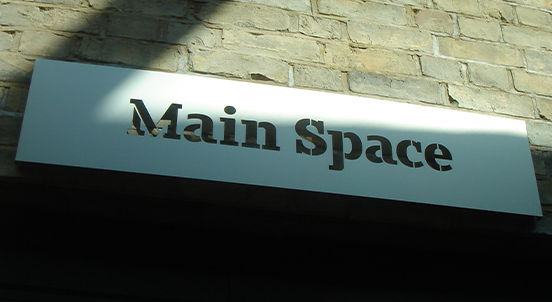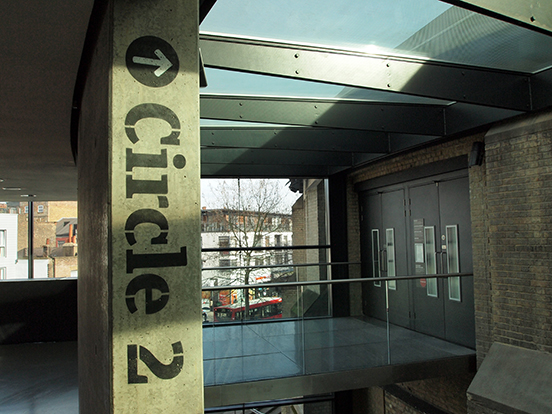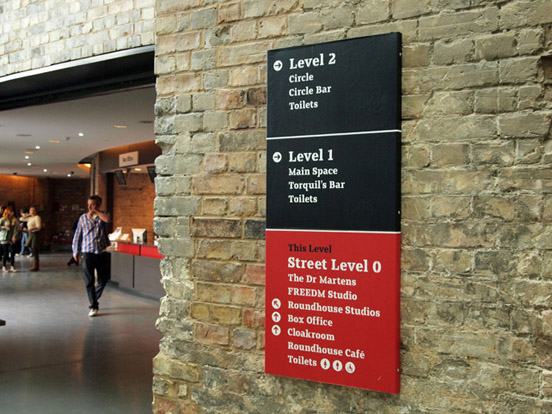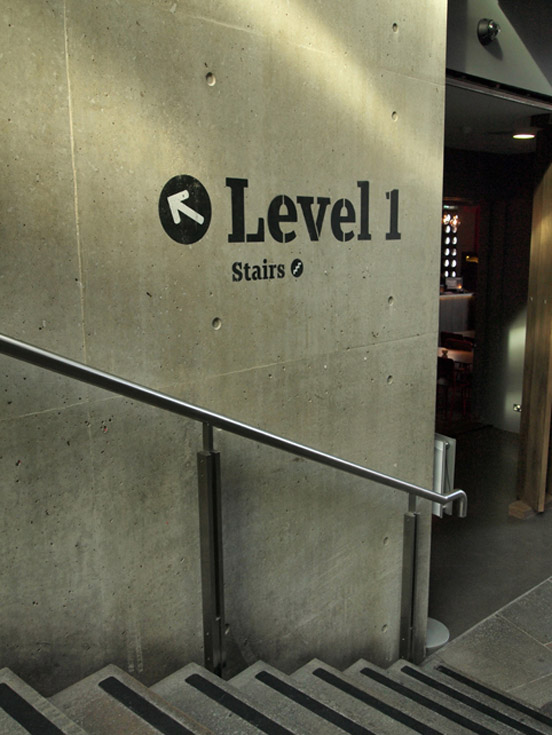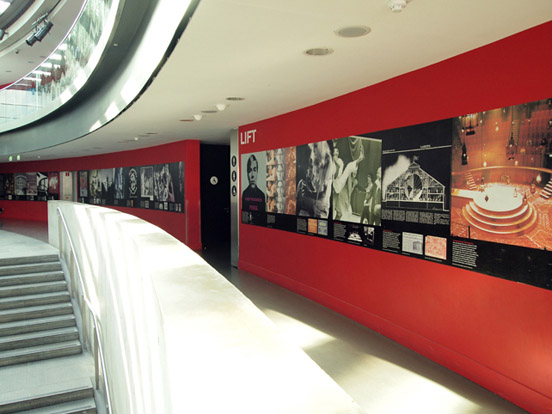 We edited down a very thorough manuscript written by researcher Daniel Hahn, and eclectic images sourced by Peter Stansill - and turned their work into a chronological frieze-exhibition, that follows the sweeping cylinder of McAslan's wall, and a dense little book with a timeline contents page.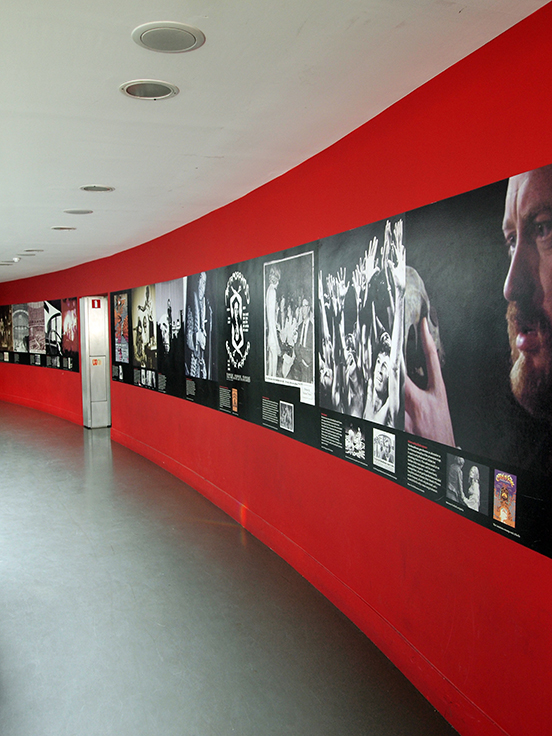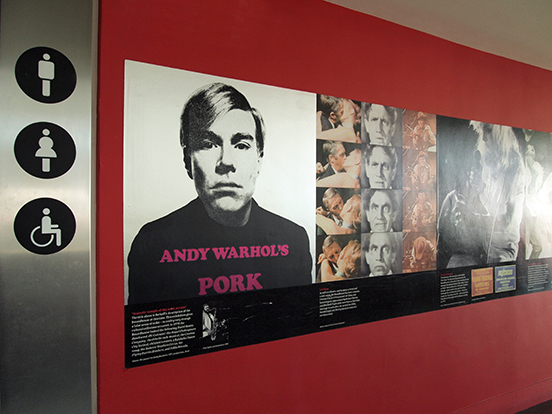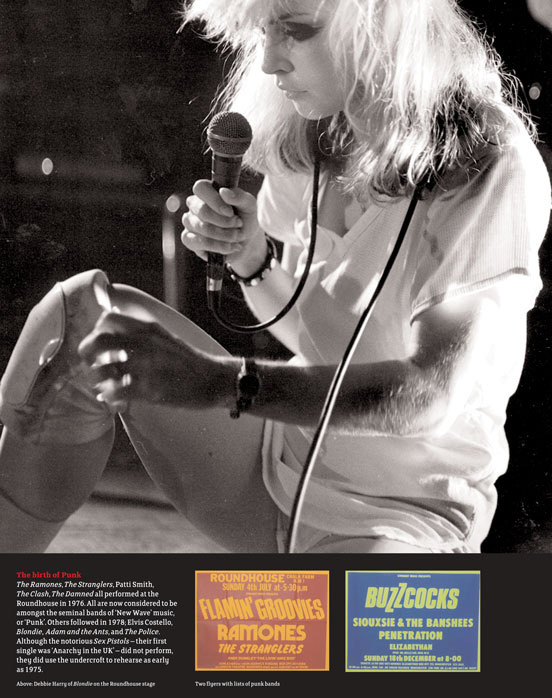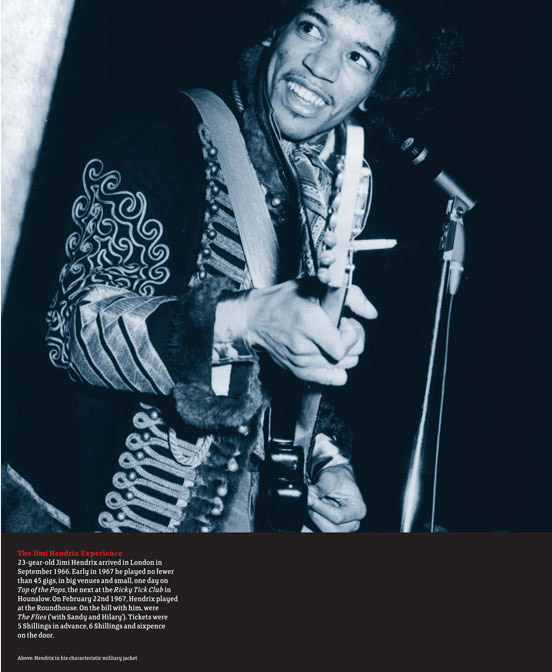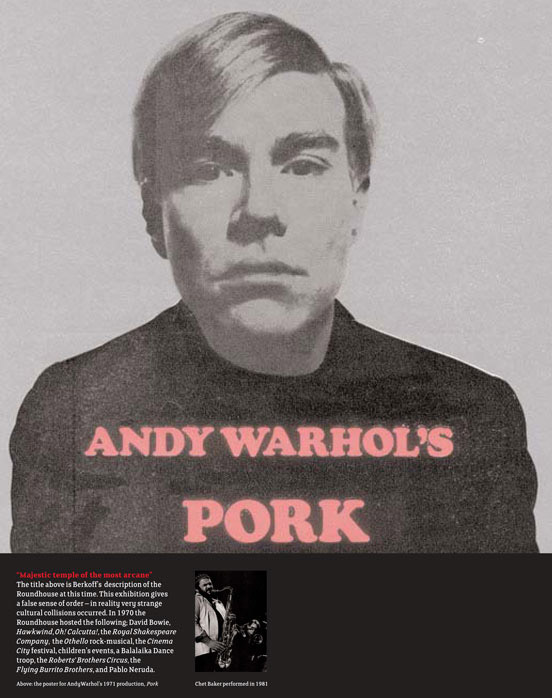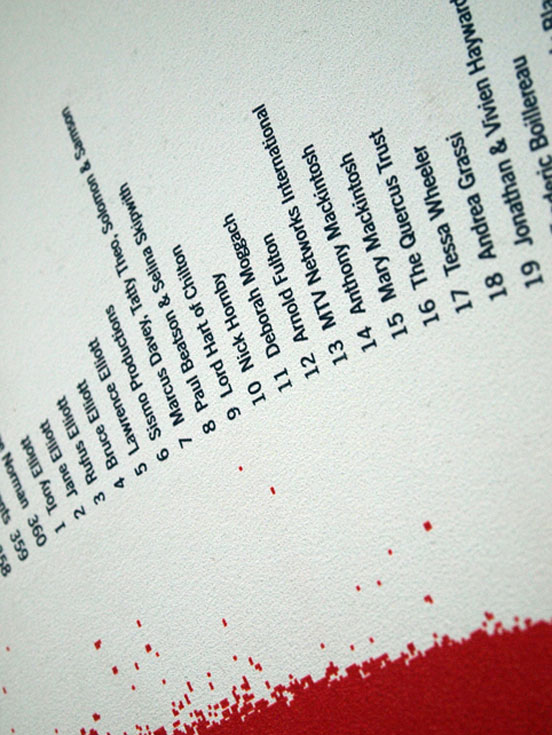 We drew up a beautiful spiky circus of donors.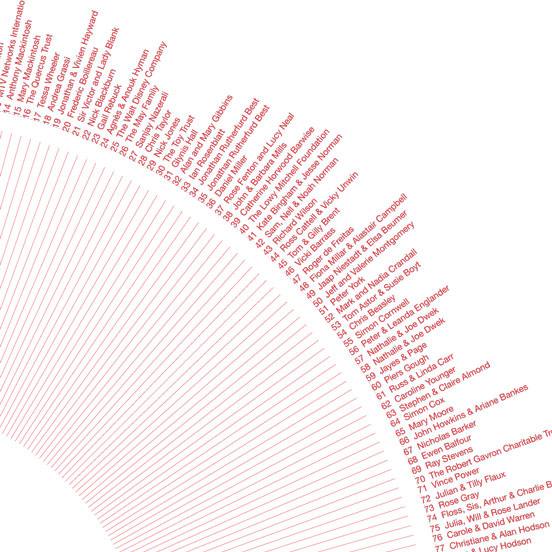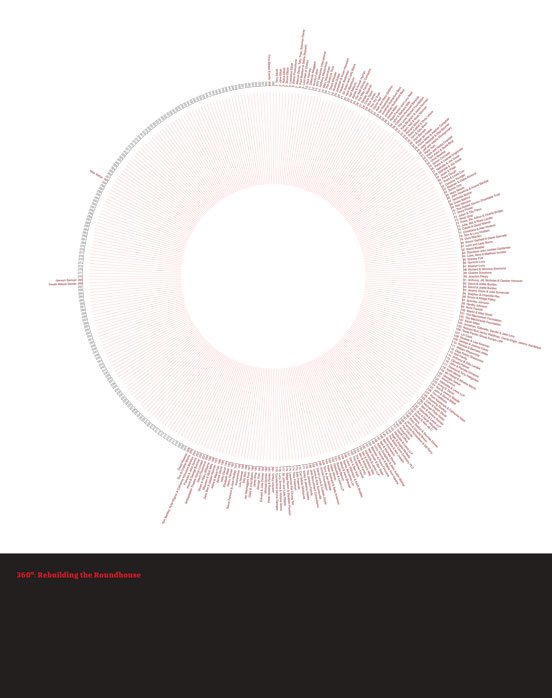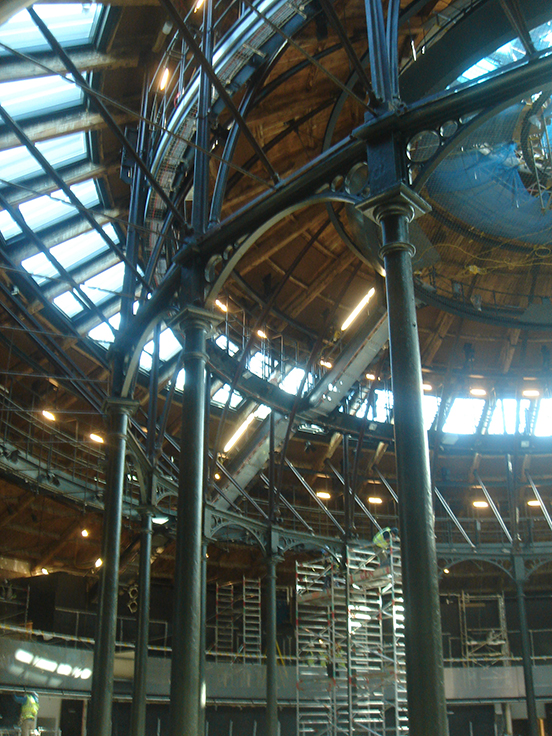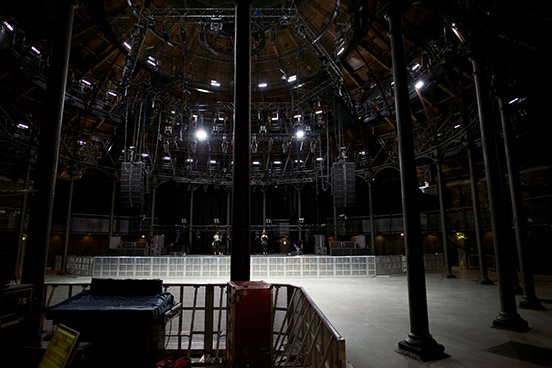 Asked to give special acknowledgement to the biggest donors, the truly great supporters - we designed curved cast-brass plates, to mimic locomotive name-plates, that carefully follow the curve of the supporting columns. The plate is painted black, and the typography is polished to catch the light.