NEW DIRECTIONS
City of Westminster College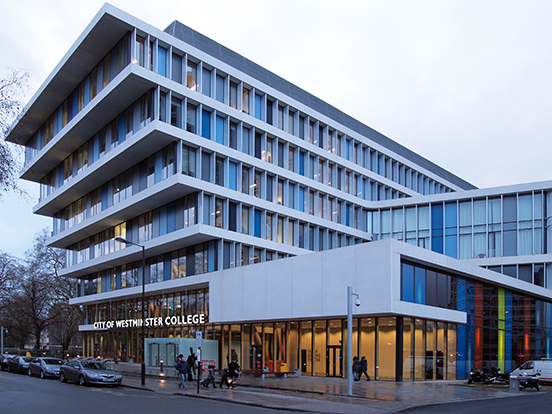 "Central London's top vocational college... We provide hundreds of courses to thousands of students every year and are conveniently located minutes from Edgware Road, Paddington, Marylebone and Maida Vale underground stations. We are proud to be the first choice for students from all over the Greater London area."
And Schmidt/Hammer/Lassen Architects describe their new, building for the Paddington campus thus: "The new flagship campus for City of Westminster College is designed to support new ways of teaching and learning. The 24,000m² college provides much greater amounts of open learning spaces than typical colleges in the UK. The building is designed to embrace interaction and diversity and allows students to learn from each other, both formally and informally."
We were brought on board to address the issue of wayfinding, in a large building with a unique structure: long oblong floor-plates with a large central atrium.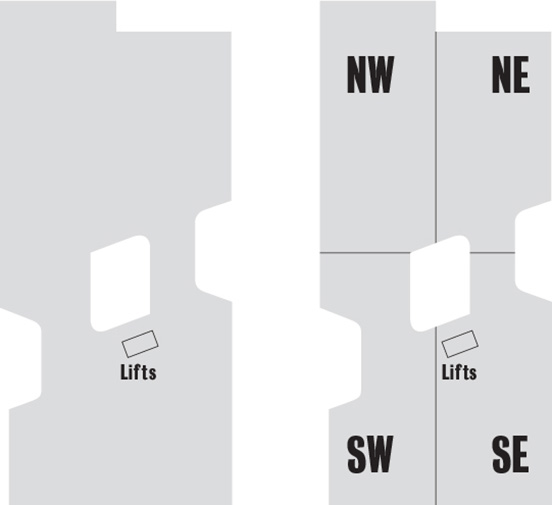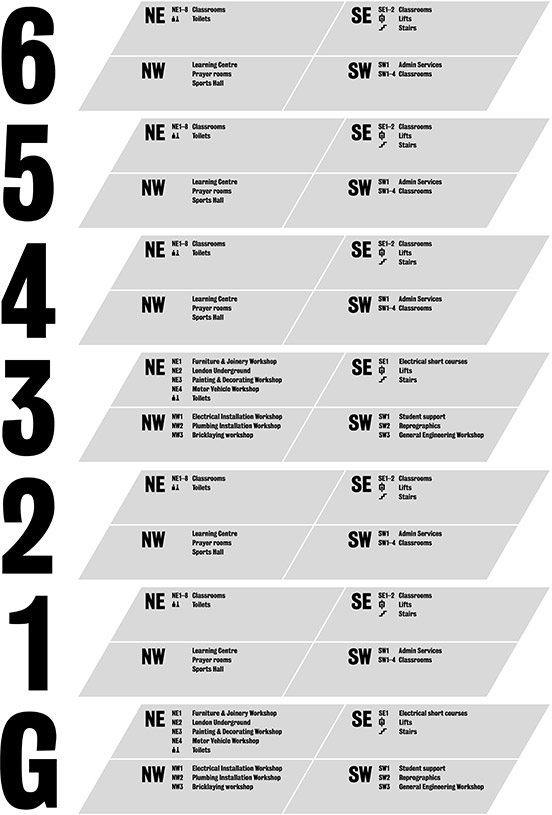 A highly simplified map listing every facility was placed next to lifts.
The classrooms for a given course constantly change, the college relies on a text system, each student gets a text telling them when and where their next class will be.
We took the idea of London and its distinctive postcodes; the college is proud of its central location and constantly reiterates its London-ness. With the postcode system, you know roughly where NW is, and therefore SW. We divided the floor plates into four segments to match this idea of the compass. The student gets a text - 3NE6. She knows her class is on floor 3, she walks ahead out of the lifts to NE, and finds room 6.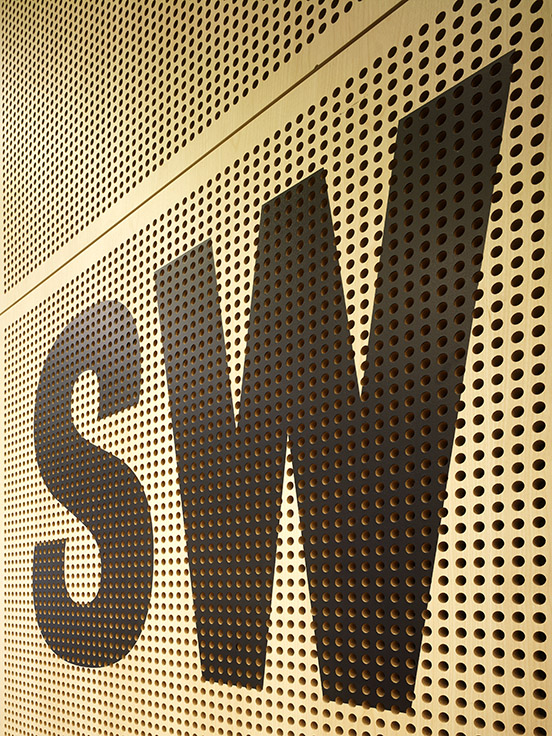 The other significant visual feature was the drilled acoustic baffles. When we tested our large letters on them, we realised the type would be cut-through by a grid of holes. This gave rise to a special typeface, used on everything from glass to concrete to acoustic panels.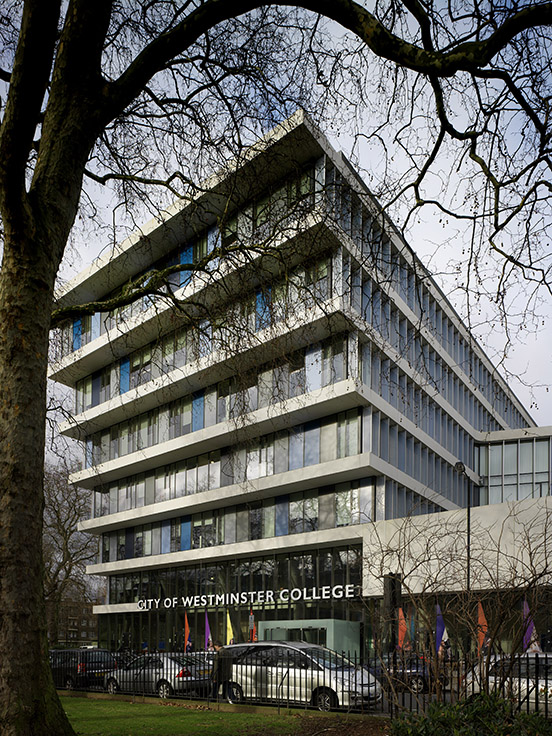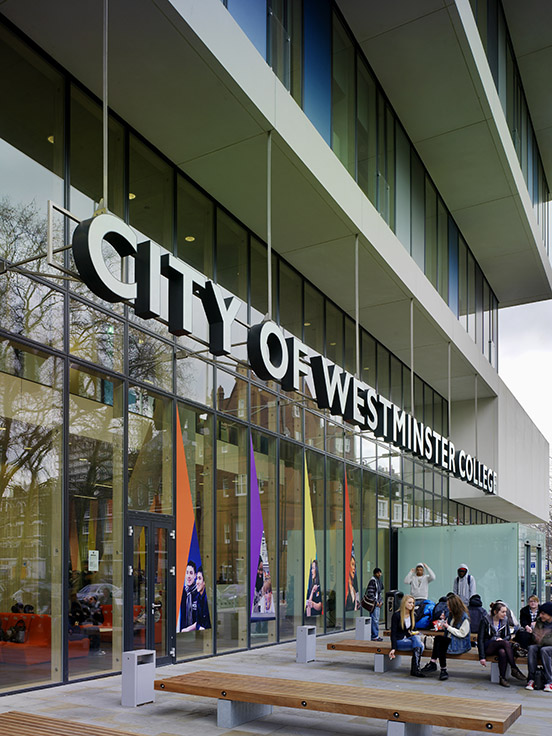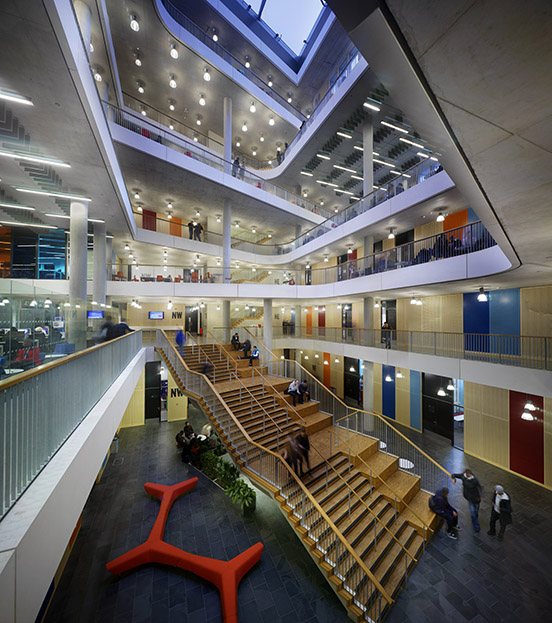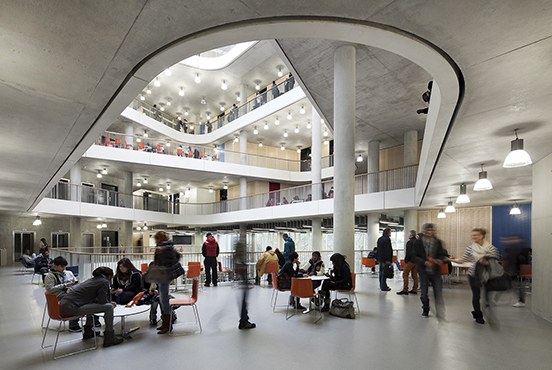 The distinctive atrium with its vistas enables all kinds of student mixing, and for us the wayfinding designers enables the use of giant direction-finding letters, to be seen from many metres away.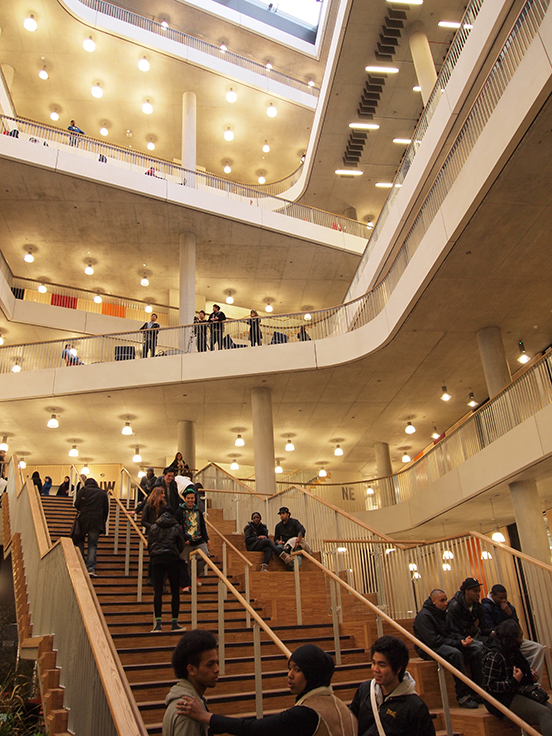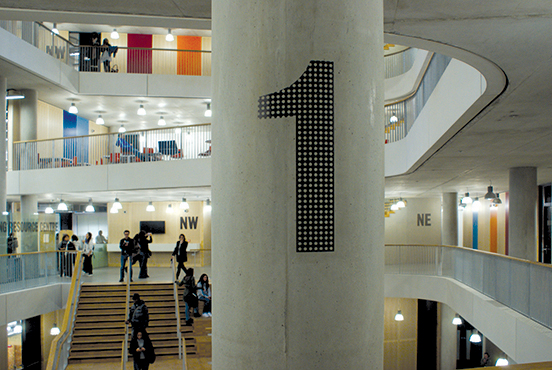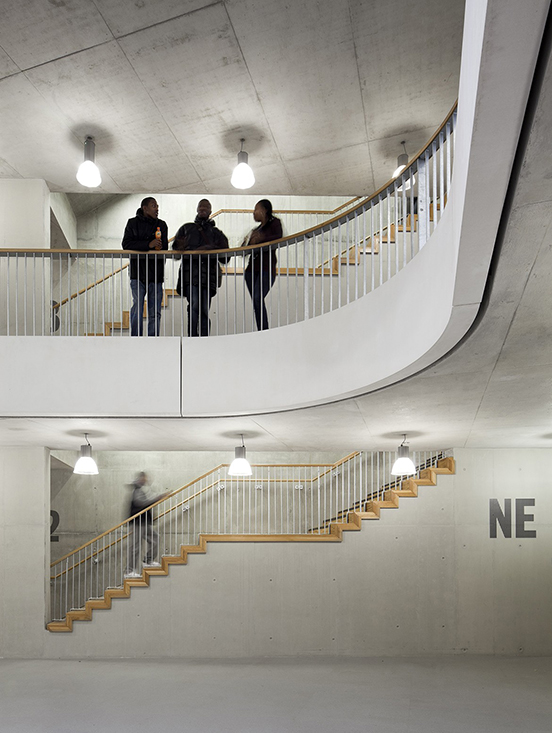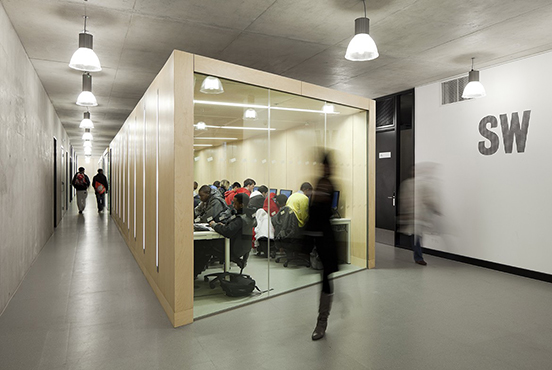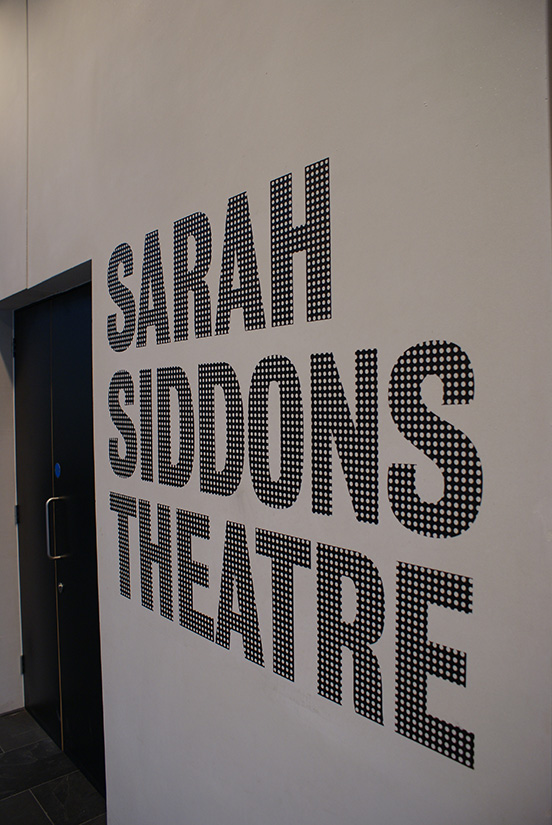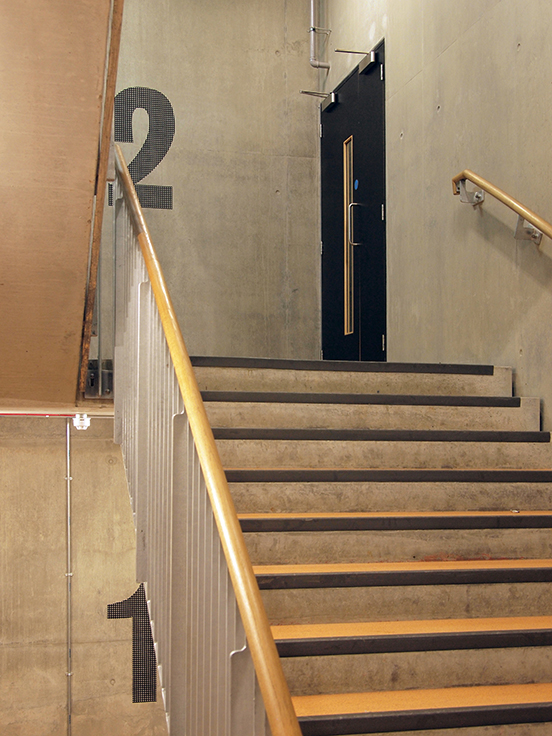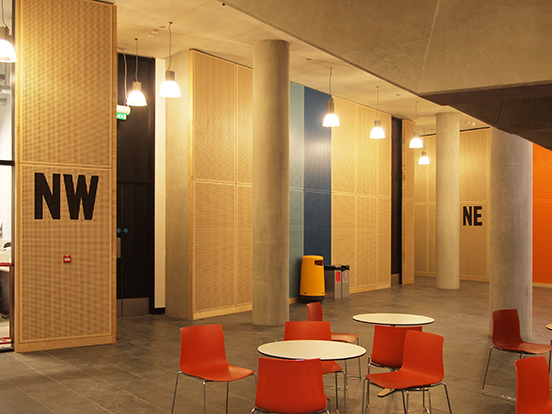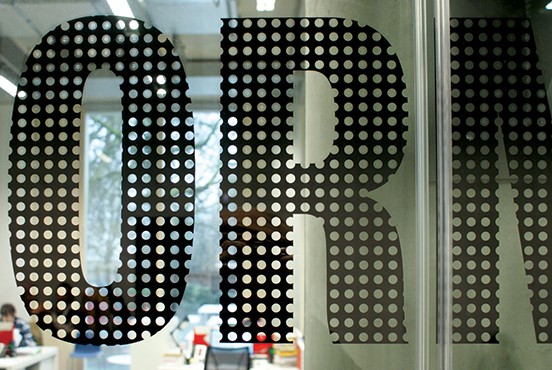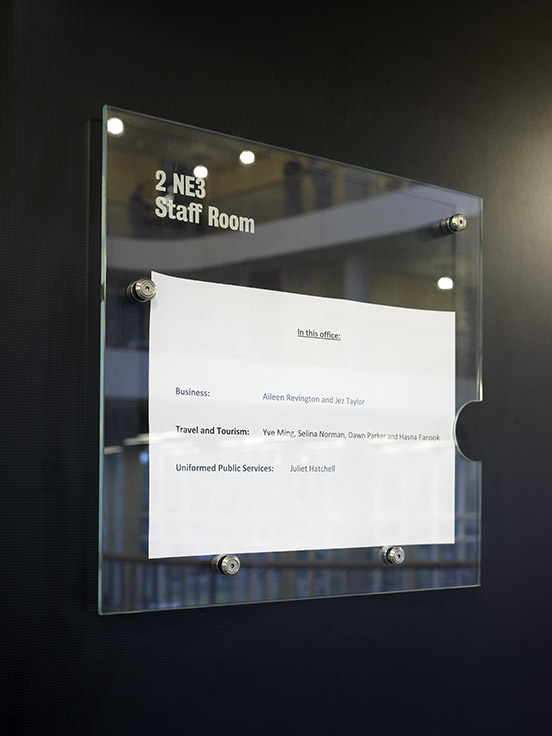 The tutors wanted to post confirmation of each class on the door, so we designed notice-holders, with asymmetrically-placed pig-nose bolts to elegantly hold the A4 notice.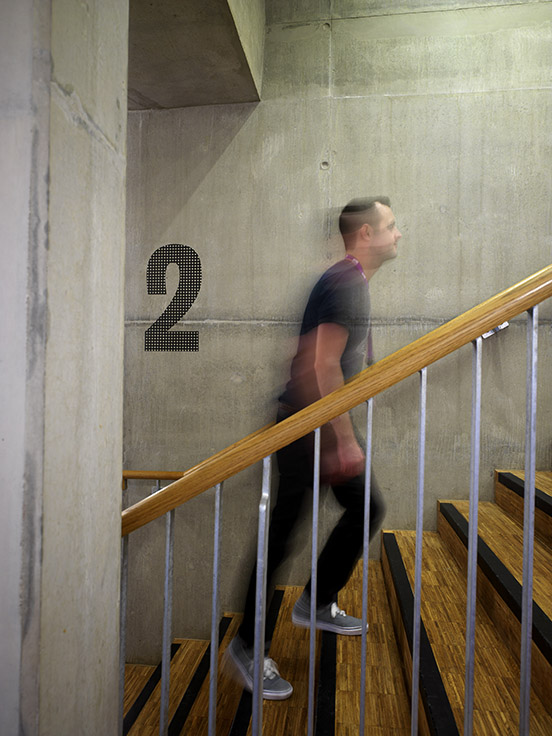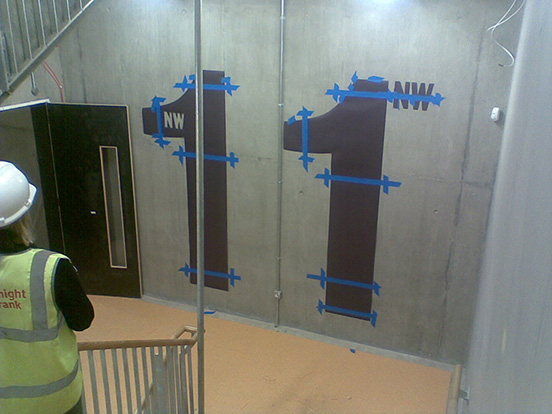 With any wayfinding scheme we design, there is testing of the putative final signs in situ, ensuring the sizes are right, and to refine reading height.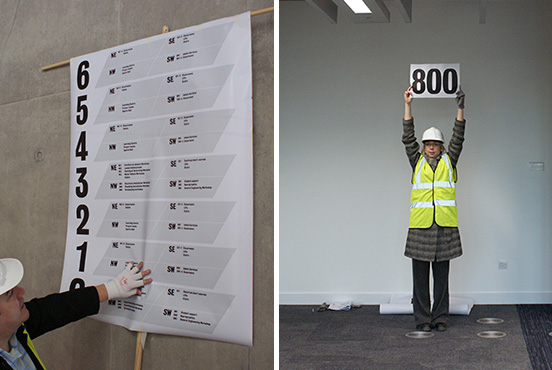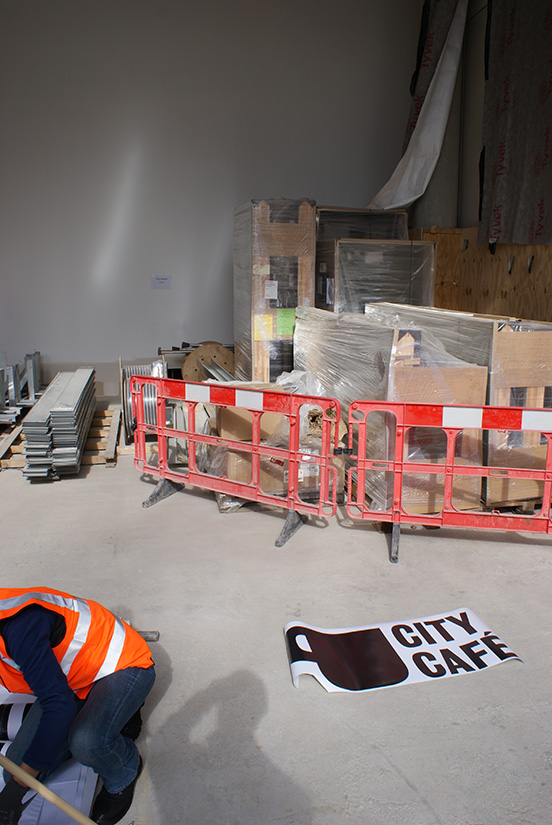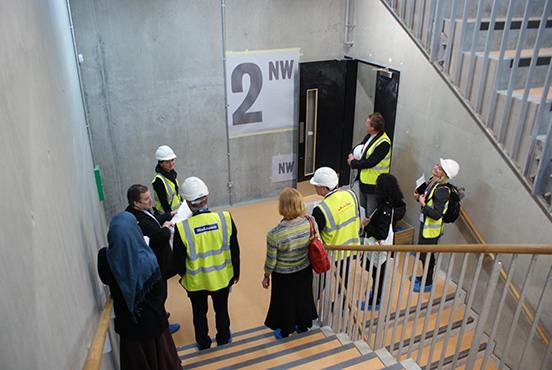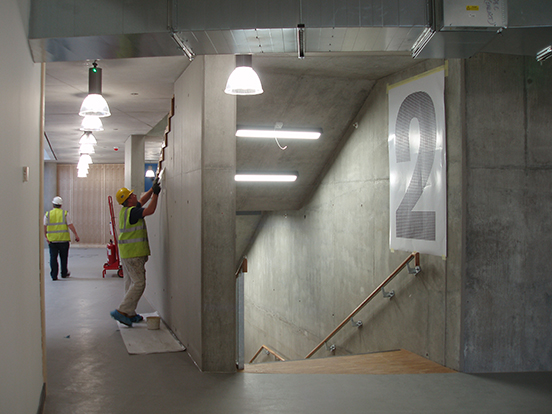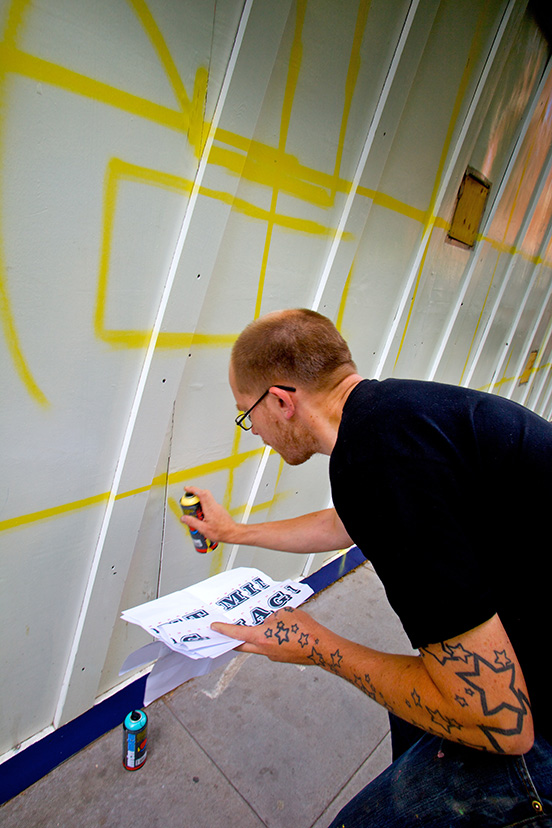 The college wanted to "do something" with the very long hoarding around the site as the building was being built. We asked famed graffiti artist Eine, if he would take a break from decorating Shoreditch, and work with the college's students to spray a positive alliteration - and create, what was for a month or so, London's biggest artwork.