GLASS MILL DISCOVERED
Lewisham Council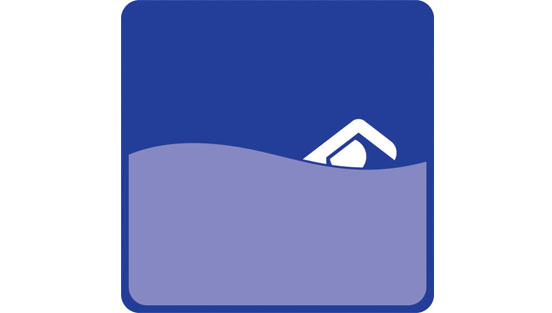 The Glass Mill is Lewisham's new £20m flagship leisure centre. It has the most up-to-date facilities and equipment, a competition-standard eight-lane swimming pool with seating for 800 spectators, a training pool, a gym with 100 exercise machines, a climbing wall, two dance studios, a health suite, a crèche, function rooms and a café. This is an impressive facility, commissioned by Lewisham Council, designed by LA Architects and built to an exceptional standard.
Atelier worked closely with the council, the architects, the developer and contractor over an 18-month period, and took the lead in the naming and wayfinding of this landmark building.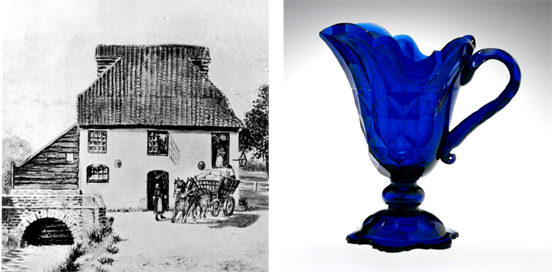 After days in the local archives, Atelier discovered reference to a significant moment in Lewisham's history. A water mill had stood on the site for hundreds of years. In 1756, the mill was converted from refining corn to cutting glass. Further investigations at the Museum of London confirmed that this mill was probably the first in Britain to harness mechanical power for glass cutting. Lewisham's long-forgotten 18th-century association with glass, and its commissioning of a 21st-century glass façade, provided a fortuitous but appropriate naming opportunity. The research and the Glass Mill name were presented to the Mayor and enthusiastically approved.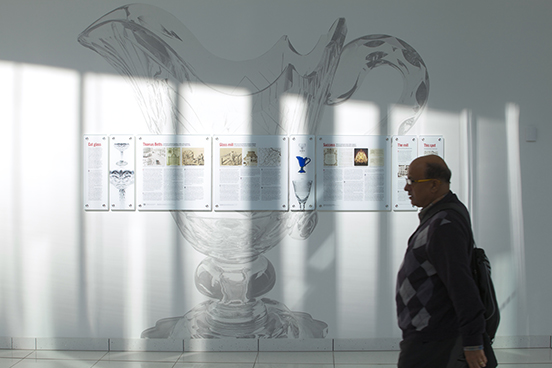 Our detailed research was put to good use. We created these glass heritage panels that tell the Glass Mill story. Visitors can now read about their once-forgotten local history in the foyer entrance.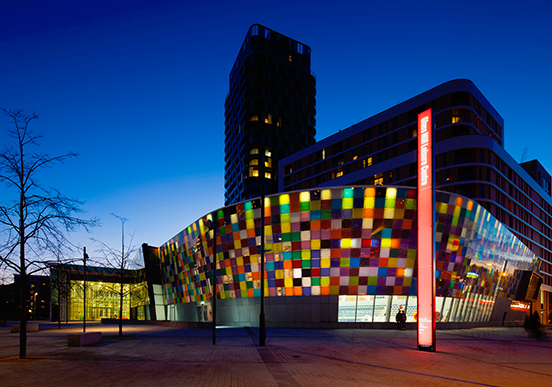 The Glass Mill's exterior features a stunning façade of more than 1,800 coloured glass tiles created by artist Phil Coy. During the day parts of the Glass Mill interior are bathed in a rainbow of coloured light, while at night the façade is illuminated by lights that are stimulated by external sounds.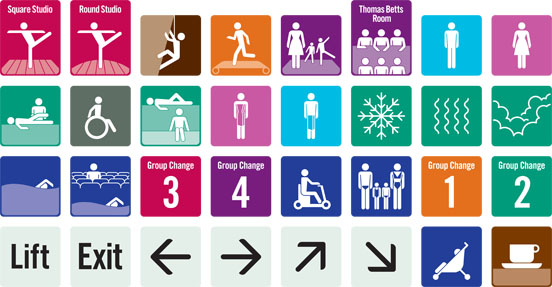 Taking our lead from Phil Coy's façade, Atelier created a suite of wayfinding pictograms on coloured glass tiles. Our surveys showed that we could sign the whole centre using just pictograms. This was a first for a Lewisham Council building and approved because it met the multilingual demographic. With over 170 mother tongue languages spoken in Lewisham schools, the pictograms made the Glass Mill accessible to all.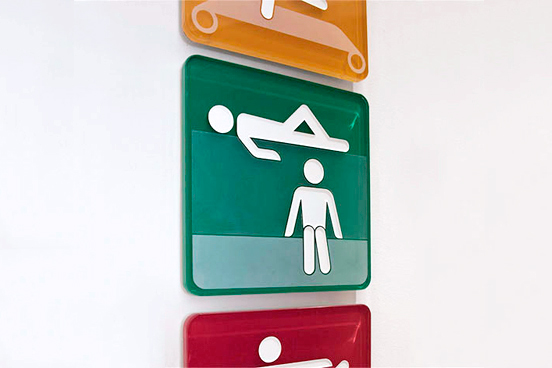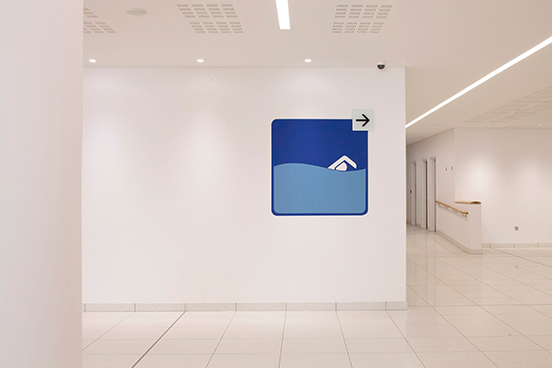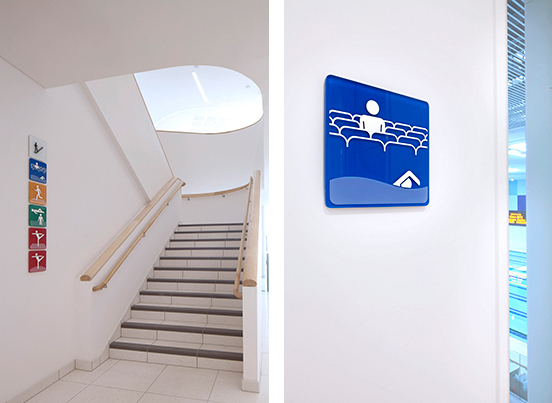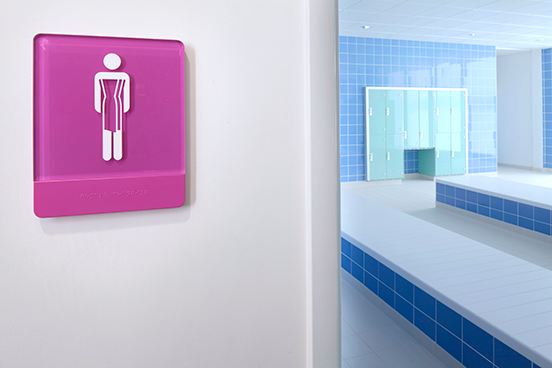 Made of glass, then cut and etched using 21st-century techniques, these signs sparkle like coloured jewels on the centre's whitewashed walls. They are a tribute to Lewisham's glass-cutting past.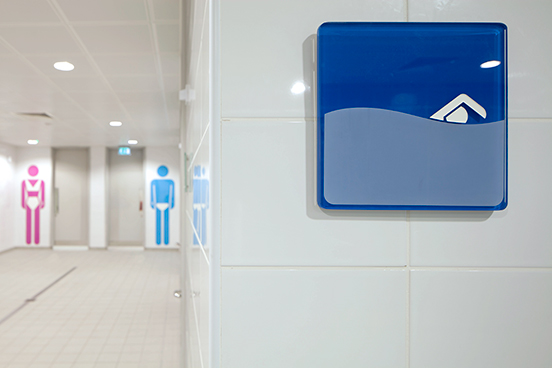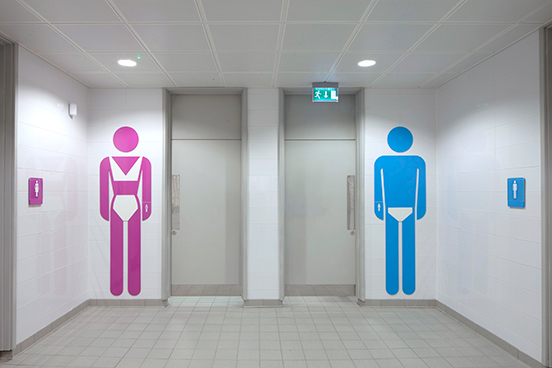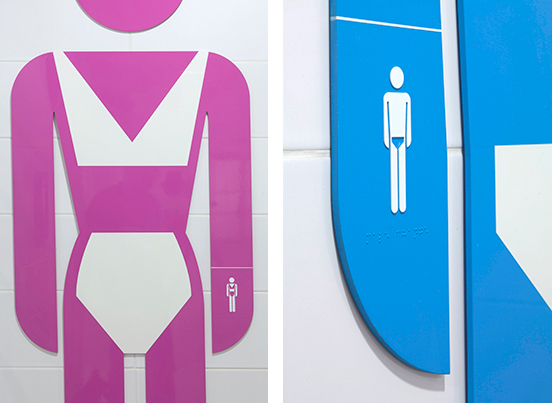 Super-sized versions of the pictograms were designed to be seen from a distance. They also had to be tactile for the partially sighted.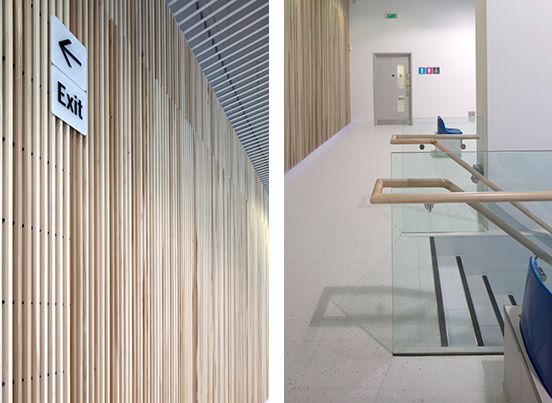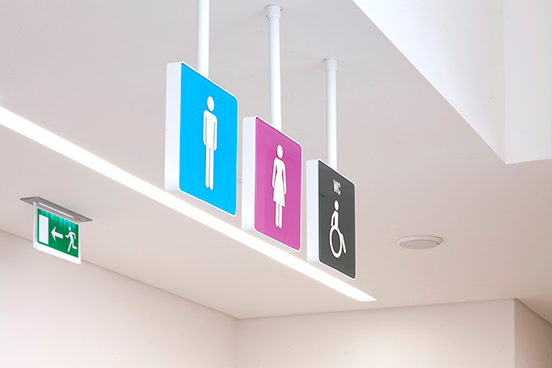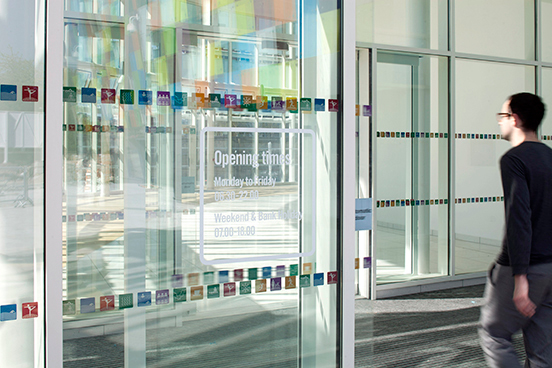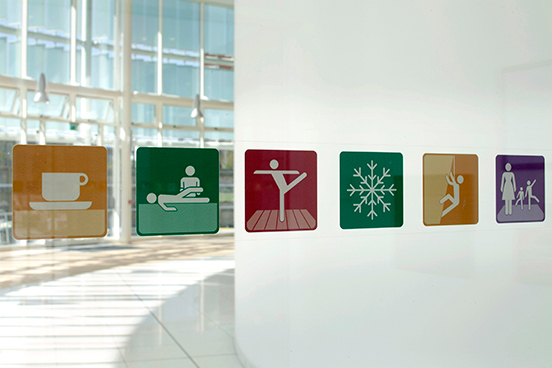 Pictograms were applied to all clear glazed areas.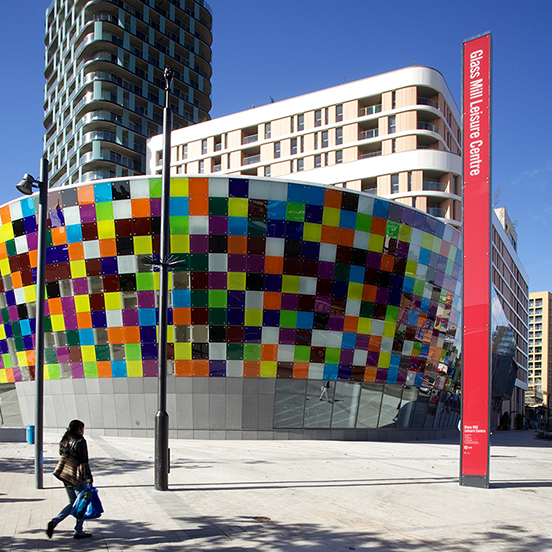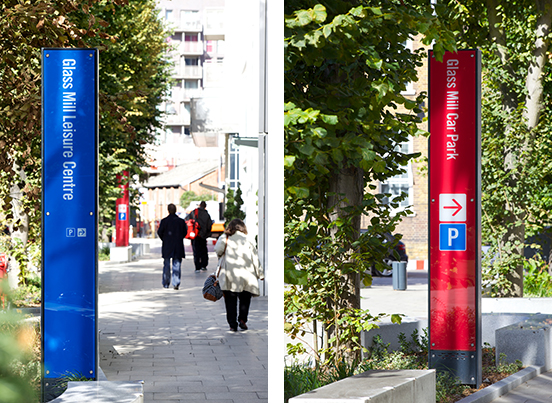 A 12m cast-iron girder faced with glass was erected outside the entrance. This unmissable external sign was supplemented with smaller versions integrated into the landscaping.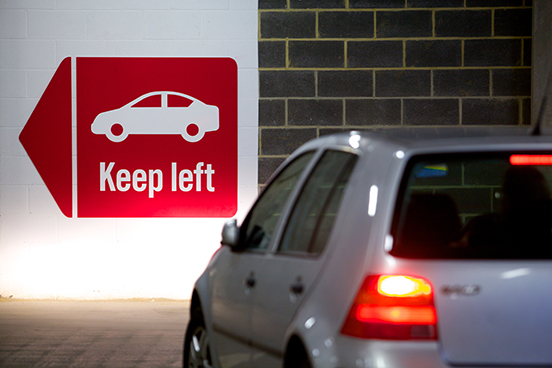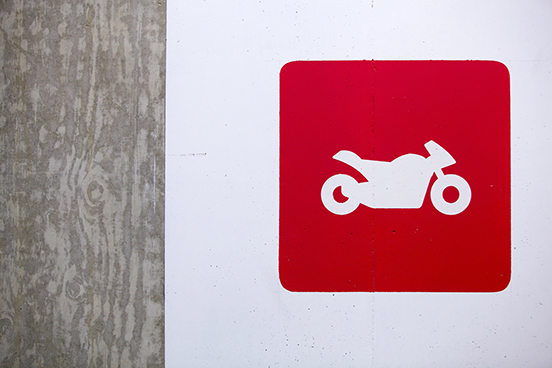 Pictograms were also used in the Glass Mill car park.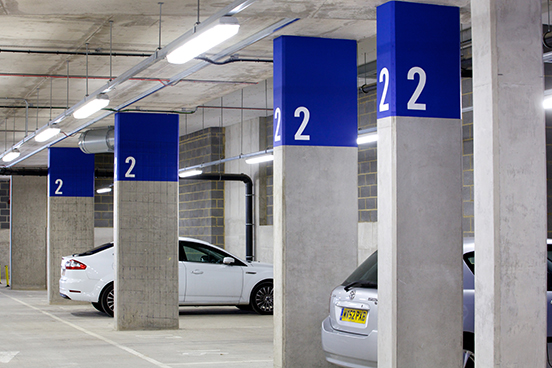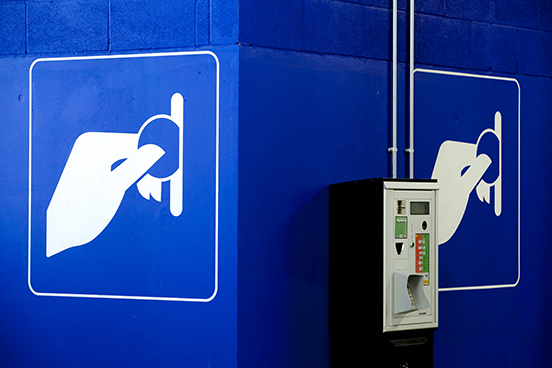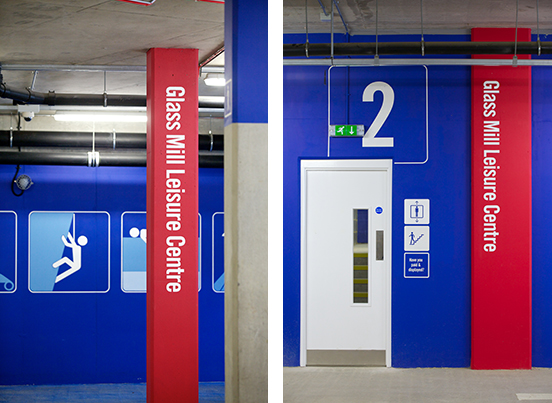 In the car park where visitors need to find levels, pay points, lifts and stairwells, striking blue and red colours were applied directly to the walls.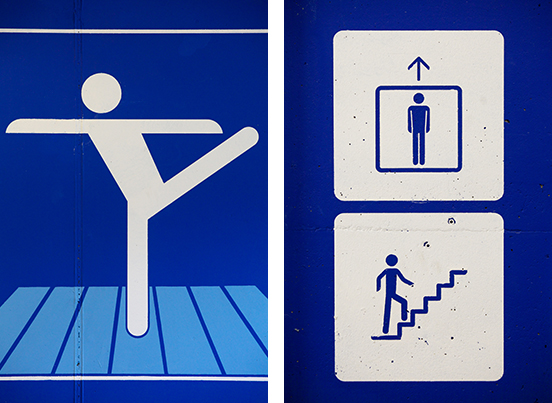 In contrast to the polished glass signs in the leisure centre, the painted pictograms on the rough concrete walls of the car park have a utilitarian feel.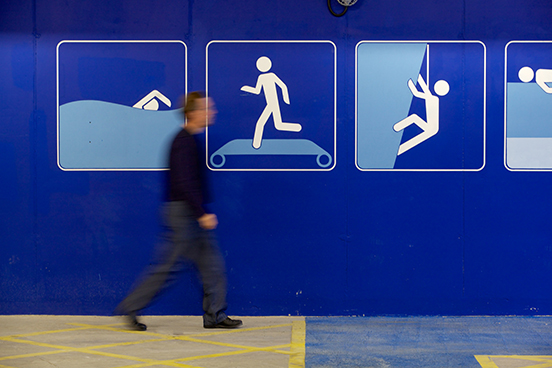 Super-sized pictograms guide visitors from the car park into the Glass Mill.




Related projects: Shimmering signs, A Landmark Icon, Plain and Practical, Striking a Balance