For five years Atelier worked closely with a small but important team of Volkswagen marketing staff, design managers, advertising agencies and external suppliers. During the implementation of a new nationwide showroom roll-out, we had a roving brief to spot shortcomings or gaps in the showroom guidelines, and then 'design out' the problems.
Atelier calls this exercise 'brand strengthening'; where close attention to every element really matters. And we mean everything — from the way in which cars are presented in the showroom, to the design of a simple paperweight gift.
So what was achieved over five years? Here is an eclectic trawl of some of the projects we had a hand in. There were quite a few...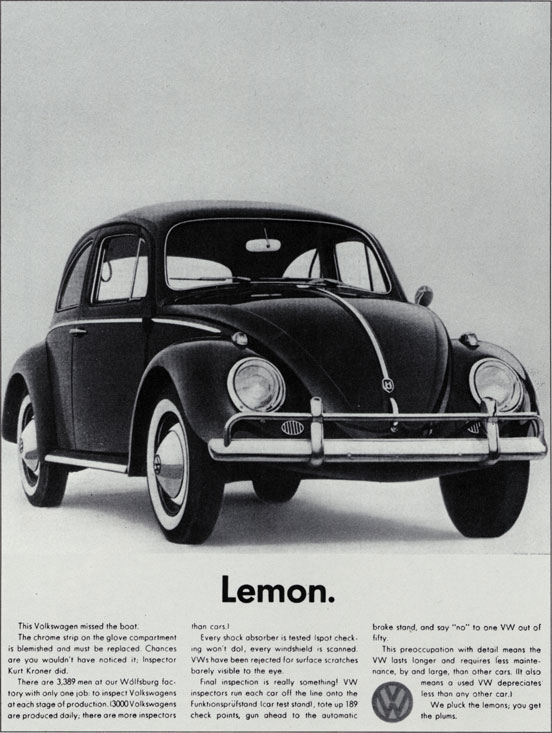 Lemons
Why start with the 'Lemon' advert? Well, this 1960 Volkswagen classic was our exemplar.
The copy told us that there were 3,389 men working at Volkswagen's Wolfsburg factory — all charged with inspecting the cars at every stage of production. By the time a car got to the end of the line of inspectors only one out of every fifty was being failed. The car featured in the advert failed because it had a small scratch on the chrome strip on the glove compartment. It didn't make the grade so it became a 'lemon'. It's a strong message about paying attention to detail.
Atelier's job evolved over time; we became the 'design inspectors' tasked with spotting the lemons and putting them right, strengthening the Volkswagen brand, and matching the high standards set in the 'Lemon' advert.

In the beginning...
For many years both Volkswagen and Audi cars had been sold together in the same showrooms. However, as the market developed it became necessary to separate the brands and rebuild the UK showroom network. A new 'Volkswagen Retail Concept' (VRC) was developed in Germany, but was untried and existed only in the form of a written manual. The VRC laid down the basic principles for a new showroom environment and the UK was to lead the way in implementing the new strategy.
At Volkswagen UK headquarters, the project was seized upon as an opportunity to change the way cars and services were sold. Why have a modern showroom but retain outdated car-dealing methods? In the future, Volkswagen UK wanted its vehicles to be sold not by 'dealers' but by retailers who understood the value of a high street brand and high street retailing methods. Most important, they wanted a network of showrooms that put the interests of Volkswagen customers first — rather than those of the dealership. This was a pressing objective if Volkswagen was to retain and increase its UK market share in the years ahead.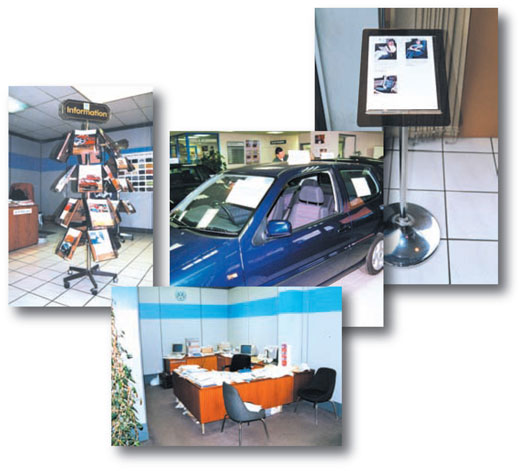 Atelier visited a number of dealerships and found crowded showrooms so packed with cars that it was not possible to see them properly. In today's high street stores the product is the centre of attention. VRC would bring in open-plan, light and airy spaces with room allocated for each Volkswagen model.
The showrooms were also cluttered with ad-hoc, freestanding fixtures. A new VRC showroom would provide 'a place for everything'.
By far the biggest challenge was going to be the transformation of 'dealers' to 'high street retailers'. The showrooms we visited were littered with odd clusters of messy desks. High street retailers use desks to engage with customers, but these old dealerships had been left behind and seemed to view showrooms as their own spaces. This could not happen in the new VRC showrooms.

First step
The success of the VRC roll-out relied on the retailers and the Volkswagen field teams working together. While the retailers were coached in the new skills of showroom management, regional managers also needed to understand the new concepts, to discuss ideas with their retailers, and then support them.


A launch conference was convened for all regional managers. The stage set was built using prototype VRC showroom components, with fixtures such as tables and chairs repurposed for conference use. Taking our lead from the latest advertising campaign, Atelier developed the stage graphics and rigorously co-ordinated all other conference communications. Regional managers were introduced to every aspect of the new VRC roll-out — from showroom construction plans right down to what type of biscuit to offer Volkswagen customers. Absolutely no detail was overlooked and the concept of a totally integrated showroom experience was firmly established with the regional teams.


From car dealers to retailers
Quite apart from a change in showroom function, new retailing standards were expected. As the training programme for dealers to become VRC retailers progressed, Atelier developed supporting materials for the field training teams. We wrote and designed this slim handbook for the novice retailer. It is just like the handbook you get with a new car — only in this case, it's a handbook the retailer gets with the new showroom.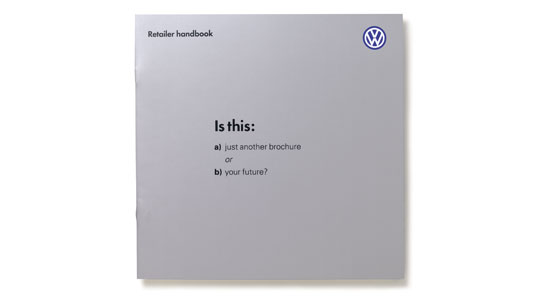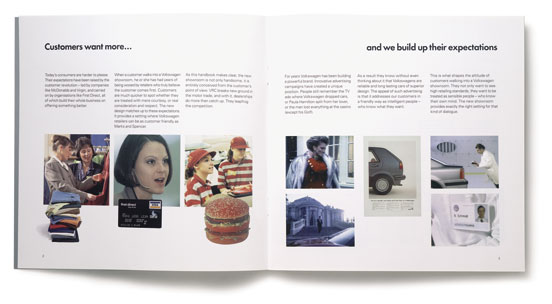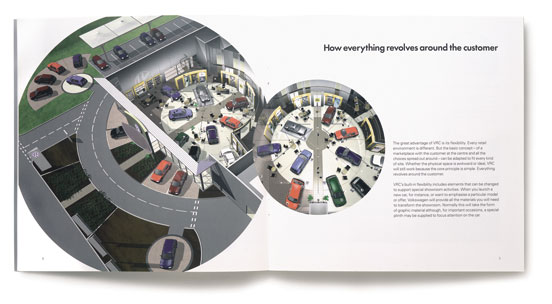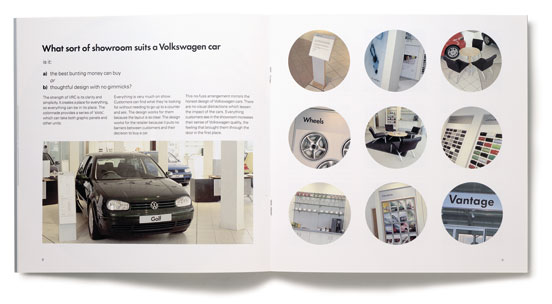 The retailer handbook set the VRC project in context; today's consumer has a very high level of expectation of all branded products or services. Volkswagen's advertising works cleverly to convey its values, building an informed level of expectation in customers even before they decide to visit a Volkswagen showroom.
The handbook demonstrates how everything in the new VRC showroom is arranged around the customer — inviting them to browse in the same way they would in any high street shop.
Other pages introduce all the fixtures and fittings of the new VRC showroom, making sure that the retailer understands the purpose of every element. This is part of the 'dealer to retailer' mindset shift — by absorbing new ways of using the showroom it becomes obvious that the old selling tricks of attaching balloons and bunting to cars are no longer in keeping with the Volkswagen brand.



Supporting the field teams
After meeting the regional managers at the launch conference we realised that they needed practical guidance on maintaining standards. Atelier wrote and designed guideline materials for the field management teams.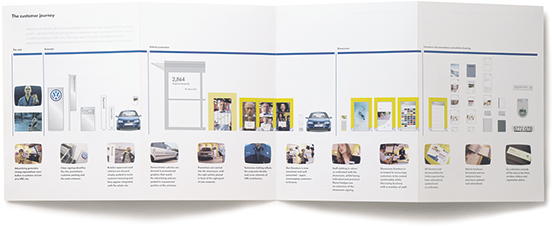 We took apart the VRC manual that had come from Germany, integrated the new ideas about showroom retailing, and then re-presented it in a much-edited and simplified schematic. Reproduced on a wide unfolding leaflet, it illustrates a 'customer journey' from the first Volkswagen advert, through a showroom, to a purchase, and then to the after-sales and services. This type of narrative graphic helped both the retailers and the field teams to focus on every aspect of a customer visit. More importantly, seeing the new VRC showroom as an integrated part of the retailing process was a revelation for some.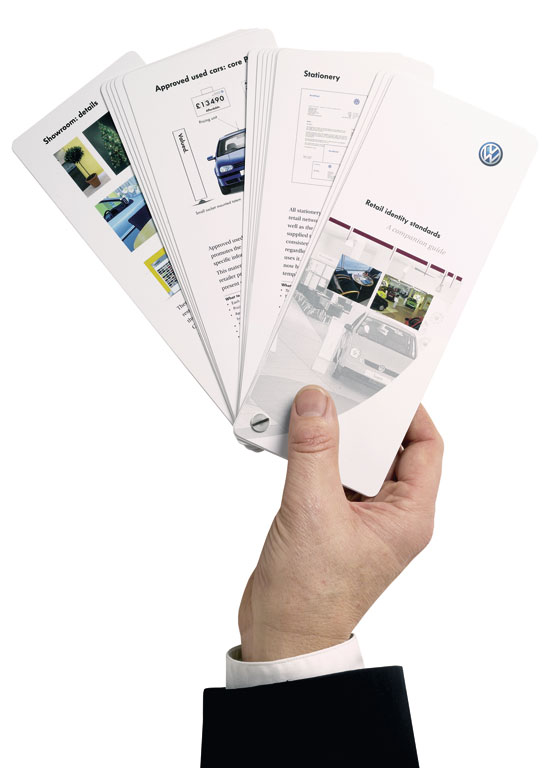 Another Atelier version of the heavyweight German VRC manual was this pocket-sized companion. It was written and designed by Atelier so that it could be discreetly consulted by regional managers during a showroom inspection visit. It became known as their 'bluffer's guide'. Kept in the car glove compartment, it came in a special PVC sleeve that resembled a soft pouch for a pair of sunglasses. The disguised primer was ideal for any regional manager who needed to check a VRC standard without losing face in front of one of his or her retailers.



Atelier becomes obsessed by VRC details
When we visited the first VRC pilot showroom, we identified a number of unforeseen snagging issues. The original VRC manual provided guidance for an architectural scheme and so concentrated on the structural elements of a showroom. It did include some fixtures and fittings but not everyday operational functions such as vehicle presentation, signs, point of sale promotions, paperwork, merchandise, packaging and so on. Old dealership items looked quite out of place in the new VRC pilot site.
Atelier set to work to bring some cohesion to a myriad individual design challenges. What follows may appear to be a disparate series of projects but it is the sum of all these showroom details that makes the Volkswagen brand palpable when visiting a new showroom.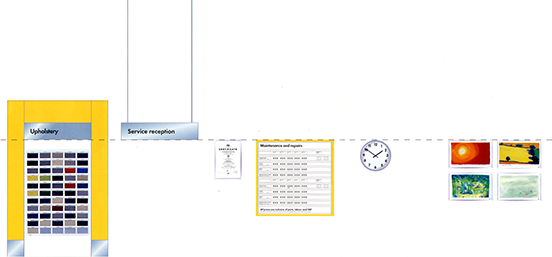 The new VRC showrooms were open-plan and purpose-built for browsing. Other supporting elements such as signs, pricing boards, colour charts, clocks, posters, etc all had to be carefully considered so that they did not interfere with a customer's view of the cars.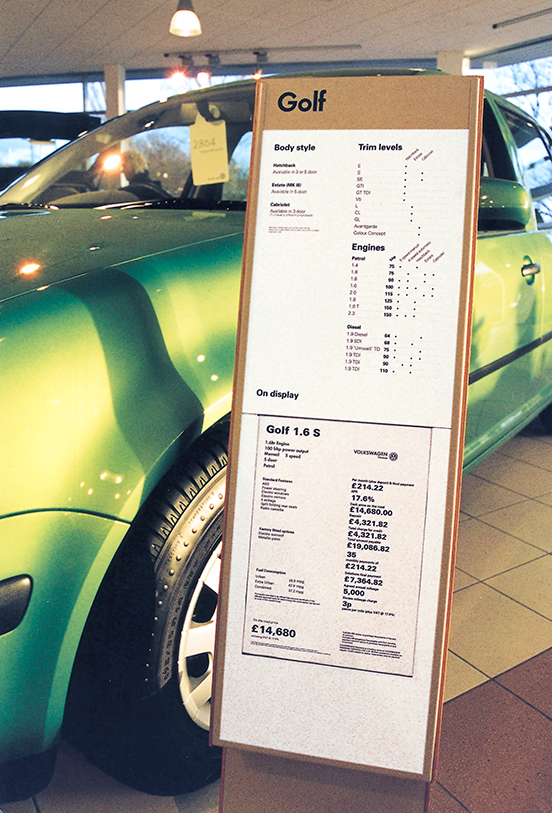 Volkswagen cars are the focal point of a VRC showroom. They are the ambassadors for the brand and as such they now have an elevated central status. Vehicle data that once smothered cars in the old showrooms have been removed. Data sheets are inserted into specially designed lecterns alongside each model. Atelier created typographic templates so that a browsing customer would find it very easy to read and grasp the full range of specifications and purchasing options.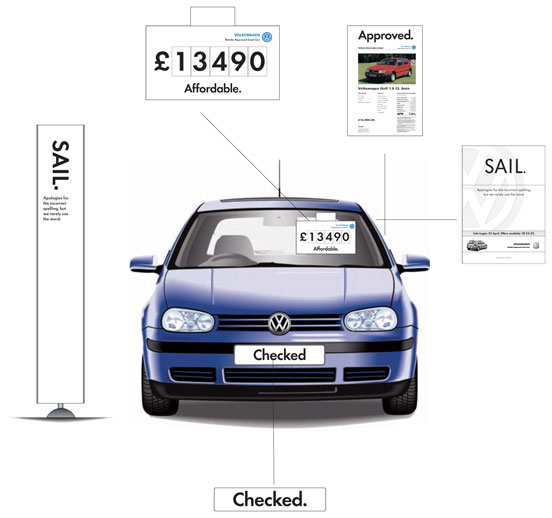 Keeping information off the cars inside the VRC showroom was resolved with the aforementioned lectern. However, outside the showroom (where the forecourt is used to present used cars), lecterns are not practical. 'Dressing' a used car with all the correct information to meet legal requirements and withstand the UK weather called for some sensible thinking. Tough but flexible plastic pricing boards were designed to clip onto the internal sun shield. A detailed car specification sheet was attached to the inside of the passenger window. Finally, car number plates were covered with 'Checked' propositions, emphasising the reliability of the used car. After all, a used Volkswagen is still a Volkswagen.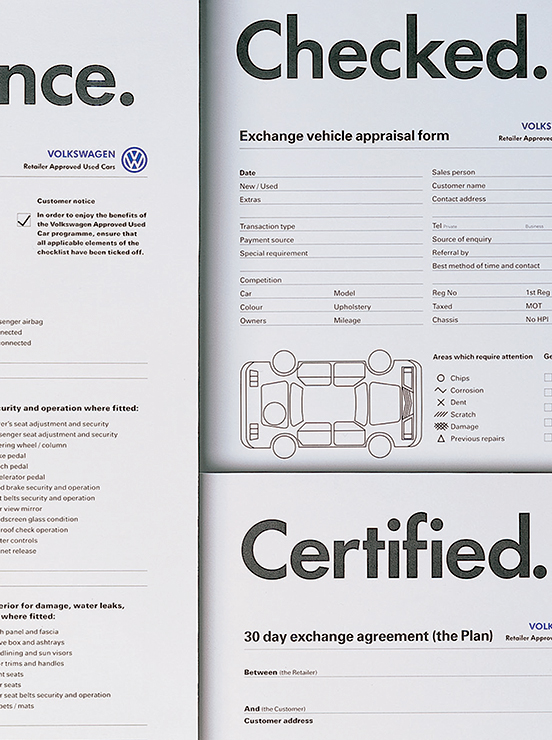 When customers decide to purchase a Volkswagen, they receive documents to complete the transaction. Continuing the drive for greater clarity, these were redesigned and simplified by Atelier. A dialogue, as if with a person called 'Volkswagen', now exists from the point of initial engagement (the advert) right through the customer journey and up to the point of purchase.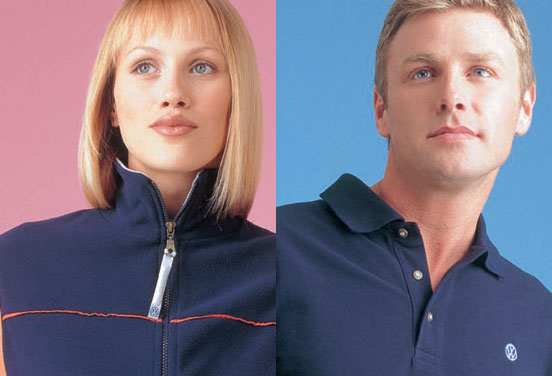 Customers don't just buy branded merchandise. Often, a purchase represents more than this — it is a commitment to what that brand means to them.
Volkswagen's clothing range used to be focussed on promoting the brand and featured very large Volkswagen logos. This merchandise did not sell well. We advised Volkswagen to limit the range and aim for higher quality, with more restrained branding. We developed an understated 'must have' feel. The new clothing range featured beautifully embroidered logos. Branded tabs were sewn into seams. Zips had branded pull tags. This high street approach carried through into marketing. Models were young, confident-looking people. This was a range that the Volkswagen customer could identify with.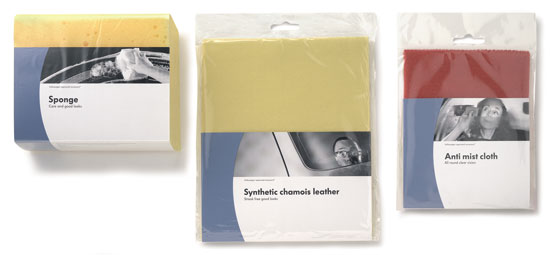 Volkswagen's accessory range had been overtaken by other high street brands. Some of the stock was supplied by Germany but much of it came from an assortment of other outside suppliers. The result was a jumble of products and an uncoordinated display in the showrooms.
Packaging ideas were developed for easy application to the existing accessory products. Our designs were simple and clear so customers could quickly find what they were looking for. Colour was used to group products according to needs; here, all cleaning products are branded blue. Labels sometimes included fun imagery — in this case, the chore of washing the car seems not so onerous for those who love their Volkswagens.



Maintaining standards during the roll-out
It is difficult to maintain standards during a roll-out, especially nationwide. To address this, we wrote a script and treatment for a training video to illustrate good and poor VRC practice. Building on the obsessional spirit of the very popular TV advert featuring Volkswagen's 'Detail Meisters', we drove home the key message; keep an eye on every part of your showroom — no matter how insignificant you may think it is. It's the details that matter in retail.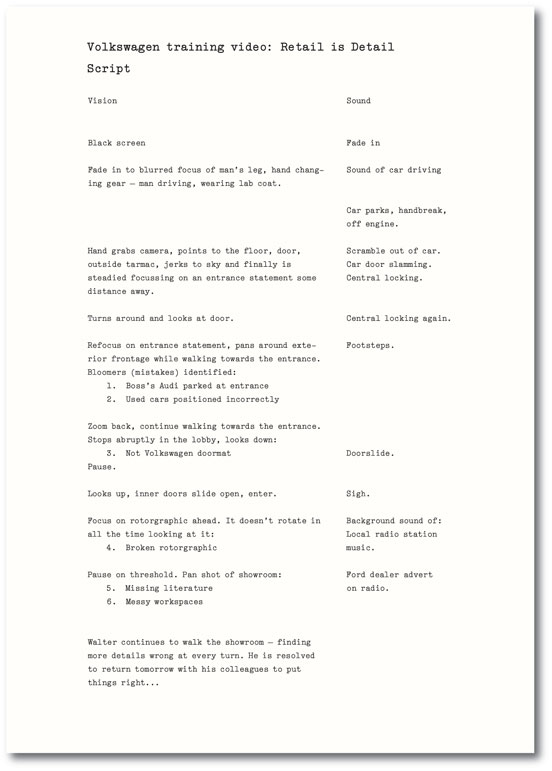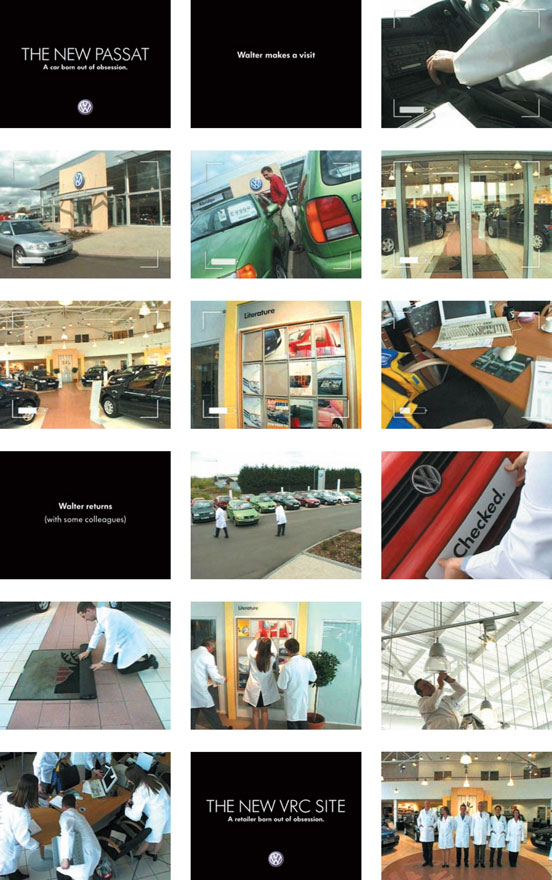 The plot: Walter (the most obsessive Volkswagen Detail Meister) makes a visit to a new VRC showroom. He encounters some lingering bad habits from the old days. A car is parked in front of the entrance, used cars cram the forecourt, desks are messy... Walter is horrified. He comes back the next day with an army of Detail Meisters. With a nod to Benny Hill, the video skips into fast-forward mode and the Detail Meisters run around putting everything in order at top speed, accompanied by comic music.



Sub-brand detailing
As the new VRC showroom roll-out progressed, Volkswagen turned its attention from winning new customers and selling new cars to retaining and affirming the loyalty of existing Volkswagen owners. Again, high street retailers provided a steer; customer loyalty stems from confidence in a good after-sales experience.
Unfortunately, trade surveys had shown that independent mechanics believed Volkswagen parts were too expensive. Often, they would persuade customers to purchase cheaper, inferior replacement parts. Volkswagen owner loyalty (and particularly Volkswagen's core brand proposition for reliability) was being eroded and that was likely to impact on new car sales.
Volkswagen Parts is a division which operates as a sub-brand, selling parts to independent garages which repair and service the cars. Atelier questioned its managers about the costs of Volkswagen parts. They replied that in many instances, genuine parts were competitively priced. Furthermore, a Volkswagen component was guaranteed to fit first time, came with a warranty, and could be supplied quickly from stock. A genuine part therefore re-presented a very sound purchase.
Rather than compete on price (rival manufacturers can always enter into a spiralling and unproductive price war), Atelier investigated ways in which genuine quality could be promoted as an attractive proposition to the independent mechanic.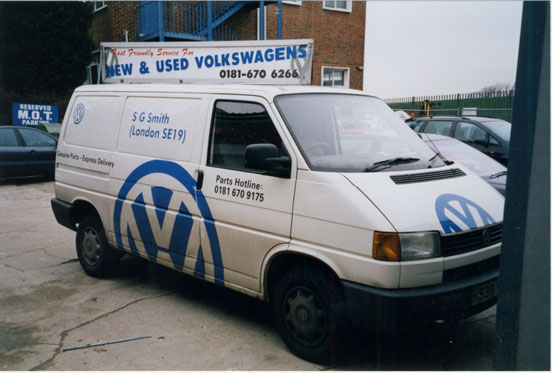 All VRC retailers operate delivery vehicles. These were often poorly branded (above) and relied solely on the repetition of the Volkswagen logo. One of these vans parked on a new VRC forecourt looked quite out of place.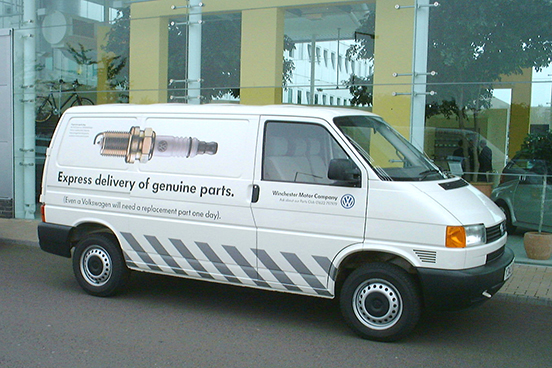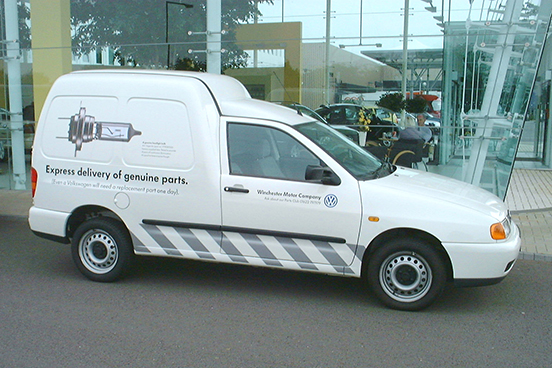 Atelier developed new vehicle liveries that focussed attention on the speed of delivery and superior quality of a genuine Volkswagen part. These vans make daily deliveries to independent garages and their frequent visits ram home the value of a genuine part to the mechanics.
The new vans now sport a begrudging admission that even a Volkswagen might have a reliability problem — but a problem that is of course limited to nothing more serious than perhaps a spark plug or a light bulb. We shouldn't forget that a Volkswagen owner will also see the vans whizzing around on their delivery runs. Both the independent mechanic and the Volkswagen owner should be impressed with this service; if Volkswagen sends vans out to deliver a replacement spark plug or light bulb, then supplying other parts must be no trouble at all.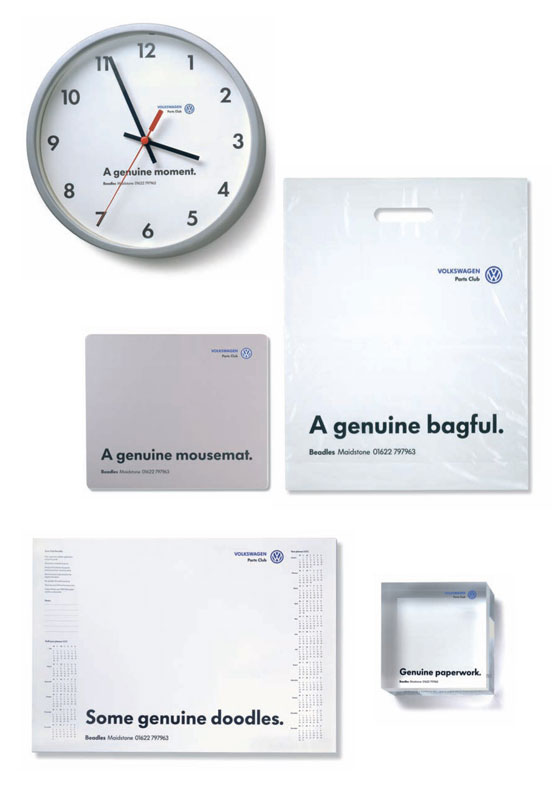 Give-aways are well received by independent mechanics. Volkswagen Parts sales staff use them to acknowledge repeat orders. Atelier reviewed the give-away range, selecting only items that might be of value in a garage office, and insisted on better quality products. We then wrote witty lines that stressed the 'genuine' message.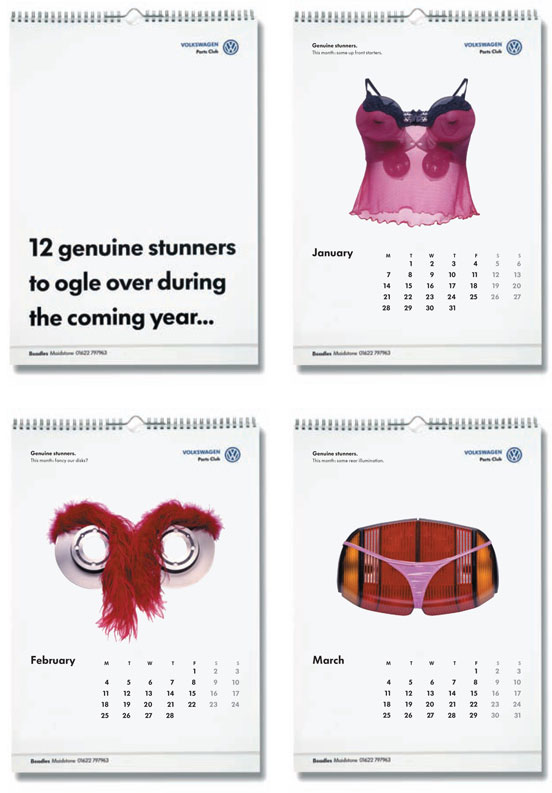 Launching the 'genuine' parts campaign at the beginning of the year gave us the ideal promotional opportunity — a calendar. However, Atelier warned Volkswagen that motor trade calendars were notorious for their 'girly' themes. Obviously this was not a subject that Volkswagen could sully itself with, but what could be more irresistible and secure the office wall space in a trade garage for a year? We art-directed our first raunchy photoshoot, featuring pin-up images of Volkswagen parts in all their semi-naked beauty.



Atelier problem-solving outside the showroom
Of course, the Volkswagen brand also has to appear strong outside the well-controlled environment of the VRC showroom. The British Motor Show is a critical biennial sales event. However, with hundreds of thousands of visitors streaming through large exhibition halls it could be difficult to distinguish one stand from another, particularly at crowd level.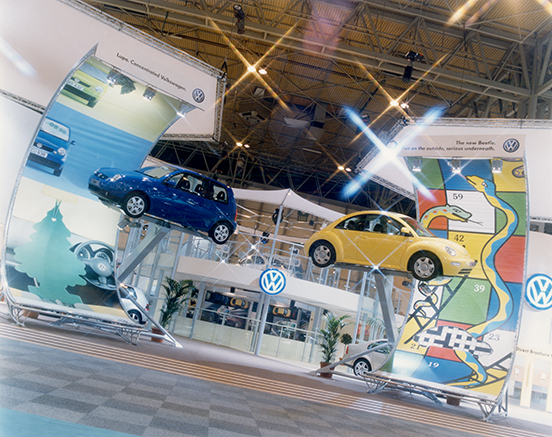 The exhibition designers built huge curved structures to hold Volkswagen cars high above the stand. Atelier saw this as an ideal opportunity to combine the car with the sales proposition, just as we'd been able to do with the VRC showroom. We developed a design that turned the structures into giant three-dimensional adverts. The result was so dramatic that the Volkswagen stand could be spotted from almost every corner of the exhibition halls.



Does a Volkswagen ever break down?
Reliability is one of Volkswagen's core propositions, so the idea of offering a Volkswagen breakdown service seems to conflict with the brand. Nevertheless, a breakdown service is expected of every motor manufacturer and so Volkswagen would be at a competitive disadvantage if it didn't provide assistance.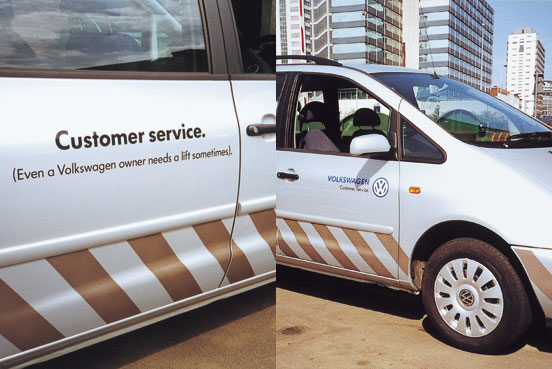 Volkswagen originally described it as 'emergency assistance'. We renamed this 'customer service'. The livery was redesigned and made more discreet. Why would you advertise the failure of one of your products? Instead, our witty copywriting artfully exploited another Volkswagen brand value; its self-deprecating humour.



Meanwhile, back in the showrooms, the Atelier obsession was relentless
Personalised screen-savers are a distracting influence in the workplace, especially when the new VRC showrooms are open plan, with all computer screens visible to the customer.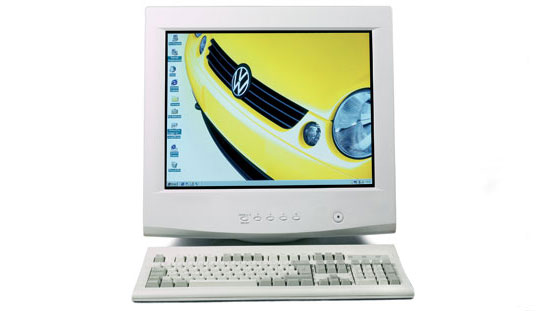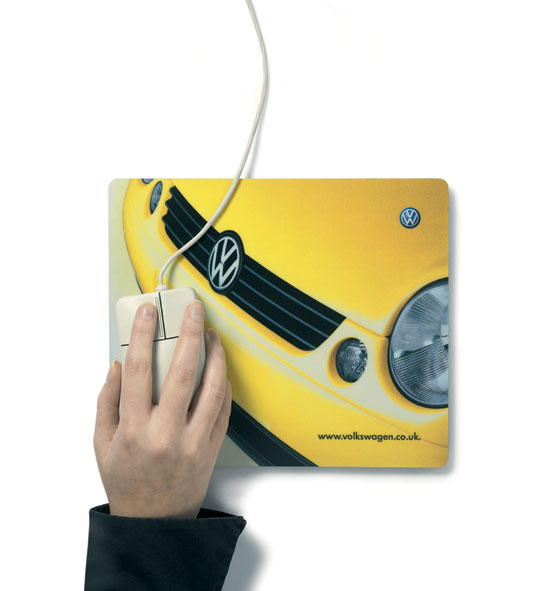 To make the biggest splash in the showroom when a new model was launched, Atelier suggested using the screen-savers. We set up simple templates controlled by Volkswagen head office. Screen-savers across the whole showroom network now switch simultaneously when a new model launches. In addition, every launch is accompanied with matching mouse mats.



And finally...
Without fail, the 'corporate' seasonal greeting always presents a challenge. Nowadays it seems that a Christmas card must feature a snowman, a Santa Claus, a reindeer, or a sprig of holly. These ubiquitous icons have usurped the traditional Christmas story.



We used Volkswagen greeting cars to reference the original Christmas story, with the shepherds, the angel, and the three wise men.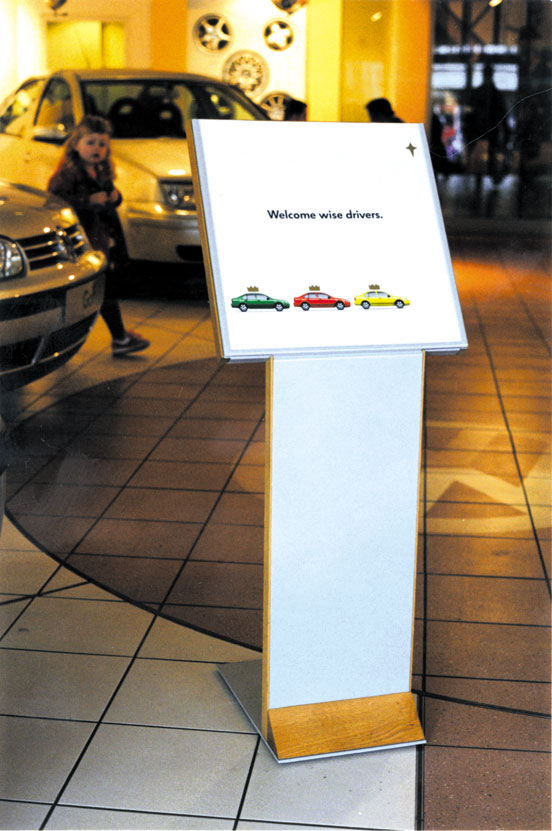 The Christmas card images worked in the showroom too. Here, the seasonal welcome flattered customers, especially if they were Volkswagen drivers.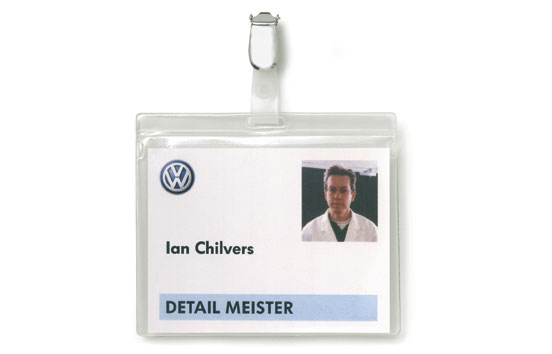 We could go on, but Christmas and the end of the year is a good place to stop. We certainly enjoyed working with Volkswagen and felt privileged to be part of such an exacting team. It was most satisfying to have earned our 'Detail Meister' status. And with no 'lemons' in sight.